The moment has finally arrived. You're ready to buy your first succulent. Or maybe you're looking for succulents for your bridal party or corporate event—and you're probably wondering where is the best place to buy succulents online.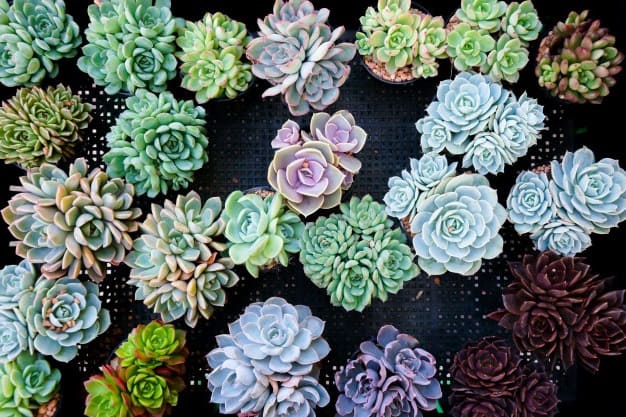 Depending on where you live, local nurseries, garden centers, or succulent shops may be in short supply, and even if there is one in the area, it may not have the precise, in-trend succulents you're looking for.
Fortunately, it's the 21st century, and there's an easy solution: buying them online. Lots of online succulent stores are popping up to make buying succulents online possible, easy, and good for the succulents themselves.
This page contains affiliate links, and as an affiliate we earn from qualifying purchases which means we receive a small commission when you make a purchase, at zero cost to you.
Succulent Market
Succulent Market is a third-generation cactus and succulent farm. They have been growing cactus and succulents for well over 50 years. The family behind Succulent Market primarily sells wholesale, and have now begun to sell their succulents online!
Something unique about Succulent Market is that they are the only company that sells large 4-inch succulents by variety online!
Selection
Over 100 individual varieties of cactus and succulents for sale
Succulent cuttings available for sale by variety & in bulk
Cactus and succulent collections are offered in varying packs
Pricing
Very reasonable prices for 4-inch succulents
Wholesale prices available for collection packs
Shipping
Free shipping on orders over $65!
Orders are typically shipped on Monday, Tuesday, and Wednesday
Ships to U.S. only
Shipped in pots and soil (except bare root succulent cuttings)
Extra Benefits
10% off your first order when you subscribe
Why Buy Succulents from Succulent Market
The only company that sells large 4-inch succulents by variety online
Premium quality succulents
Reasonable & affordable prices
Awesome selection of succulent cuttings
Friendly and helpful customer service
Latest Succulents for Sale:
---
Leaf & Clay®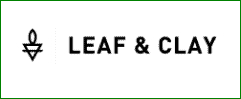 Leaf & Clay® specializes in premium succulents with some of the rarest and most interesting succulents you can find. They provide a variety of starter packs which range from quirky weird to pastel pretty. Leaf & Clay® is arguably the best place to buy succulents online and they always place customers' satisfaction first.
Leaf & Clay® also have wholesale succulents and cactus for sale, which is ideal for those looking for where to buy succulents in bulk.
Selection
Good variety of succulent and cactus packs
Plants available in 2″, 2.5″, 4″, 5″, and 6″ pot sizes
Wide variety of succulent species
Pricing
Average to high: Leaf & Clay® is a premium store
Shipping
Bare root
Free shipping for orders above $75!
Ships to U.S. and territories only
USPS, Ships Monday through Friday; 1-3 day processing
Safe Arrival™ Guarantee. If your plant isn't in perfect health upon arrival, you can get another one for free
Wrapped tightly but gently in tissue paper
Box filled with paper shreds for support
Each box sealed with tape & has FRAGILE printed on each side
Heat pack available for winter orders for an extra charge
Extra Benefits
Monthly subscription available – $15.95 for 3 handpicked 2.5" plants every month
Coupons: 15% off for new customer email newsletter subscription
Giveaways and discounts often announced on Facebook and Instagram
Wholesale plants available
Why Buy Succulents from Leaf & Clay®
Fastest and best shipping
Premium quality plants
Occasionally rare species
Frequent discounts and deals
Succulent subscription box available
Awesome collection of curated planter
Latest succulents for sale:
Harddy
Harddy is a private marketplace for with plenty of succulents and cactus for sale. Orders ship directly from their amazing nurseries in California, but if there is a problem or question, you only talk to Harddy.
Harddy has one of the largest selection online, with competitive pricing, and the best customer service. Each premium plant is hand-picked for every order, which is why they may not be the cheapest source for succulents online, but you get what you pay for – beautiful, healthy, fat and juicy succulents.
Selection
They have the most varied succulent packs and succulent collections online
They source their succulent collection from participating nurseries
Uprooted succulent cuttings available
Pricing
Average, reasonable considering greenhouse-grown
Market standard price for common varieties
Shipping
Orders are typically shipped on Mondays, Wednesdays and Fridays; expedited shipping upon request
Via USPS Priority Mail
Shipped in pots and soil (except bare root succulent cuttings and 4 inch plants)
Extra Benefits
Coupons: Use code "SUCCULENTALLEY" for 5% discount
Why Buy Succulents from Harddy
Wide variety of succulents packs and collections for sale
Top quality succulents
Great customer service
Latest succulents for sale:
---
Succulents Box

Succulents Box is yet another amazing online succulent store that currently offers more than 200 varieties of succulents along with 5 types of monthly subscription boxes. We like them because they carry many rare succulents.
Succulents Box is also passionate about saving the environment. If you make purchases through Succulents Box, a portion of the proceeds will go to a non-profit organization of choice. Therefore if you wish to be involved with saving the environment, buying from Succulents Box is a no-brainer.
Selection
200 varieties of succulents
Many rare succulents
Pricing
An option for moderate to cheap succulents online
Shipping
Year-round shipping, with heat packs available for purchase
Plants are shipped in pots with soil
Extra Benefits
5 types of monthly subscription boxes available
Also sells air plants, or Tillandsia
Offers full refund for valid unsatisfying purchases eg. dead or broken plants
Detailed care instruction card is sent with each order
Portion of proceeds go to non-profit organizations
Coupons: Get 10% – 15% off your orders when you subscribe
Why Buy Succulents from Succulents Box
Good selection of succulents
Many rare succulents for sale
Friendly customer service, quick to respond
Great choices of succulent wedding/event favors, gifts, accessories, and more
Excellent shipping quality and speed
Latest succulents for sale: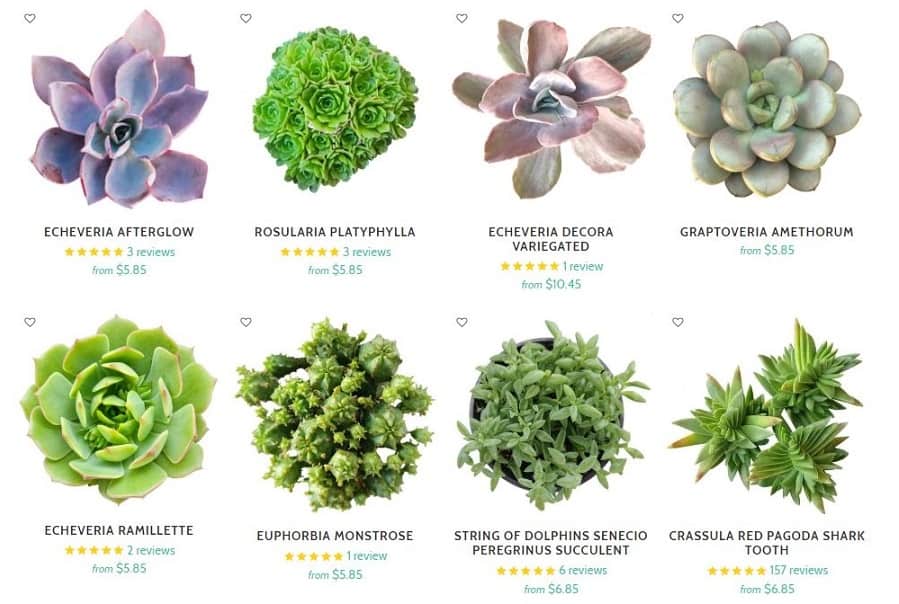 Fairy Blooms
Fairy Blooms is a succulent store based in California. They are nice sellers with a huge social media following. We especially like their miature pixie succulents!
Selection
A great variety of interesting succulents
However, most of their succulents are usually sold out
Prices
Moderately priced
Rare succulents are generally priced higher
Shipping
Free shipping with orders above $75
Generally ship within 3-5 business days

Succulents are shipped bare-root
Why Buy Succulents from Fairy Blooms
Some rare selection of succulents
Moderate prices
Come in cuttings, miniatures and arrangements
Great choices of succulent wedding/event favors, gifts, accessories, and more
Latest succulents for sale:
---
The Succulent Source

The Succulent Source is a small family-owned nursery (perhaps the best online succulent nursery) in Southern California, and have been selling succulents & cacti for 15 years.
They ship thousands of succulents each week, to every state in the US, all year long.
True to their motto "From Our Family to Yours", they are known for their family-oriented customer service, and passion for plants.
The Succulent Source also caters to wholesale customers, so if you're looking to buy wholesale succulents online, The Succulent Source is where you want to have a look.
Selection
They have 200 varieties of succulent for sale, as well as cacti, and tillandsia.
Most succulents are in 2" or 2.5" pots, although some come in 4" and 6" pots and even gallon-sized containers.
Succulent cuttings and bare roots available
They provide succulents for guest favors, bridal parties, home and garden, and corporate gifts.
They offer DIY projects, arrangements, corporate packages, and wholesale plants.
They also have holiday-themed seasonal succulents.
Prices
Best choice for cheap succulents online
Can purchase leaves/succulent cuttings at low prices
Wholesale plants options
Usually have discounts around holidays
Shipping
Regular shipping in 7-10 days
Rush shipping available
Shipped in-pot, not bare-root
Free shipping on some of their products (mostly cactus cuttings)
Extra Benefits
They have a monthly succulent subscription – for $30 a month, you will get 5 handpicked 2.5" succulents from their mature collection.
They also sell succulent-themed apparel, custom cards, books, and gift cards.
Why Buy Succulents from The Succulent Source
Great variety
Low prices
Come in succulent trays, plants, leaves, and cuttings
Great choices of gifts, accessories, event/wedding favors, and more.
Excellent shipping quality and speed
Latest succulents for sale:
---
Planet Desert

Planet Desert is a family owned wholesale/retail nursery based in Southern California. They offer one of the largest and most diverse selection of succulents and cacti from around the world, from simple and easy to grow to the most and rare unusual and hard to find collector specimens. They even have mini saguaro cactus for sale!
Selection
Has the largest selection of cactus for sale
They source their cacti collection by touring nurseries, private collections, gardens, and even nearby deserts
Good variety of 2″ assorted succulent & cactus packs
Uprooted succulent cuttings available
Custom arrangements available
Soil, top dressing & supplies available
Pricing
Average-to-low, reasonable considering greenhouse-grown
Market standard price for common varieties
Discounts up to 20% available for selected products
Shipping
Via USPS Priority Mail, based on weight and volume
Maximum of 72 hours between ordering and shipping
Shipped in pots and soil (except bare root succulent cuttings)
14-Day 100% satisfaction guarantee
United States shipping only
Heat packs available for cold weather/climate shipping at an extra cost for orders over $50
Extra Benefits
Special offers, free giveaways and once-in-a-lifetime deals available when subscribed
Great clearance section with discounted prices
Plant ID forum in their website to identify your succulents & cacti
Gift cards available for purchase
DIY kits for gardeners who want to create their own planter or terrarium
Why Buy Succulents from Planet Desert
Wide variety of succulents and cactus for sale
New succulents every time
Family-oriented business
Extensive care information for new and experienced plant owners
Clearance section
Regular sale on unusual and exotic items
Great subscription deals and discounts
Latest succulents and cactus for sale:
Mountain Crest Gardens
Mountain Crest Gardens is a family owned and operated succulent nursery established in 1995, located in the scenic Scott Valley of Northern California near Mt. Shasta.
In the beginning, the Mountain Crest Grdens nursery grew a few hundred varieties of hardy Sempervivum (Hens and Chicks), Sedum, Jovibarba heuffelii, and Rosularia. Now, their collection has grown and expanded to over 700 different varieties of hardy and soft succulents, including Haworthia, Kalanchoe, Senecio, Aeonium, Tender Sedum, hybrids, and more. New varieties continue to be added to their online catalog each month throughout the year.
Why Buy from Mountain Crest Gardens
Widest selection of hardy Sempervivum (hens and chicks)
Bulk trays, cuttings, and cacti are also available for sale
Pots, top dressing, accessories, and even books are available here
Amazing quality of plants
Extreme care taken in packaging and shipping
Etsy
Etsy has emerged to be one of the major sources for buying succulents online. There are many succulent sellers on Etsy, and we narrow down the best ones here.
---
Amazon
How could we exclude Amazon when it comes to buying succulents online? There are a few amazing succulent sellers at Amazon that give you the best bang for your buck.
It's a good deal if you have Amazon Prime and the item you are ordering is a Prime eligible item. Don't have Amazon Prime yet? Grab this 30-day free trial now.
Sale
Bestseller No. 1
Succulent Plants (5 Pack), Fully Rooted in Planter Pots with Soil - Real Live Potted Succulents / Unique Indoor Cactus Decor by Plants for Pets
HAND SELECTED: Every pack of succulents we send is hand-picked. You will receive a unique collection of species that are FULLY ROOTED IN 2 INCH POTS, which will be similar to the product photos (see photo 2 for scale). Note that we rotate our nursery stock often, so the exact species we send changes every week.
THE EASIEST HOUSE PLANTS: More appealing than artificial plastic or fake faux plants, and care is a cinch. If you think you can't keep houseplants alive, you're wrong; our succulents don't require fertilizer and can be planted in a decorative pot of your choice within seconds.
DIY HOME DECOR: The possibilities are only limited by your imagination; display them in a plant holder, a wall mount, a geometric glass vase, or even in a live wreath. Because of their amazingly low care requirements, they can even make the perfect desk centerpiece for your office.
UNIQUE GIFTS: Everyone loves receiving succulents as a gift, from children to grandma and grandpa. Our succulents are sure to please as a wedding gift, a gift for mom or dad, or a gift for a favorite teacher.
HEALTHY LIVE ARRIVAL GUARANTEED: Your succulents will arrive alive and healthy. Each order comes with the Plants For Pets 30-day guarantee, and our promise to you that you'll love your new plants or receive a full refund.
Bestseller No. 2
Artificial Succulents Set of 3 Mini Realistic Fake Plants with Plastic Pots for Home and Office Decoration, Including Aloe, Echeveria laui and Haworthia coarctata f. greenii, 4~4.5in (H) x 3.5in (W)
HOME/OFFICE DECOR - The mini artificial plants are designed for home and office decoration. Perfect for living room, bedroom, kitchen, bookshelf, desk, counter or any other places you want to add vitality. Plants included: Aloe(4.75in x 3.5in ), Echeveria laui(4in x 3.5in ) and Haworthia coarctata f. greenii.(3.5in x 3in )
REALISTIC DESIGN – The fake succulent potted plants with vivid color and exquisite workmanship for realistic looking and gives you a realistic feeling when you touch them.
SAFE & DURABLE - Premium quality non-toxic PE&EVA material made leaves, soil and PP pots for safe and durable use and for easy insertion into your own planter.. They are eco-friendly, safe for human and pets, and will remain fresh-looking and beautiful for a long time.
EASY CARE – They are very easy to maintain, you don't need to water them or take care of them constantly. Perfect for those who love succulents but don't know how or have no time to take care of them.
Bestseller No. 3
Costa Farms Unique Succulents Indoor Plants 11-Pack, Grower's Choice, 2-Inches Tall
Grower's choice pack-11 assortment will include 8 different succulent. There will be duplicates. Each plant is unique in size, color and texture. Some will grow up-right while others will grow Round and compact.
Great for window sills, DIY projects, gifts, party favors, wedding favors and decorations
Grows best in sunlight. Water when the soil is dry
Height at shipping is approximately 2 Inches tall, measured from the bottom of the pot to the top of the plant
Each plant ships in a lightweight, 2-inch grower's pot; made from a 100% recyclable #5 material. To help with water drainage, these containers have holes
Last update on 2020-10-28 / Affiliate links / Images from Amazon Product Advertising API
How much do succulents cost?
In the table below you can find the average prices for each of the stores mentioned above:
| | 2" Succulents | 4" Succulents | Succulent Cuttings | Succulent Packs |
| --- | --- | --- | --- | --- |
| | - | $5.99 - $9.99 | $12.99 - $79.99 | $15.99 - $130 |
| | $4 | $4 - $24 | - | $30 - $45 |
| | $7.99 - $9.99 | $8.99 - $19.99 | $7.99 - $86.99 | $13.99 - $77.99 |
| | $5.05 - $7.25 | $10.45 - $12.45 | - | $11 - $16.55 |
| | $4.50 - $7 | $7.99 - $16 | - | - |
| | $1.99 - $10 | $2 - $7 | $0.67 - $7.15 | $20 - $85 |
| | $3.99 | $6.25 - $79 | $6.99 - $49.99 | $14 - $139 |
Is it safe to order plants online?
There is risk in ordering plants online, especially since there are many websites that are not completely reliable and on many occasions, after making a purchase, we do not receive the plants in good condition or we are scammed. There are also other forums and Facebook groups where anyone can freely offer succulents for sale—on these websites there are a large number of scammers.
Therefore it is vital to go for reputable sellers who have good amount of positive reviews to be on the safe side.
When it comes to buying succulents online, it often goes well, but sometimes the plants suffer a bit. However, they recover quickly once they have been planted and watered.
Succulents for Sale in Other Countries
These succulent providers have earned great reputation as reliable online succulent stores because of their amazing customer service and having a variety of unique succulents for sale.
Be sure to also check out the list of Top 50 online succulent sources all over the world if you're looking to buy succulents that are out of this world (including rare Korean and Japanese succulents). Some even have lithops and cactus for sale, too!