8 Beautiful Succulent Rock Garden Ideas for 2023
Succulent rock gardens are ideal for people who live in dry climates as these plants prefer well-drained soil and survive long periods without significant rainfall. Apart from that, succulents are low-maintenance plants as long as they have the right conditions.
When establishing your succulent rock garden, make sure that the soil is very well-draining and that there aren't any areas where water is likely to collect. You might have to mound up the soil a little to ensure adequate drainage.
Succulent rock gardens are also ideal for planting on slopes, as ground cover varieties will fill in the spaces and create a visually pleasing display.
Here are 8 beautiful succulent rock garden ideas you might want to try.
1. Mass Plant One Species For A Cohesive Design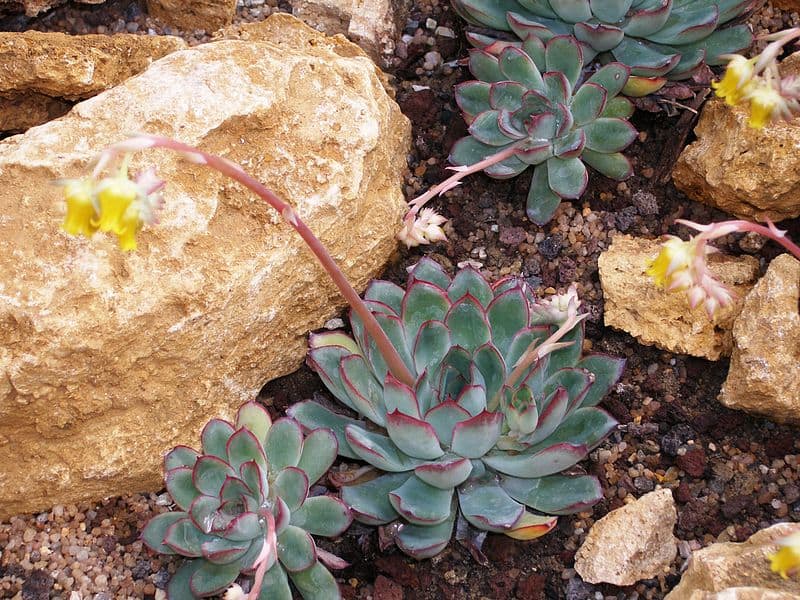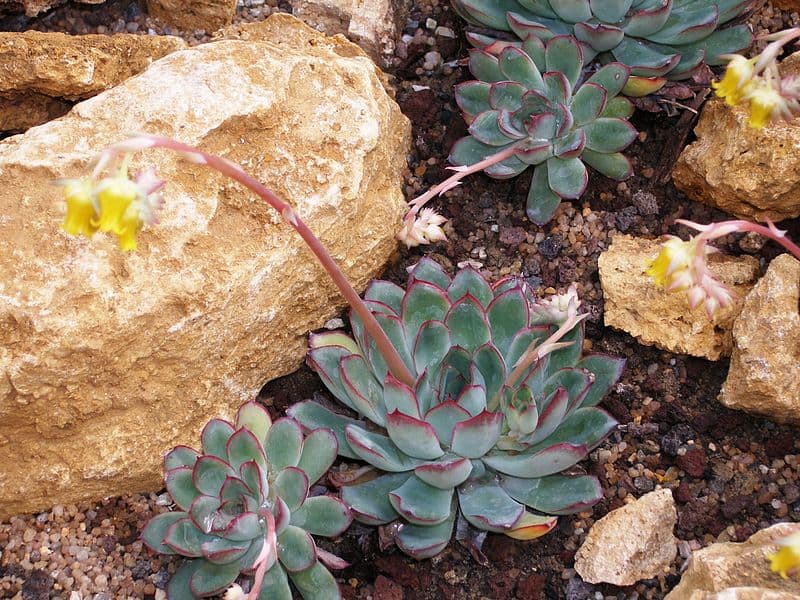 For people who like an orderly garden, this mass planting of Echeveria pulidonis creates a wonderful display when planted between large sand-colored rocks. The blue-gray leaves tipped with red create a lovely contrast to the rocks.
The soil is covered with colored gravel to give a tidy look to this rock garden. To create this type of garden, place your rocks of various sizes first before infilling the gaps with gravel. Then, position your plants in between the rocks.
You can choose any succulent species that you like but those that produce low-growing rosettes work really well with this type of display.
2. Create A Colorful Display With Succulent Ground Covers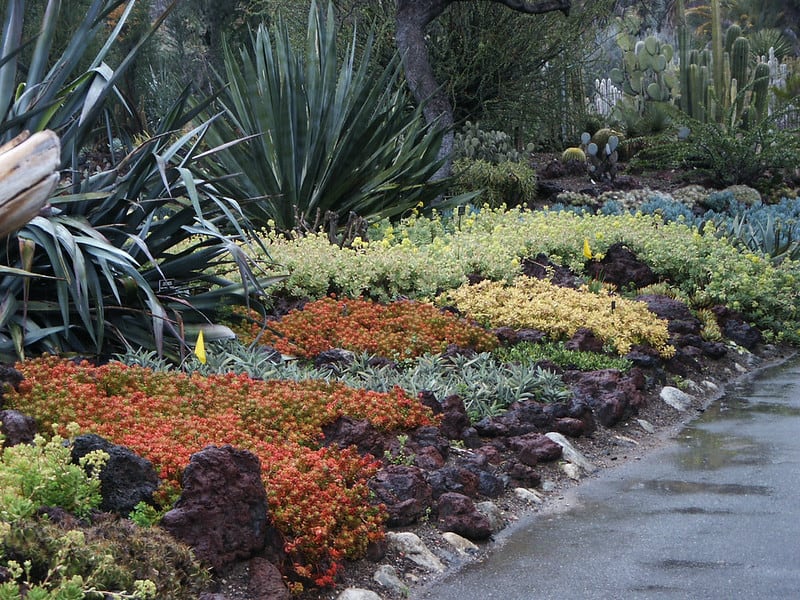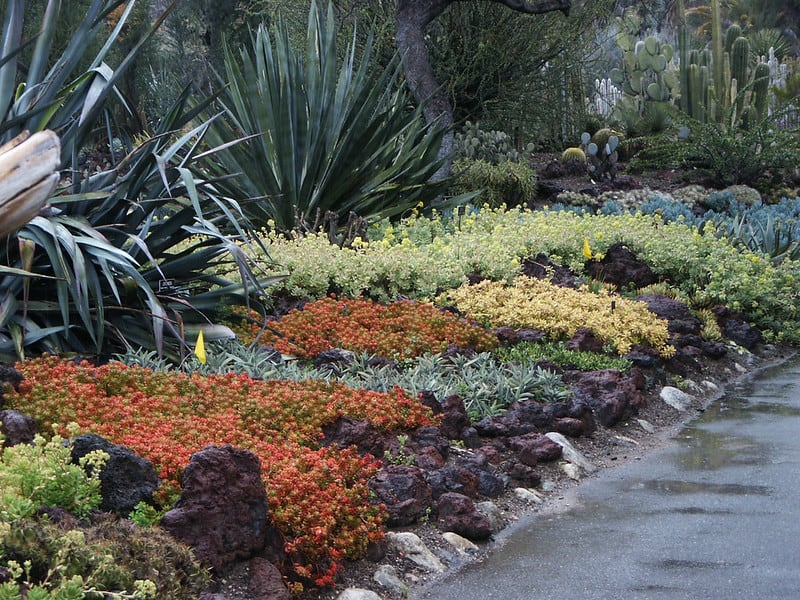 Succulents are perfect for creating a stunningly colorful display like this one using different colored ground covers. You can frame the display by using larger succulents at the back such as Agaves.
The placement of the almost black lava rocks adds another dimension to the colorful succulents that are planted and cascade over and around the rocks. You can really use your imagination by combining succulents in a variety of different shades.
3. Use Stacked Rocks To Add Height To A Low-Growing Succulent Display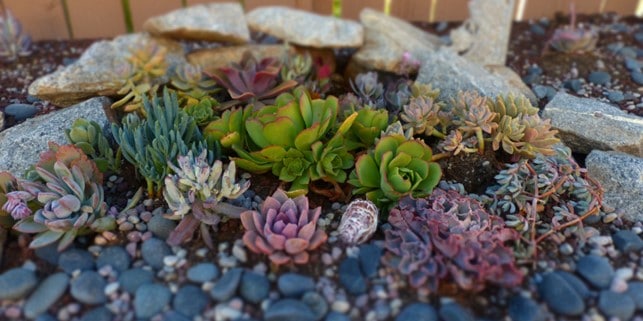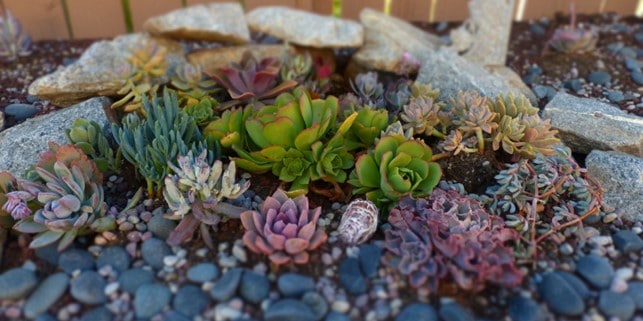 When you have a collection of low-growing succulents in your rock garden, you can easily add some height to the display by stacking some flat rocks behind the succulents. The large flat stones scattered around the different plants also add a little more color and texture to the overall display.
4. Cover A Raised Mound Completely For A Stunning Display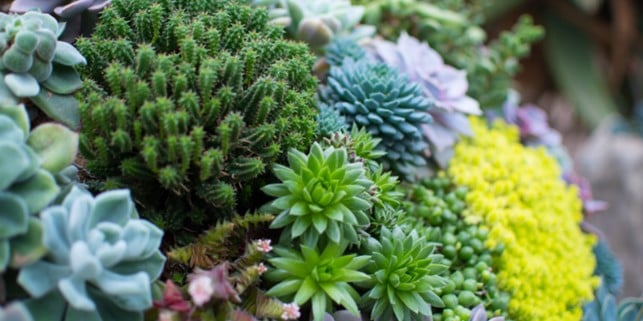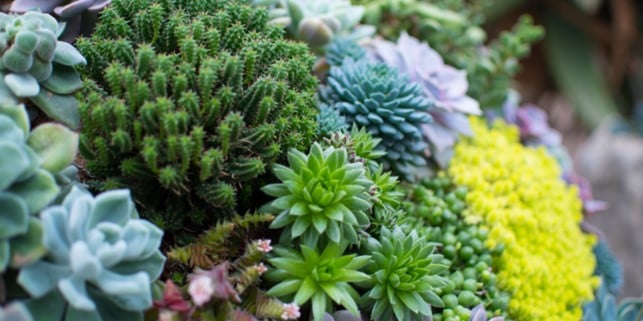 This stunning display shows you how to create a raised garden or mounded rock garden. You would need to create the mound first and then use a variety of different low-growing succulents and plant them close together.
For a display like this, you want to use succulents that have different growth patterns and a variety of different leaf colors. Alternatively, you could use similar shaped succulents for a more cohesive look.
5. Create A Mini Succulent Rock Garden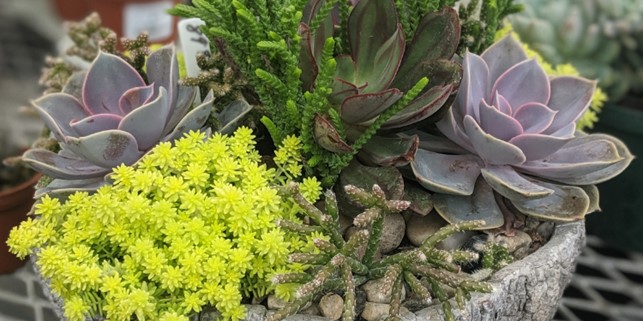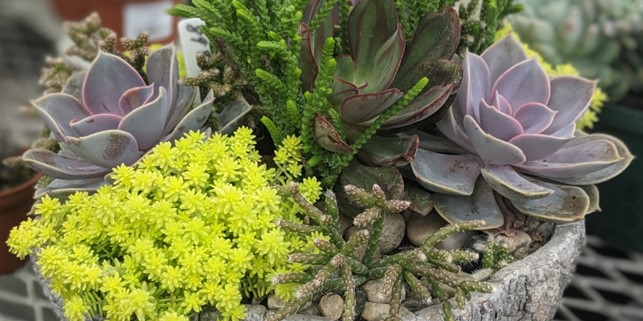 Rock garden don't have to be large to be impressive. In this design, the gardener has used an old hollowed-out tree stump to create a mini succulent rock garden. Larger growing succulents have been planted in the middle with lower-growing varieties around the edges. These are then allowed to cascade down over the sides of the trunk.
To cover the soil around the plants and to assist with drainage, river stones or granite rocks have been used. This type of mini display would look great on a deck or even in a small patio garden.
6. Use Different Colored Rosette Succulents To Create A Floral Display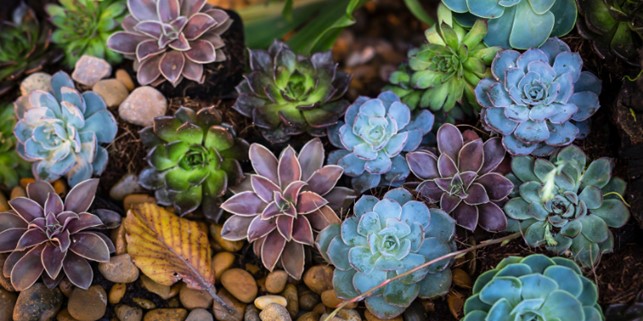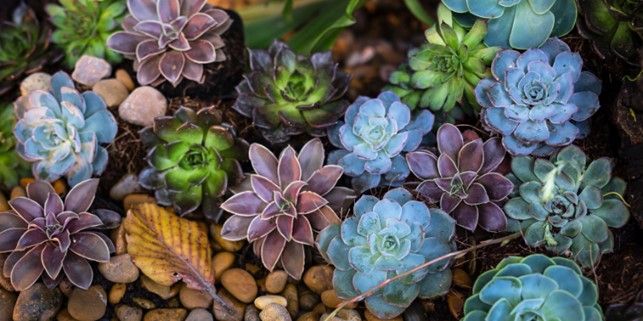 These rosette succulents look just like colorful flowers. By combining different colored succulents in similar shapes, you can simulate a flower garden without the extra maintenance required. Use colored river stones to cover any exposed soil to complete the look.
7. Mix Succulents With A Few Taller Growing Cacti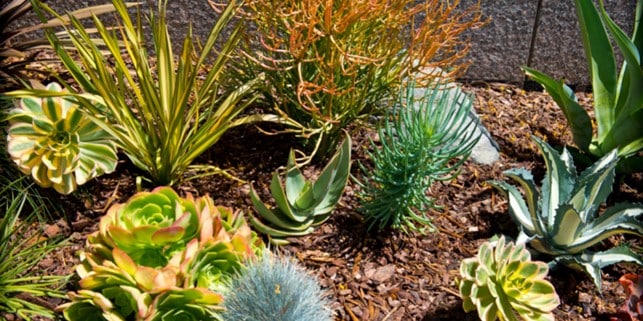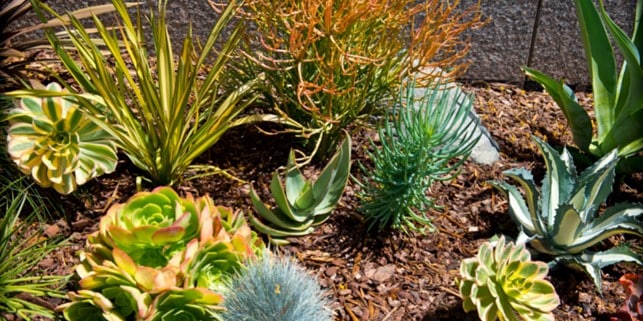 This lovely succulent rock garden shows how you can easily combine both cacti and succulents in your rock garden for a very effective display. Taller growing succulents like the Firestick plant (Euphorbia tirucalli), add some extra height to the garden while the lovely rosette shapes of other varieties draw the eye down.
Instead of using gravel or river stones, this gardener has used wood mulch to cover the soil. This looks very effective but it's important to remember that the soil needs to drain very well as the mulch will tend to keep some of the moisture in.
8. Use Old Crockery To Add Some Interest To Your Rock Garden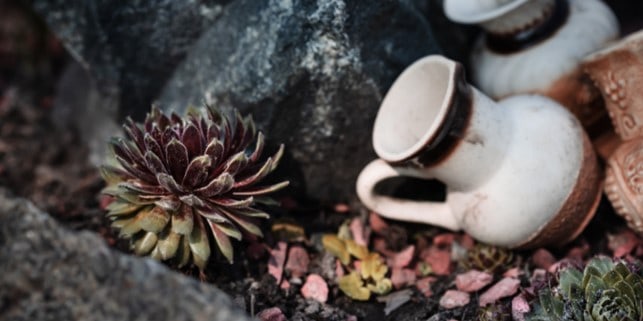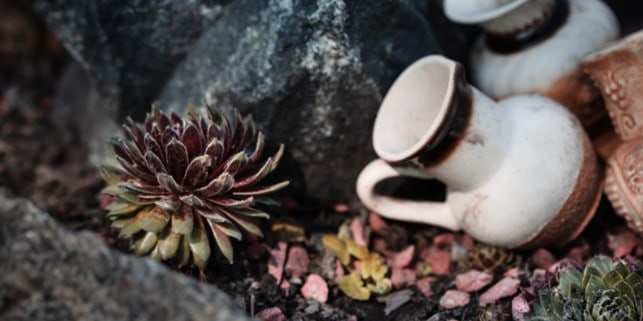 If you have some old crockery in the kitchen that is maybe cracked or chipped, there's no need to throw it away. You can use these lovely old pieces to add some interest to your rock garden. You could even fill them with succulent mix and have succulents growing out from the top. If you want to do this, make sure that you drill some drainage holes into the jugs or other crockery items first.
When creating a succulent rock garden, you can let your imagination go wild to create the most stunning display that is both low-maintenance and visually appealing.