ORHFS Full Spectrum LED Grow Light Review [2023 Edition]
When it comes to growing plants indoors, LED grow lights are the greatest choice for keeping your plants healthy. Grow lights imitate the wavelength of natural sunlight to facilitate growth and improve yield. The lights promise to take care of your plants at every stage of growth.
As the lights are insanely popular among plant growers, hundreds of brands have developed grow lights in various price ranges. And so, it can be a daunting task to choose one perfect light for your plants. We are reviewing the incredible ORHFS full spectrum LED grow light for you to save you from this crisis.
Here, we will discuss the material, quality, durability, light spectrum, and all the spectacular features. Without further ado, let's dive right in.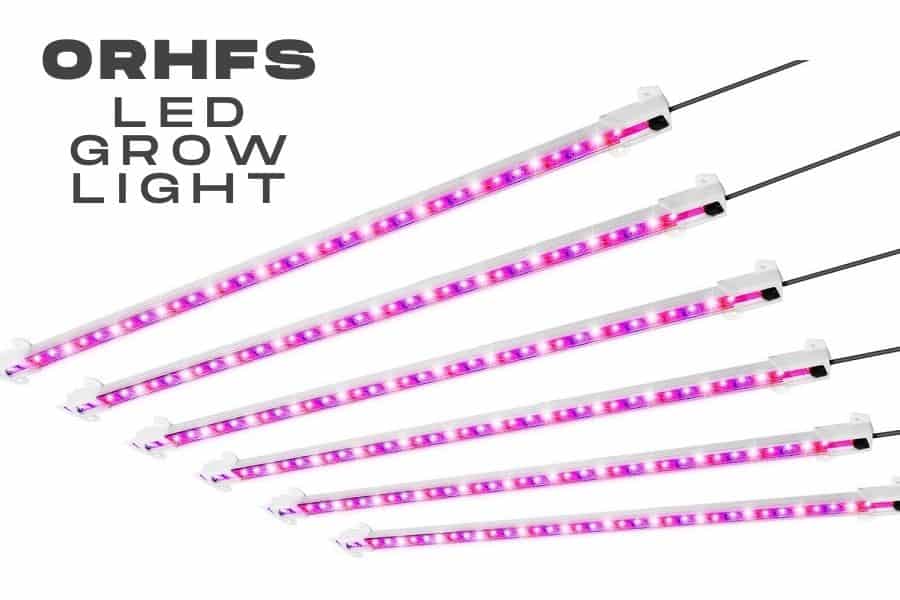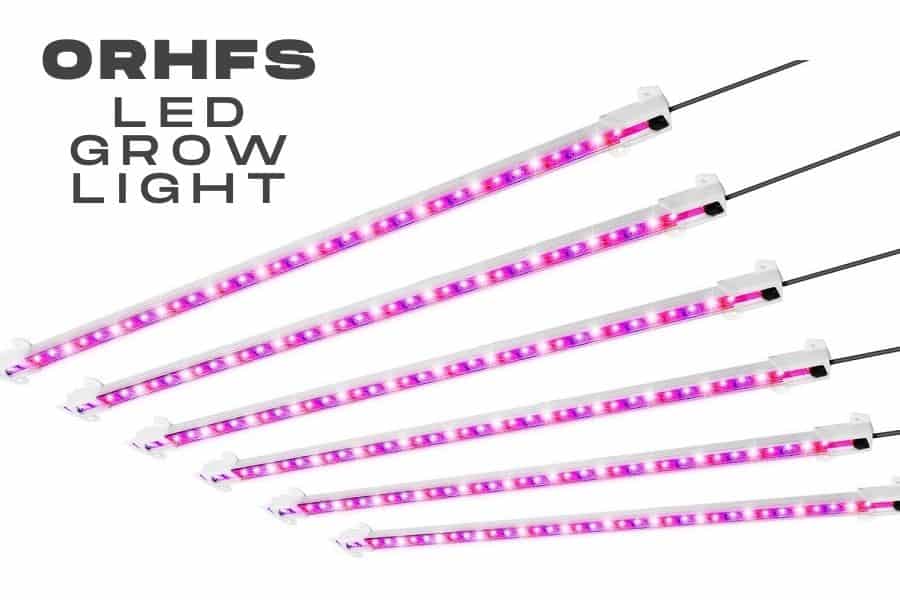 This page contains affiliate links, and as an Amazon Associate, we earn from qualifying purchases which means we receive a small commission when you make a purchase, at zero cost to you.
ORHFS Full Spectrum LED Grow Light Review
ORHFS has grown a reputation for manufacturing some durable and effective grow lights. The rising popularity of this particular light proves that this one is also no different. So, let's have a look at the construction and features of the light to find out how it fuels the growth of your greens.
And don't worry, we will keep things transparent between us and won't shy away from sharing the drawback if there's any. So set back, relax and keep reading to discover the amazing features of the ORHFS LED grow light.
Material
Both the light and shade are made from heavy-duty material. Especially, the Aluminum of the shade functions for both longevity and heat control. As this material is an excellent heat conductor, the shade just doesn't allow the temperature to rise.
Typical incandescent lights get hot quickly and harm the plant leaves. LED lights and Aluminum shade solve the problem and increase the life span of your grow lights. Plus, Aluminum is sturdy enough to stand upright against unfavorable circumstances.
Quality
Without a doubt, the quality of the LED lighting is the main highlight of this light. Each strip has 216 high-quality LED chips with the power and capability of enlightening a huge surface area. On top of that, the 270° beam angle will cover every corner and nourish your plants from top to bottom.
This energy-saving LED light consumes very low power so that you don't need to worry about electricity bills. Moreover, the light uses only 42 watts and provides warm lighting that facilitates plant growth without hurting your eyes.
For its impressive quality and safety factors, the light has been certified by UL, FCC, and ROHS. Isn't it truly amazing?
Light Spectrum
The light spectrum is one major aspect of any LED grows light which, unfortunately, many brands fail to get right. Many brands allure the buyers with attractive pink or purple shades that barely do any good to the plants.
On the contrary, the ORHFS grow lights offer your full-spectrum sunlight replacement. So, your plants will receive all the wavelengths needed for growing from seed to harvest, including blue, red, and green.
Studies have shown that plants need red and blue light for their growth. The blue wavelength improves chlorophyll absorption and promotes stem, leaf, and vegetative growth. Thus, blue lights are more important during the early growth period of your plants and succulents.
At the same time, the red wavelength stimulates the blooming stage and boosts the growth of flowers and fruits. So, if you want an outstanding harvest with the lowest cultivation cost, ORHFS grow lights are the ideal choice for you.
Durability
As you'll need the grow light throughout the year, longevity is just not an option; it's a must. Most of the complaints regarding LED grow lights involve durability.
To solve the longevity issues once and for all, ORHFS has manufactured highly durable lights with a life span of up to 50,000 hours!
Besides, the building material has excellent heat dissipation, protecting the LED chips from drying out prematurely. These lights are nothing less than a blessing for long-term plant growers!
Dimmable Settings
Any experienced plant grower knows that our beloved plants need different lighting at different stages of development. To fulfill the lighting needs of your greens, ORHFS grow lights feature amazing dimmable settings.
Not just 3 or 5, we're talking about 10 different dimming levels! From 10% to 100%, you can adjust the light intensity at any level according to the types and needs of your plants.
Furthermore, the 3 lighting modes allow you to control the lights' number, color, or wavelength. Whether it's a seedling or a succulent, the dimmer will take care of all your greens.
Timer Settings
While the light features are impressive enough, the incredible timer setting takes the cake. The timer function is auto-circular, and you can set the timer for 4, 8, or 12 hours. After the time runs out, the lights will turn off automatically.
Due to the auto-cycle feature, the lights will turn on every day simultaneously! What else can you ask for? Now, you can say goodbye to all your concerns while you're in the office or traveling somewhere far. With its lighting system, ORHFS has certainly set the bar high.
Ease of Use
A user-friendly design is a huge bonus for any product. It looks like ORHFS is very much aware of that. Thus, installing and adjusting the lights is a breeze for you.
A simple wireless remote control adjusts the timer functions, brightness settings, and power settings. All the buttons of the remote are very responsive and pretty clear.
The power plug also has a premium case to be connected quickly and safely. As for installation, you just have to follow two simple steps! Aren't you bowled over yet?
However, one drawback of the light is that it's not a good option for plants longer than 30 inches. As most indoor plants and succulents are smaller in size, this might not come across as a major problem for you.
The Bottom Line
So, there you have it all. We covered every detail you need to know about the ORHFS full spectrum LED grow light. As our review is well-researched, you can confidently make your purchase.
These lights are the most efficient and cost-effective way to ensure nourishment for your greens and compact succulents. So, get your hands on the ORHFS grow lights right away to experience the most amazing yield!