As seasons change and temperature starts to drop, many of us would need to bring our succulents indoors to prevent them from being killed due to harsh weather like snow. However, your succulents would be devoid of lighting that would have been available outdoors. Grow lights are a good alternative in providing for your succulents' lighting needs.
In this article we will be discussing the different types of grow light for succulents and how to choose the best one.
This page contains affiliate links, and as an Amazon Associate we earn from qualifying purchases which means we receive a small commission when you make a purchase, at zero cost to you.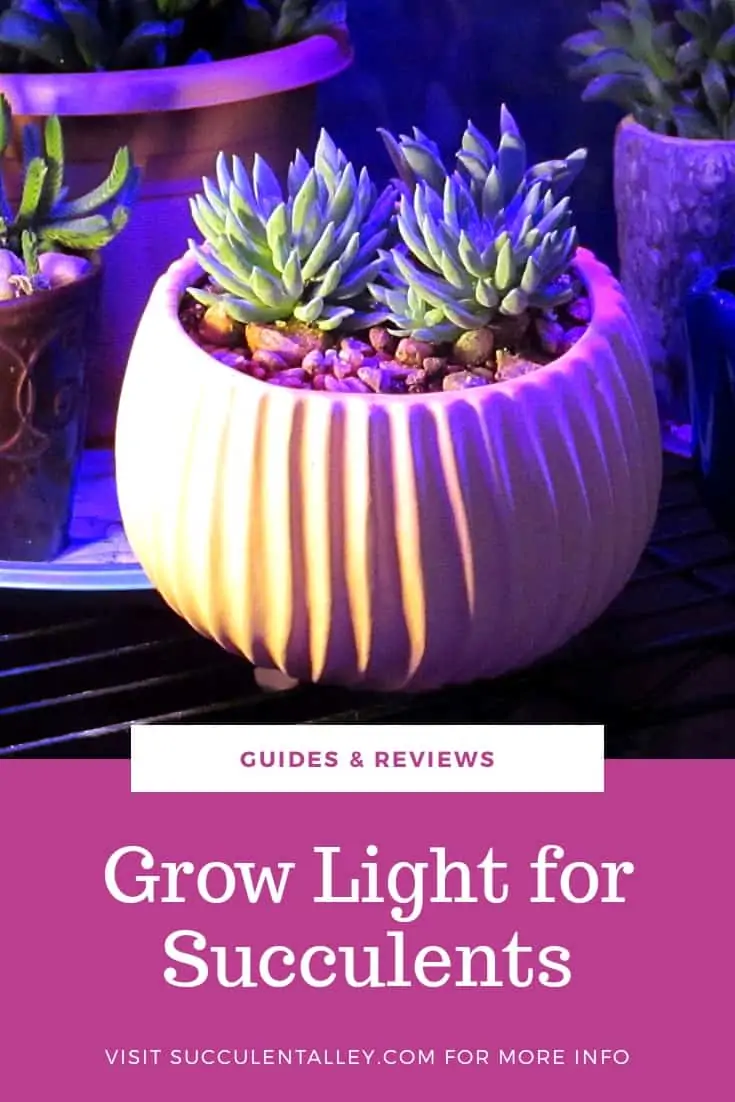 Appropriate Time to Relocate your Succulents
Most succulents (apart from certain types like sedums and sempervivum that thrive all year long in outdoor environment) are not able to survive the harsh winter conditions and therefore need to be brought into homes.
And so, the best time to bring them in would be somewhere before winter begins.
The biggest hurdle will be the lighting as succulents need extra lighting when they are positioned indoors (save for a few succulent types that can live efficiently indoors).
If you've been into science you would probably already know that succulents require high amounts of light for them to produce adequate energy that's needed for reproduction, blooming, and growth. This process is known as photosynthesis.
Lack of lighting, and they become etiolated due to excessive stretching. Pay extra attention to them to check for any signs of stretching, as they are an indication of lack of lighting. In a situation like this, you have no choice but to look for grow lights for succulents.
Grow Light for Succulents: Important Things to Note
Succulents are able to grow in artificial lights as good as, if not better, than in sunlight. For humans, artificial light cannot replace sunlight, because the human body gets vitamin D from sunlight and not from artificial light. However, all plants need from light is light itself. With light (be it artificial or natural), plants are able to undergo a process called photosynthesis and grow.
So how will grow lights solve your succulent's issue? For your information, grow lights for succulents have been in existence and blooming for over 20 years. If you were to enter your favorite hardware store today, you will be amazed at the amount of grow light choices out there.
Here are some tips on what to look out for when choosing a grow light:
Light Intensity
While different succulents and cacti have different requirements for light (cacti being 20% higher), it is best to get lights that emit at least 2,000 lumens (or 2,000 foot candles).
The direct sunlight at noon emits about 10,000 lumens, but if you provide 2,000 lumens of light for 14 hours daily, the plants will get approximately the same light exposure as they would in the summer.
The high intensity of the grow light needs to be focused upon your succulent to ensure optimal benefit and growth. Scientifically speaking, the "inverse square law" mentions that light received decreases by 1 square of the distance for every distance from the source itself.
The grow light distance chart above shows that the further your succulent is from the source of light, the lesser the benefit it will receive. Therefore, there are many people who are left disappointed after purchasing their grow lights. They simply do not use them the right way!
Energy Consumption
When searching for a grow light for succulents, there is another aspect to consider – the wattage of the grow light. You want to get grow lights that are bright, but at the same time won't cause your electricity bills to skyrocket.
The higher the wattage of the grow light, the more energy it consumes. We recommend that you look for lights that are labeled energy efficient, because they will most likely have high lumens and low wattage – giving you the best of both worlds.
Color Temperature
Succulents love the full spectrum of light they can get from the sun. Indoors, we also want to provide them with full spectrum lights that mimic the sun with a balance of cool and warm lights. The optimal color temperature which can provide your succulents with the sun's full spectrum of light is 5,000 kelvins.
Heat Radiation of the Light
It is important to know how much heat the light emits. Too much heat can burn your succulents, while too little will not be enough for the plants.
There are some common indoor lights that are known to generate a lot of heat, while there are also some that remain cool to the touch even after being on for 24 hours.
How hot the light is also depends on the distance between the light and your succulents, as well as how long you leave the light on.
Fluorescent vs LED Grow Lights: Which is Better?
Fluorescent Grow Lights
Fluorescent lights have been around for many years now. Recent advancement in technology have made them more resilient and energy efficient than before. Today's fluorescent grow lights cost less electricity than their older counterparts and do not easily overheat. They emit a spectrum of white light.
Fluorescent grow lights are best used when you intend to display your succulents indoors for public viewing. While still providing the necessary lighting your succulent needs, it is also soothing to the eyes. Fluorescent lights also emit less heat, therefore reducing the risk of your succulents being burnt.
There are 3 types of fluorescent lights used as grow light for succulents which are T5, T8, and T12 lights.
According to Ballast Shop:
The T12 is an older generation fluorescent bulb that generates light through electromagnetic induction, which is considered less efficient method of creating light compared to that of newer electronic based circuits. Like the T5, the T8 tube creates light through advanced electronic circuits and are available in standard 2, 3, 4, and 5 foot lengths.

However, what sets T5 fluorescent lights apart from T8 bulbs is their dramatic reduction in size. T5 lamps are 40% smaller than T8 fixtures, but are capable of containing just as much and sometimes more light in a smaller area. In other words, more T8 fixtures are needed to produce the same amount of light generated by significantly fewer high output T5 bulbs.

Although the newest T5 lights generally cost more than T8 models, they are lower maintenance than other fluorescent bulbs. This combined with the T5 bulb's ability to provide more light (lumen) than the other bulbs means long-term cost savings on your commercial and residential projects.
Due to the reasons above, the T5 fluorescent light is the most recommended fluorescent grow light for succulents.
To choose which fluorescent grow light is suitable for your needs, these factors come into play:
Watts – This is how much electricity the light fixture uses. More electricity is consumed where there are more "Watts" in a bulb.
Lumens – This is simply how bright the light bulb becomes when it is turned on. More lumens, more brightness.
Calculating the Costs of Using a Fluorescent Grow Light
To save on your electricity bill, ideally you would want a fluorescent grow light that offers the most "Lumens" for the least amount of "Watts". Keep in mind that fluorescent lights are more costly to run and their lifespan is shorter than LEDs.
You can use the following formula to compute your cost:

This will give you your usage in kW (Kilowatts/Hour). You then multiply this amount by cost over 31 days, which gives you the monthly cost.
LED Grow Lights
LED lights are the more recent technology compared to fluorescent lights. LED lights offer 2 benefits that fluorescent lights can't – efficiency and safety.
Efficiency
LED lights only consume a fraction of the electricity that their fluorescent counterparts do. Because of this benefit, they are ideal for those who place importance in cost saving when selecting a grow light for succulents. They usually also last around 10 times longer than fluorescent lights. Since your succulents require long daily runs, LED lights can offer a smarter and more efficient choice.
While fluorescent bulbs emit heat and light in all directions, LED lights are directional. This means that LED lights can deliver the full benefit in a desired direction – in this case, on your succulents. Simply by choosing LED lights, you will save energy, money, and light.
Safety
Do you know that fluorescent bulbs use mercury vapor to transport electrical currents? Mercury is a toxic heavy metal that can cause damage to the brain, lungs and other organs when breathed in. If the fluorescent light bulb is broken, it puts the people nearby at risk of inhaling the toxic vapor.
LED lights, on the other hand, use a solid state technology to produce light. This method is non-toxic and much safer to the user.
Whichever type of grow light you choose; they must meet these common requirements:
They should be hung not far from your plant (18-24'' for LEDs, 6-11'' for Fluorescent).
Should be turned on at least 12-14 hours a day. You can monitor this using a timer.
Low heat output lighting, as there are lights that damage and burn your succulents.
Regardless of which type you choose, both LED and fluorescent grow lights are capable of keeping your succulents happy and healthy indoors!
Best Fluorescent Grow Light for Succulents
Hydrofarm is a great manufacturer of these fluorescent grow lights. One particular model stood out above the rest, the Hydrofarm FLT44. It comes with four 4-foot long fluorescent tubes, with a combined 18,800 lumens for more-than-enough lighting needs.
If this is not enough, it can also be chained with multiple units to offer more lighting power.
It ships with a 5-year warranty as well.
Best Blue-Red LED Grow Light for Succulents
Most of the LED grow light for succulents found in the market only emit red and blue lights. Their functions are as below:
Red light – Promotes and enhances the plant's food production.
Blue light – Keeping the succulents compact, while promoting strong, healthy stems and roots via production of more chlorophyll.
This is the KingLED Grow Light. We have purchased this and it is still working for 3 years now without any loss of light. It also comes with a hanger kit, which you can lengthen depending on your setup.
To read more about our in-depth review on the KingLED Grow Light, click here.
Best White LED Grow Light for Succulents
Last but not least, let's look at today's state of the art grow light technology, the "White LED grow light". It is the best of both worlds (LED and fluorescent). This type of LED light looks white to the human eye and yet provides emphasis on the blue and red spectrums, hence providing maximum benefit to your succulents.
The YGROW LED Full Spectrum 600W Light is one of the best in this category. It has a 2-year warranty, with approximate total usage of 50,000 hours. It ships with a hanging kit as well.
Another good model is the SANSI 30W LED Plant Light Bulb, which can be screwed onto any fixture. You would prefer this if you want a single bulb option.
Also try getting a timer as well so you do not have to manually keep track of the time.
Read our grow lights FAQ here.
Last update on 2020-08-18 / Affiliate links / Images from Amazon Product Advertising API