The use of artificial lighting for growing crops indoors has been a revolution in the agriculture industry. Possibilities are endless when it comes to using indoor farming to take control of crops. Technologically advanced light fixtures have been designed to provide high efficiency with the use of modern LEDs available.
Mars Hydro is one such brand that has released a range of full-spectrum LED grow lights. The SP series from Mars is one of broad spectrum with a different engineering as compared to previous ones. They have embedded exciting features to benefit modern horticulture applications. Today, we review the Mars SP250 LED Grow Light and take a closer look at its features, specifications, and benefits.
This page contains affiliate links, and as an Amazon Associate we earn from qualifying purchases which means we receive a small commission when you make a purchase, at zero cost to you.
1. Mars SP250 Review – UPDATED 2020
Sale
Mars Hydro SP250
• High efficiency energy saving plant light
• Increase yield & crop quality in led grow
• UV IR full spectrum indoor led grow system
• Flexible hanging ways commercial led grow light
• Waterproof greenhouse growing light
The Mars Hydro SP Series offers advantages like high output per consumed wattage, color spectrum and low cost. The Mars SP250 is designed to suit a variety of applications ranging from greenhouse farming to indoor gardening. It draws 230 watts and replaces the 2000 watts traditional lighting.
The electricity consumption is much lesser compared to HID grow light systems and you end up saving a lot of money. This is because of the use of efficient diodes and the bonus addition of full spectrum along with UV and IR. The SP250 is constructed to resemble T5 CFL lights that feature a long shape.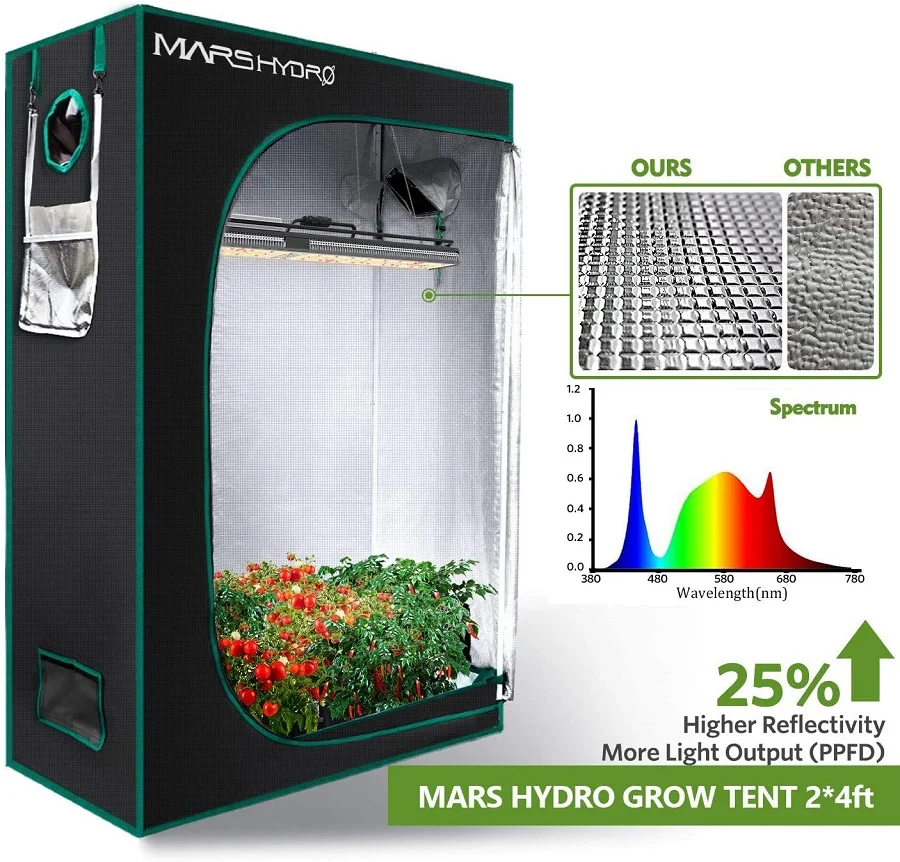 The most attractive thing about the new series of Mars Hydro is the shift from blurple color spectrum to a spectra including white diodes. They use white SMD diodes from Epistar to deliver a performance similar to quantum board lights. Mars goes one step ahead with the inclusion of UV and IR diodes to make the spectrum complete.
The Mars SP250 even has red diodes to resemble COB lights. The result is the right spectrum for all the stages of growth. It is like the natural light of the sun (with the addition of blue and red colors) as plants need them the most.
Pros
Top-rated
High-quality construction
Affordable price
Noise-free
Cons
Ideal for smaller grows
No fans
Extra ventilation needed
2. Mars Hydro SP250 Specs & Features
Here are the specifications for the Mars Hydro SP250:
SPECIFICATIONS
Dimensions
42.5 x 3.5 x 3.2 inches
Weight
4 kg
Operating Voltage
100-277 VAC
Operating Temperature
5 – 104°F
LED Expected Lifetime
over 50,000 hours
Warranty
3 year limited
Some of the most exciting features of Mars Hydro SP250 include:
FEATURES
Light Chip
Latest SMD LED technology
Power
230 watts true output power
Compatibility
Compatible with 120VAC, 240VAC and 277VAC
Light Spectrum
UV and IR inclusion
Waterproofing
IP65 Waterproof standard
3. Mars SP250 Grow Journal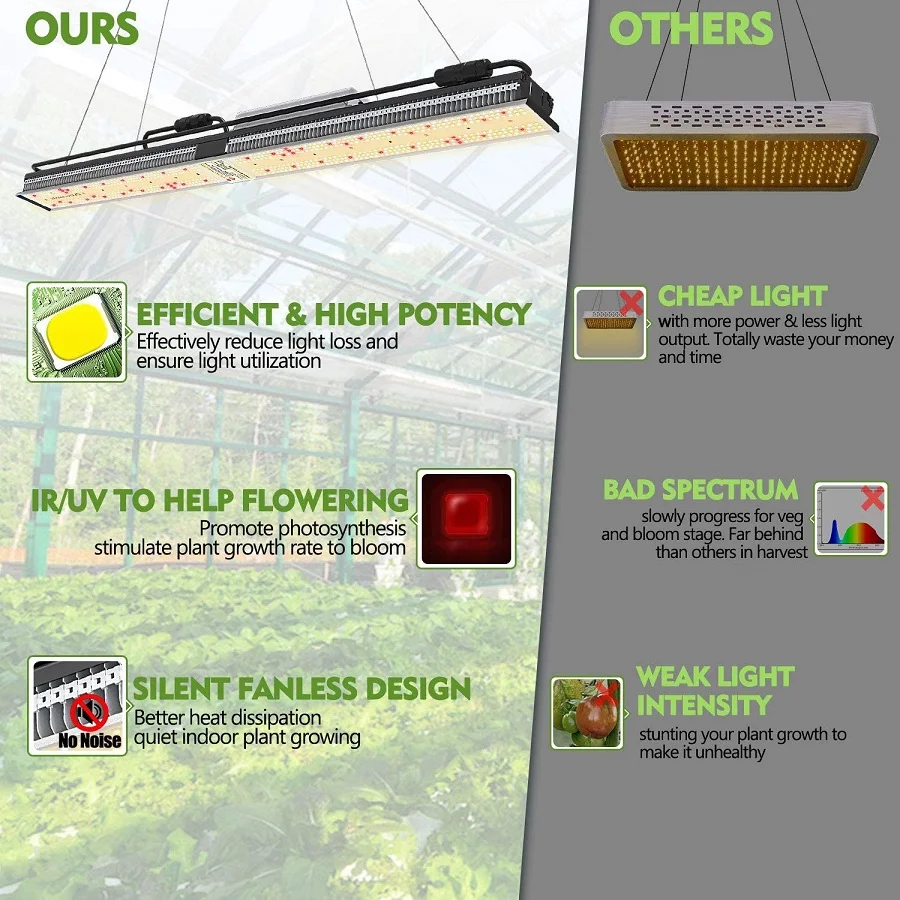 With a number of outstanding features, Mars SP250 is a great hardware unit for growing cannabis plants indoor. It works like a 2000 W traditional HID lighting. Users have reported excellent grows with this fixture. The grow light ensures the right availability for the plant at every stage of its growth and makes sure you get the highest yield.
4. King LED Vs Mars Hydro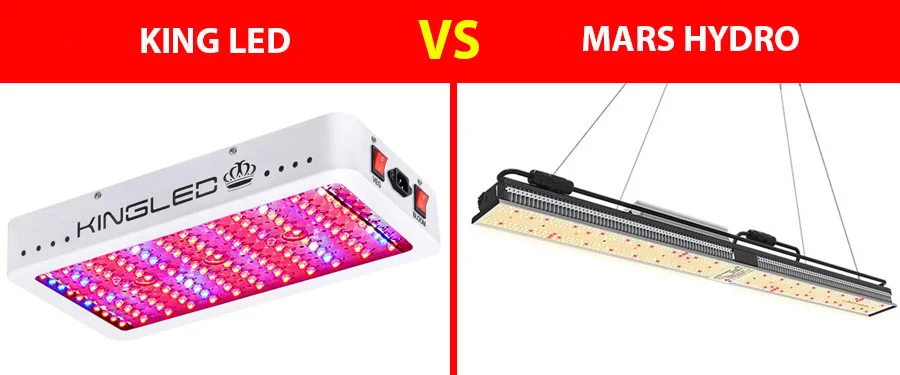 Mars Hydro is one of the most popular brands in the industry and is perfect for all types of growers. Most newbies start with this brand. King LED lights are also good, and it can become confusing when it comes to choosing between the two. Talking about the 600-watt lights, King LED uses dual chip technology to make sure the light emitted is brighter and even while Mars Hydro stands out with large coverage and energy efficiency.
Efficient cooling systems see that it always remains cool and never overheats. Both King LED and Mars Hydro systems provide full-spectrum lighting with IR and UV to provide natural light required by plants during different stages of growth. Both these fixtures are more efficient than traditional lighting as they consume less power and save electricity and money.
Mars Hydro 1000 watt grow lights come with exciting features that make the brand superior to King LED. They include an upgraded power supply, Cree and Epistar chips and fans to provide the highest build quality. Improved cup design ensures 100% output. This fixture also produces more blue and red PAR per watt to give increased yield and lower operating costs. On the other hand, King LED lights feature cooling system, energy efficiency and full-spectrum features.
THIS ITEM
Mars Hydro SP250


Rating
THIS ITEM

Rating
5. Frequently Asked Questions
Is the SP250 dimmable?

Can it be daisy chained, to create a longer LED grow light?

Yes, it can, up to a limit of 3 of them. You will need to buy a customizable cord, which is sold separately.

What is the length of the power cord?

Can the wattage be adjusted?

Yes, it can. Look at this video here for step-by-step instructions.
Buy the MARS HYDRO SP250 on Amazon now:
Last update on 2020-07-12 / Affiliate links / Images from Amazon Product Advertising API