Euphorbia flanaganii: Care and Propagation Guide
Euphorbia flanaganii is a plant that is widely known as the Transkei medusa's head. It belongs to the plant family of Euphorbiaceae.
It is closely related to E. procumbens and E. hypogaea. This species is found mostly in arid regions like the Canary Islands, the Arabian Peninsula and South Africa. The plant is very thorny and has branches that look like snakes.
The stems are swollen and grow underground. The shrub is small and is also called a dwarf shrub. The leaves can only grow up to 10 mm in length and 1 mm in width.
Flowers grow on each stem during the summer and autumn seasons.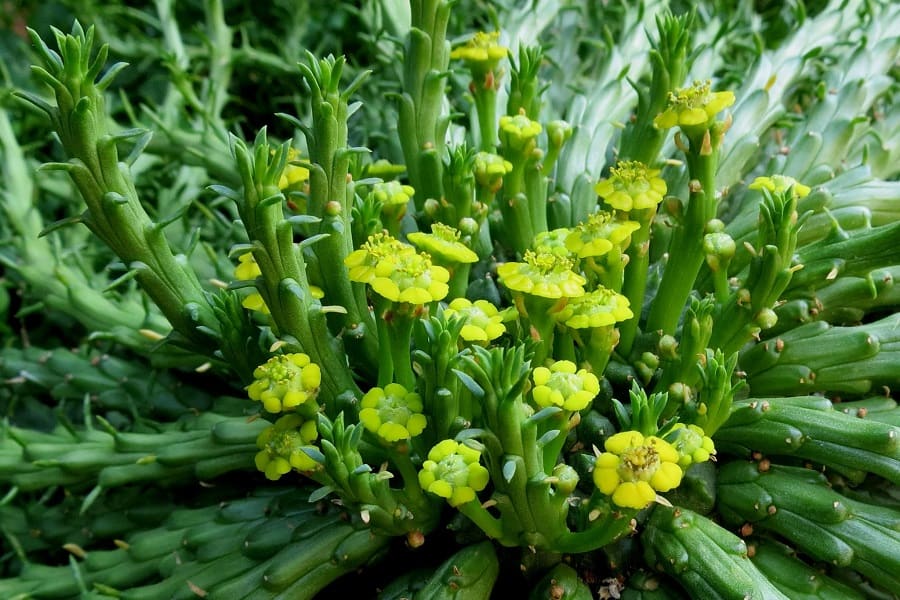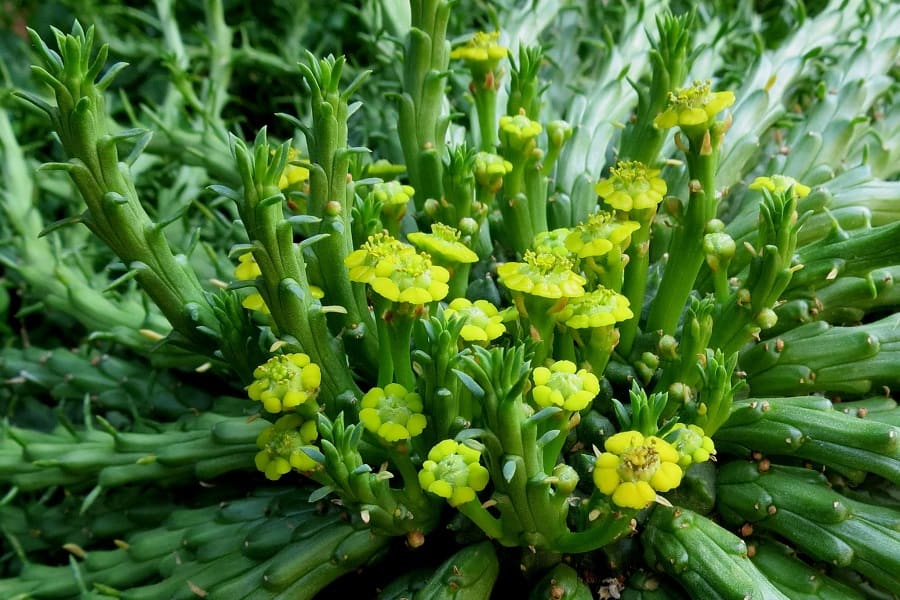 Read also:
200 Types of Euphorbia With Pictures
Euphorbia flanaganii Care Guide
Here's a look at the Euphorbia flanaganii care and propagation guide.
Light
Euphorbia flanaganii needs full sun, which means they need to get direct sunlight for at least six hours on a daily basis. They might need protection from the afternoon sun depending on how strong the sun in your region is.
You can identify this by looking for burns or yellow coloring when exposed to too much sun. But typically, they grow well when planted outdoors in a sunny spot.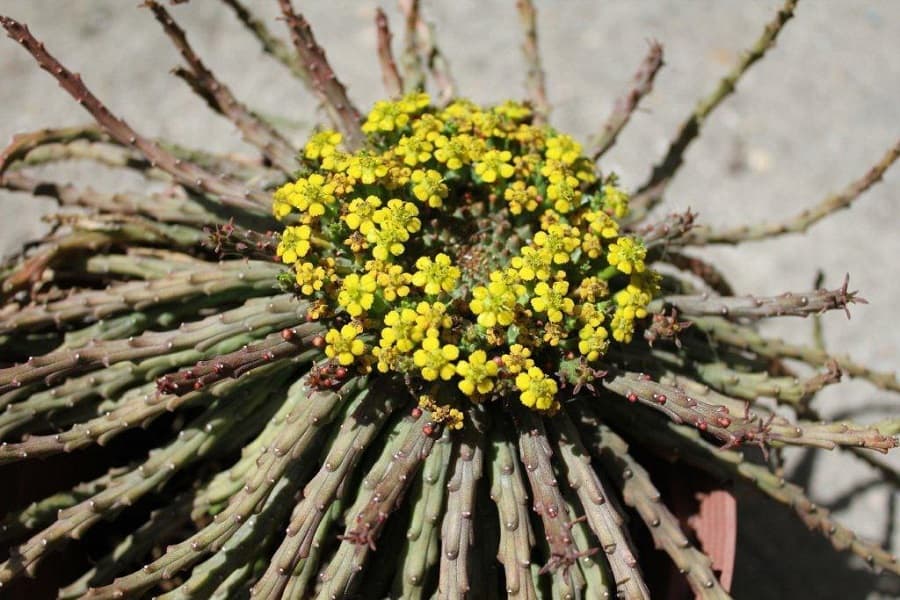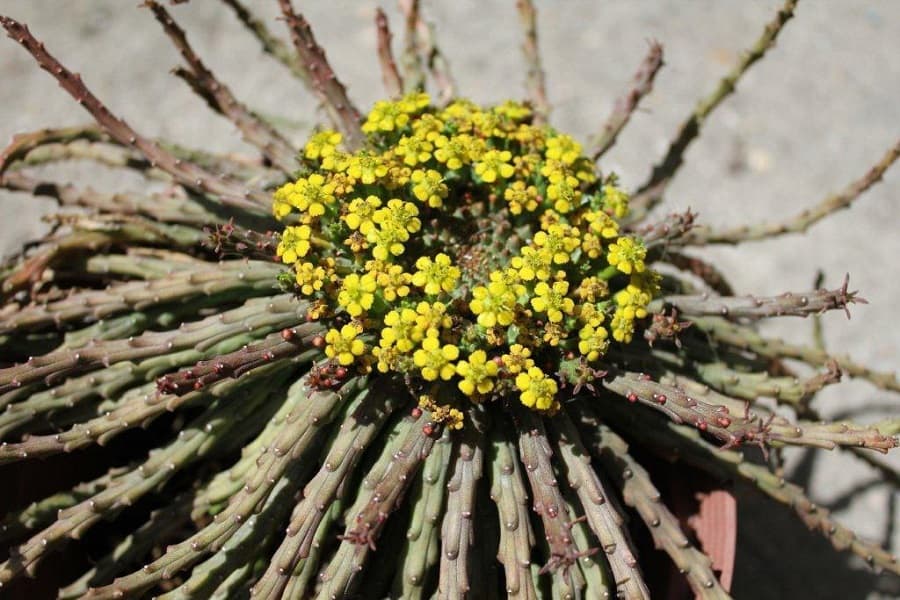 If you plan to grow this plant indoors, you must place it near a window that gets lots of sunlight. People who take this route like to pick south-facing windows for this reason. That way the plant will get sunlight all day long. Alternatively, invest in a good grow light for succulents that can replace natural sunlight.
Watering
Euphorbia flanaganii grows actively from spring to the fall season and that is when it should get the right amount of water. The right amount in this case is just making sure that the top two inches of soil are never dry.
So, if you spot them in that condition you should water the plant. That usually happens once a week because Euphorbia flanaganii is pretty great about tolerating drought. That is because Euphorbia flanaganii is native to regions that are described as semi-arid and rocky.
Sometimes the soil dries up to the point that it starts to feel crispy. Ideally, you should not let it get there. Your worst-case scenario should still get the plant watered once every month.
The best time to water Euphorbia flanaganii is in the morning so that they have enough ammo to deal with the sun during the day. But in the winter season, you must change tactics and water the plant only when it looks like it is starting to wilt.
Read also: How often to water succulents?
Soil
Euphorbia flanaganii is a type of succulent which means they don't need too much water. But that also means that they need well-drained soil as succulents do.
You can mix it with sand and add a little bit of perlite to the mix. If you add perlite, make sure that your potting soil and regular sand are mixed 50-50. Failing that, any commercial succulent potting mix will also get the job done. (We review the best soil for succulents in pots here.)
Fertilizing
Depending on the species, you will need to follow separate feeding techniques. But generally speaking, a little bit of fertilizing is good for Euphorbia flanaganii. You can add a little bit of organic fertilizer or compost to a young plant so that it grows healthily.
But you want to make sure that the fertilizer you are using is in liquid form and diluted a little to weaken it. You must also make sure that the fertilizer must be added to the plant in its growth period between spring and fall. In the winter, the plant is dormant and does not need to be fed as much.
Check out our article on the best fertilizer for succulents to help you choose the right one.
If your Euphorbia flanaganii is in a container, you will have to feed it some more fertilizer compared to the ones that are being grown out in the ground. And if you notice yellow leaves developing at the bottom, that's a sign that you need to feed the plant some fertilizer.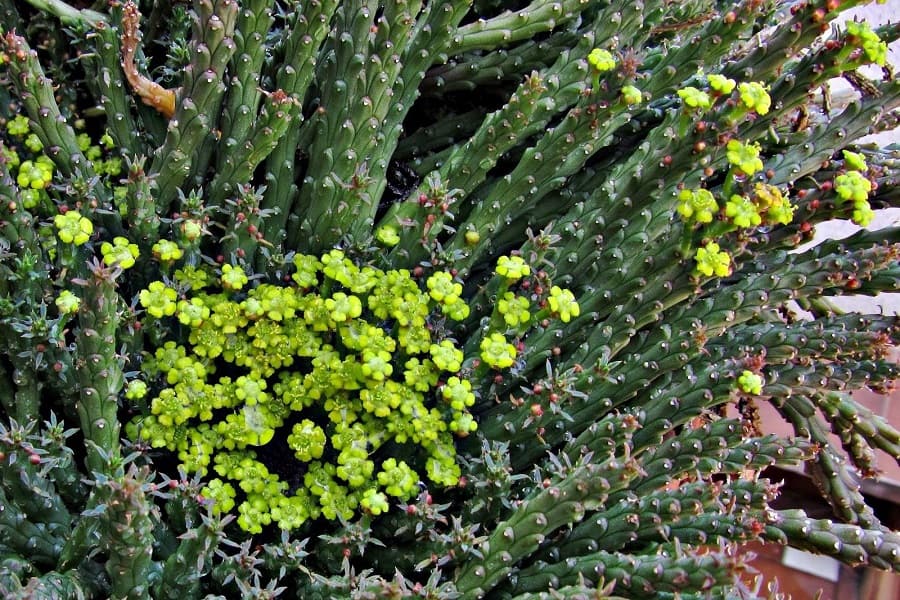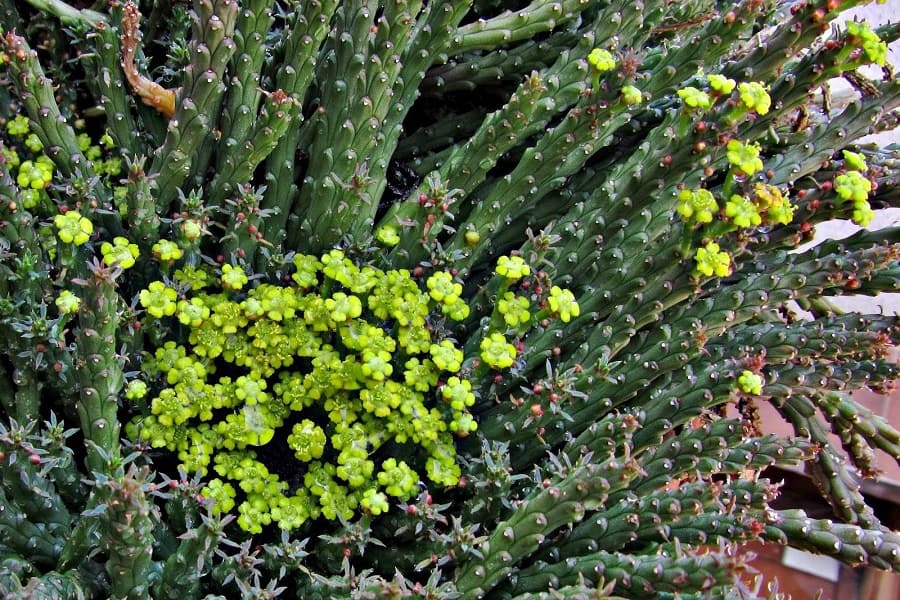 Climate
Euphorbia flanaganii is fairly easy to grow and maintain. That applies to the climate it is grown in too. You will need to ensure that the air is at least 50 per cent humid throughout the year. If you are growing it indoors, you will be relieved to know that it grows okay in dry rooms too.
If you are looking for its best-case scenario, the temperature must be 70-80 degrees Fahrenheit during the day and 55-65 degrees Fahrenheit at night.
Pests and Diseases
Spider mites and mealybugs are the most common pest to attack these plants. And if it's not taken care of right away, the attack turns into an infestation very quickly.
Propagating Euphorbia flanaganii
These plants can be propagated in two ways: seeds and stem cuttings.
It is difficult for the seeds to germinate quickly which is why this is the tougher
method of the two. But if you take this route, you can get commercial sand mix and
mix it in the same amount with coarse sand and plant the seeds in it. If there is
enough warmth, you will see growth in a couple of weeks. Otherwise, it can take 2-6
months.
If you decide to use stem cuttings to propagate them, you should get a clean and
sharp knife and collect the cuttings near the plant's branching point. This is the
easiest way to propagate the plant.