82 Types of Echinopsis Cacti [With Pictures]
Echinopsis is a genus of cactus with over 100 species. It is known for being very prickly and is sometimes known as the hedgehog cactus.
What is special about this genus is that all the plants bear beautiful, vividly colored flowers. Let's learn about caring for and propagating Echinopsis plants.
Types of Echinopsis Cacti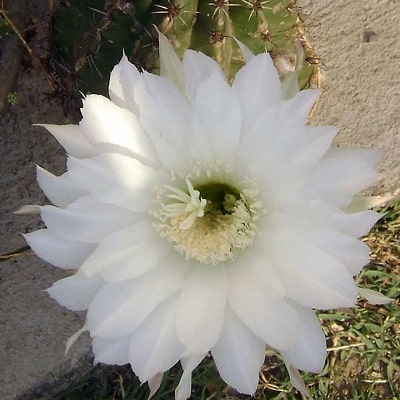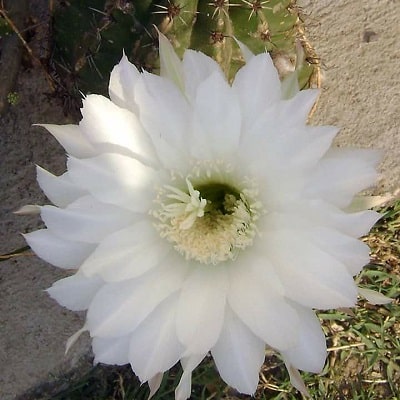 Related Post:
1,000 Types of Cacti With Pictures
How Do You Care for Echinopsis?
Echinopsis plants come in all shapes and sizes. They can also have flowers of many different colors in the same plant due to hybridization.
Most cacti only flower once a year, but Echinopsis plants can bloom all year round if the temperature stays at a minimum of 21 degrees Celsius. That is, provided they are cared for properly. Here's how to take care of your Echinopsis plant:
Light
Sunlight is great for all plants, especially plants like Echinopsis that thrive during the summers.
However, too much sunlight can end up burning your plants. Watch out for discoloration on the edges of the plant. Reduce the exposure to sunlight and let the plant sit in shady areas if you see any signs of sunburn.
Watering
Watering depends largely on the season. The plants will be blooming in the summers and will require more water. They start becoming dormant once the temperature starts falling, so water them conservatively during the winter and fall.
How often you water your Echinopsis also depends on the soil, pot design and size. Pro tip—stick a pencil in the pot to check water saturation in the soil. If the pencil comes out dry or with very little water, it is time to water the plant.
Whenever you water the plant, make sure to fill the pot completely so that the soil is saturated with water.
Soil
Fast draining soil is ideal for Echinopsis plants. Water retention can be harmful to the roots of the plants. It can end up damaging or killing the plant.
Add pebbles to the soil to help drainage and use sand to make a fast-draining top layer for the plant. The Echinopsis cacti have shallow roots, so the size of the pot doesn't matter.
If you're thinking of growing your Echinopsis plant in the ground instead of a pot, you need to be extra careful with the watering. While it isn't harmful to the plant, planting it in your garden or backyard does have some disadvantages.
For example, if temperatures drop very low in your area, the water in the cactus will freeze up. If the cactus is in a pot, you can move the pot indoors to prevent this. If your cactus is planted in the ground, there is no way to avoid it.
Fertilizing
You can use a fertilizer two to three times during the growing season of the Echinopsis plant. A liquid fertilizer with a balance of nitrogen, phosphorus and potassium is ideal for cacti.
Avoid fertilizers during the dormant period.
Pests and Diseases
Thankfully, the Echinopsis cacti are not prone to many pests or diseases. The main enemy of an Echinopsis plant is root or stem rot.
This is caused by high water retention. Make sure that the drainage of the pot is up to scratch and that you don't overwater the plant.
How to Propagate Echinopsis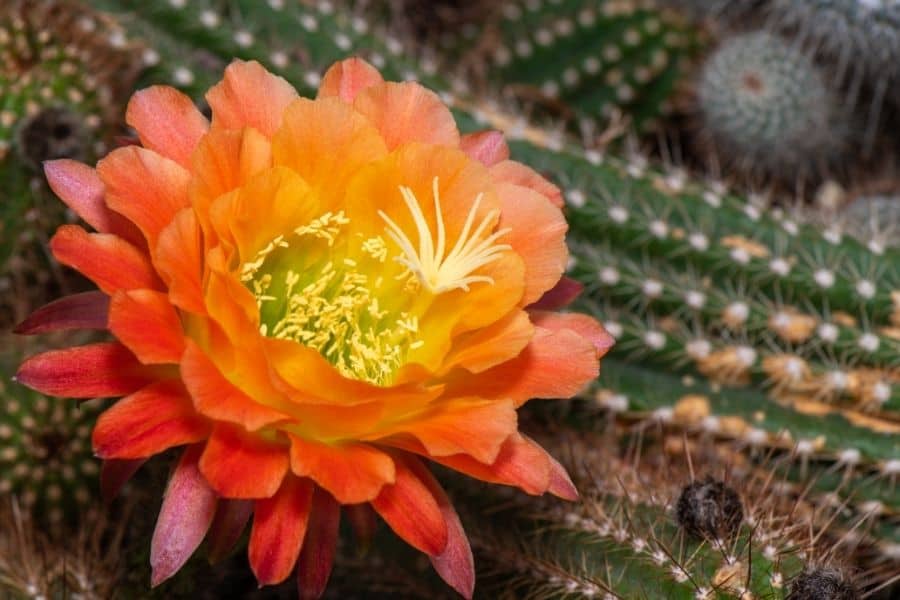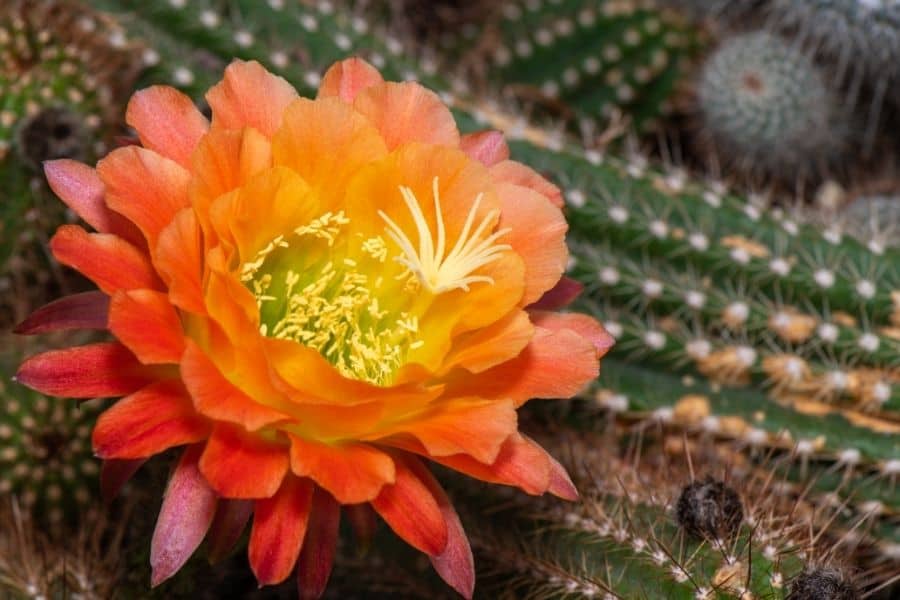 Propagating Echinopsis plants can be easy or hard depending on the exact species. However, if you take care of a few tips and make sure to propagate during the growing season, you are guaranteed to have a decent yield.
There will be offsets clustered at the base of your Echinopsis plant. Let them grow to an inch or more in length before cutting them. Always cut at the narrowest part of the offset.
Let the offsets dry out on a paper towel till the wounds dry out or form callouses. Next, place them in a soil mix identical to that of the mother plant (preferably a fast-draining soil).
The plant should take root in a few weeks. Once this happens, repot the plant. There you have it! A new Echinopsis sapling propagated from your plant.
Echinopsis Species and Varieties
Echinopsis amblayensis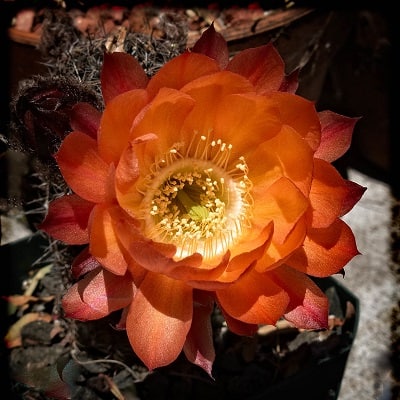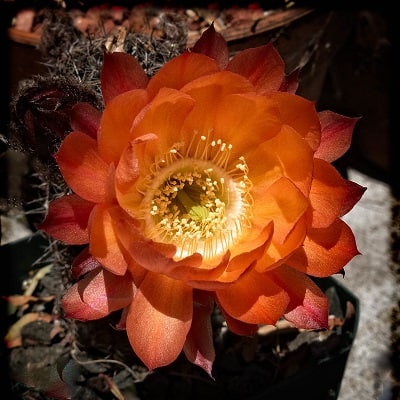 Echinopsis amblayensis is a local or morphological form of the very variable Echinopsis haematantha characterized by rich orange-red flowers and green stigmas. This easy-to-grow cactus is highly-priced for its vibrant orange-red blooms.
Echinopsis amblayensis var. albispina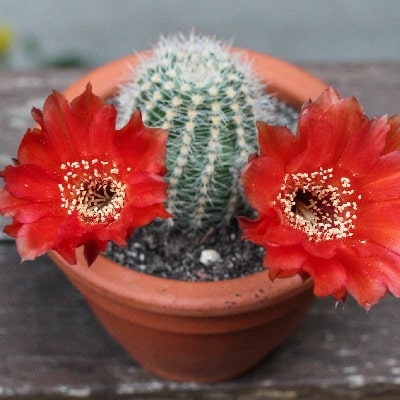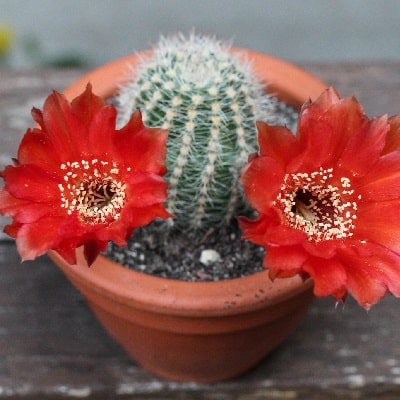 Echinopsis amblayensis var. albispina is a tuberous, dwarf, compact, clustering cactus. It has short, glassy spines, mostly cream white in varying numbers. Flowers are orange to red and very showy.
Echinopsis ancistrophora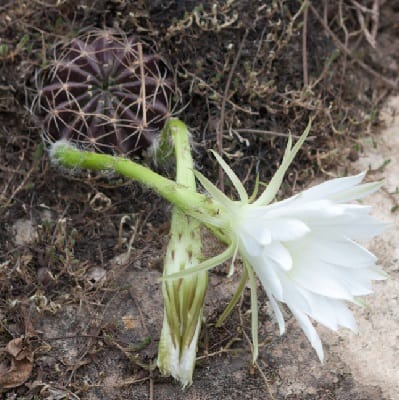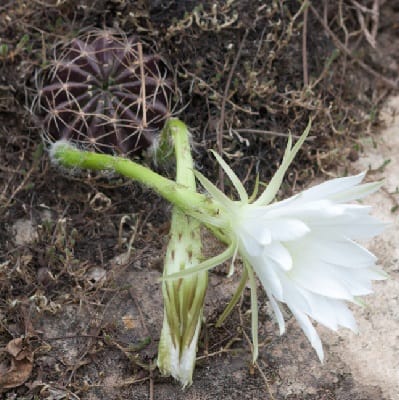 Echinopsis ancistrophora is a striking Andean hookspined cactus of wide distribution showing extreme variation in flower color and size, with corolla lengths varying between 4.5 and 24 cm, and color varying from white to dark-red. It is both solitary or forming clumps.
Echinopsis arachnacantha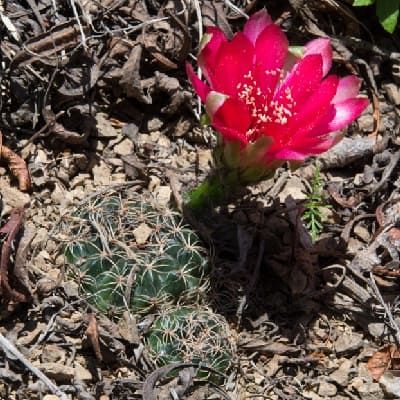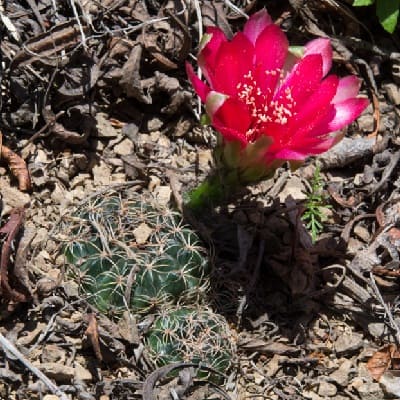 Echinopsis arachnacantha has smaller clustering stems with yellow to yellow-orange flowers. The stem is flattened to spherical, dark green with ribs weakly notched.
Echinopsis atacamensis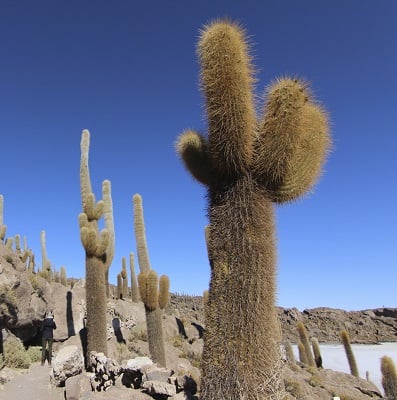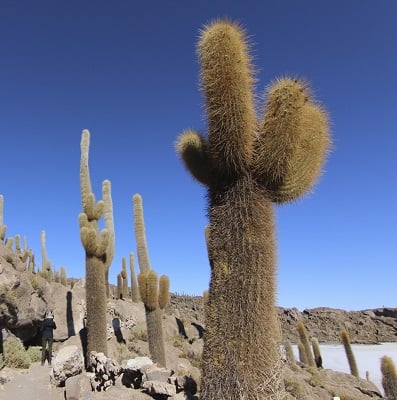 Echinopsis atacamensis has a tall columnar habit. The subspecies atacamensis is usually unbranched and found in Chile and distinguish from Echinopsis atacamensis subsp. pasacana that is branched, Saguaro-like, and occurs in Argentina and Bolivia.
Echinopsis aurea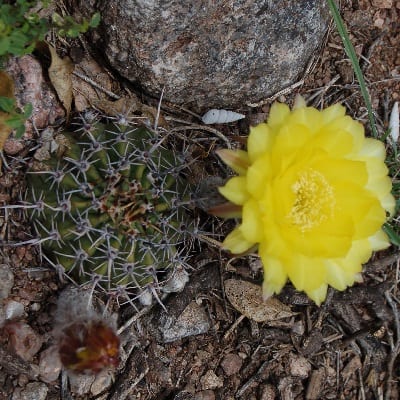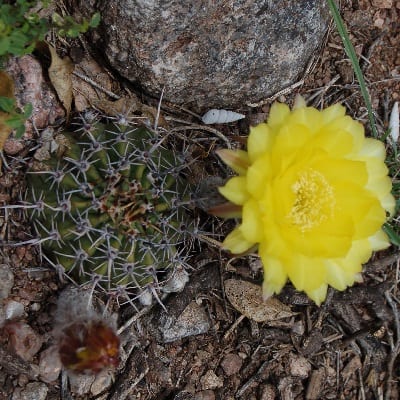 Echinopsis aurea is solitary or with many basal and lateral offshoots. This species has a wide range and shows a great variability. The flowers are usually lemon yellow and bright yellow inside, but this species also has white, pink or red flowers. Blooms in flushes in late spring and occasionally in summer. Buds are covered by long silky hairs and grow laterally from the center of the stem. The tube is slightly curved, funnel-shaped, slender and a greenish-white, with pale green scales red at the base, with white and black down.
Echinopsis backebergii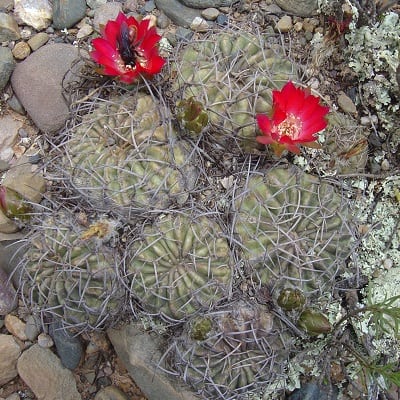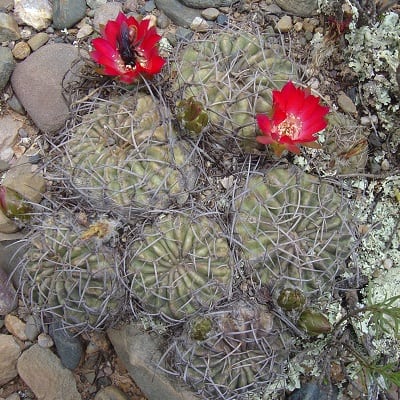 Echinopsis backebergii is a small cactus species, with conspicuous bright-colored blooms. The stem is at first globular, becoming cylindrical as it ages. Flowers are funnel shaped, very colorful pale to dark carmine-red or violet, often with a bluish sheen and white throats
Echinopsis bruchii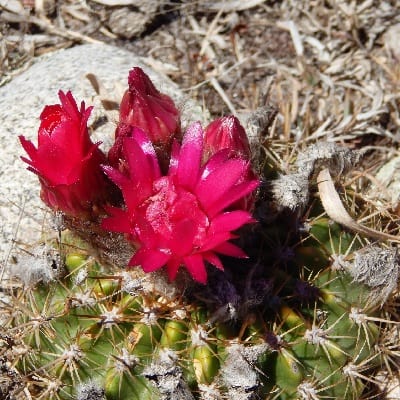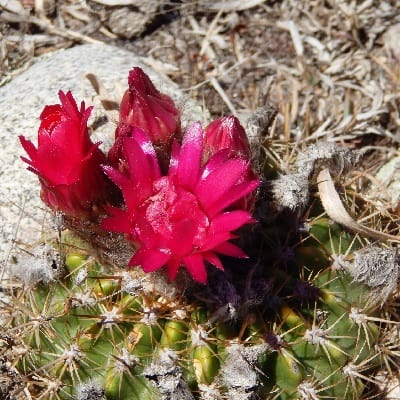 Echinopsis bruchii is one of the larger Echinopsis species, the multi-ribbed bodies grow to as much as 50 cm thick. It has yellow or brownish-orange spines and brilliantly red blossoms. It is a morphologically variable taxon growing widespread in the mountains of Argentina.
Echinopsis caineana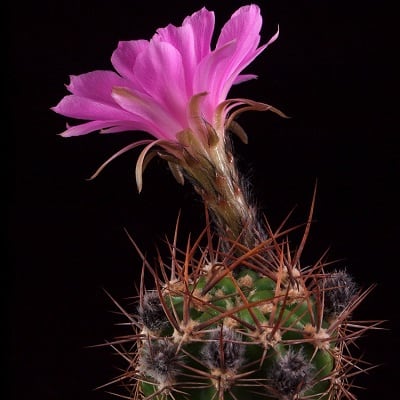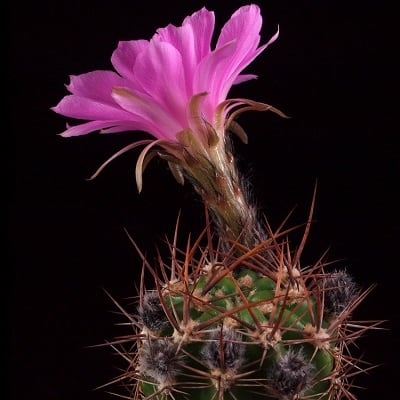 Echinopsis caineana have stems that are egg-shaped to shortly cylindrical with 14-18 spines that are whitish, grey, to brown-black, with dark tips. The flowers arise near the crown at the stem tips, funnelform, clear pink, deep violet-rose, or magenta (rarely white).
Echinopsis calorubra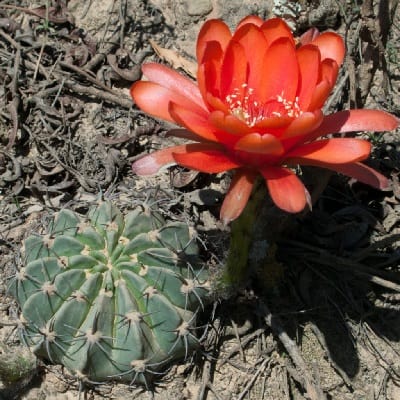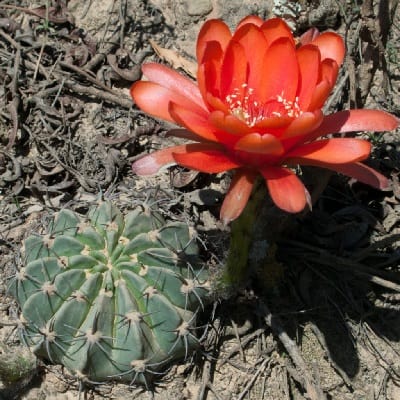 Echinopsis calorubra has a single central spine up to 2.5 cm long, 9-13 radials, and very showy orange-red to dark red flowers up to 15 cm long.
Echinopsis candicans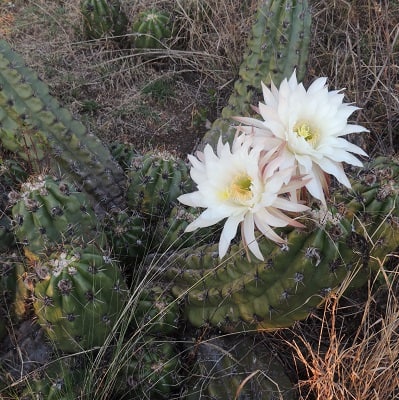 Echinopsis candicans is a clump-forming cactus that resembles the 'torch cactus' but is not as tall and does not stand as straight. It tends to lean on one side and forms pups from the base and on the other side. It eventually forms a large clump 1 to 3 m across. The flowers are showy, funnelform, bright white on the inside with yellow centers and pinkish on the outside.
Echinopsis chamaecereus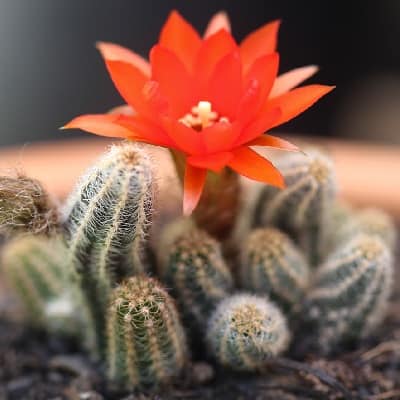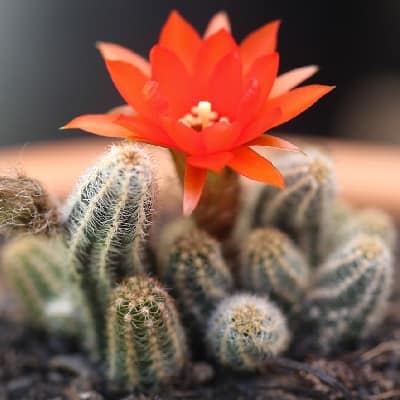 The peanuts cactus, Echinopsis chamaecereus, is a very popular cactus with many crowded finger-like stems. Established plants can reach a height of 15 cm and a width of 30 (or more) cm. They have 10 to 15 soft, white bristles, 2 mm long spines and the flowers are orange-red about 5 cm in diameter, often produced in prolific quantities from an early age.
Echinopsis chiloensis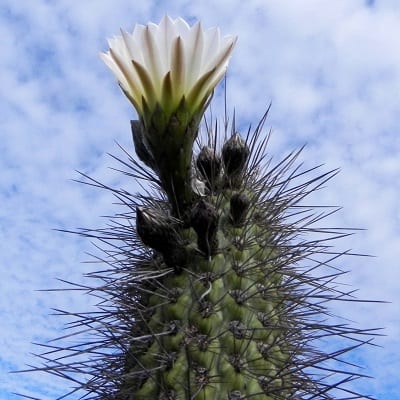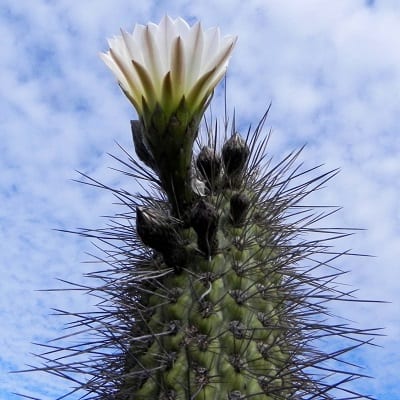 Echinopsis chiloensis (previously known as Trichocereus chiloensis) is a fiercely spiny cactus. It usually develops into a multi-stemmed shrub or small tree, with branches
arising from near the base, starting nearly at right angles to the main trunk but soon erect, the tallest sometimes 8 meters high. It produces nocturnal flowers 14 cm long, with outer perianth-segments white but tinged with red or brown.
Echinopsis chrysochete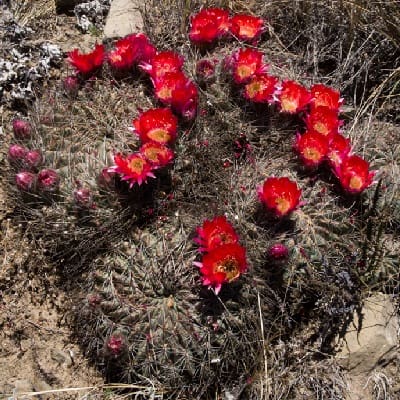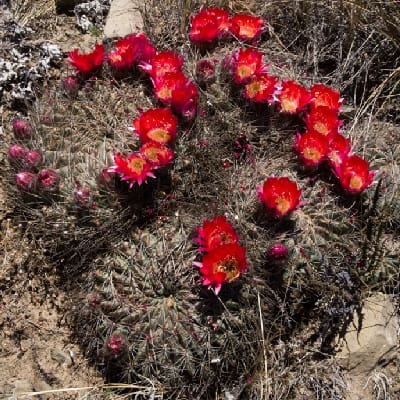 Echinopsis chrysochete is a very spiny cactus with a much flattened and usually solitary body that attains a diameter of 25 cm (sometimes forms small few branched clumps). Flowers are 3-4 cm in diameter, widely funnelform, orange to red, shiny, with whitish centers.
Echinopsis cinnabarina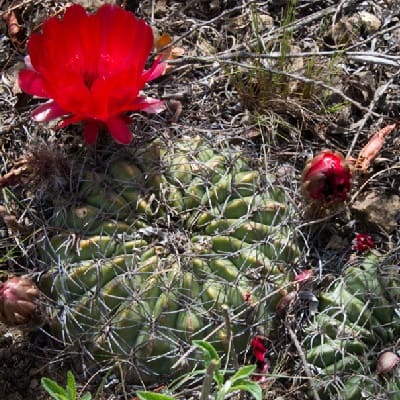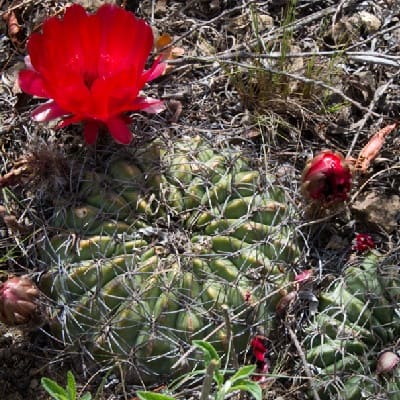 Echinopsis cinnabarina much better known under its old name, Lobivia cinnabarina is a small cactus with a much flattened usually solitary body (sometimes forms small few branched clumps). Spines are arranged like little spiders while flowers are apical, scarlet to deep red.
Echinopsis densispina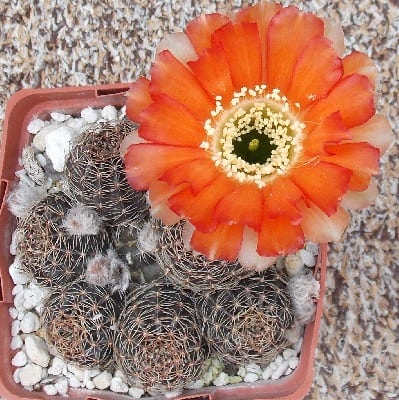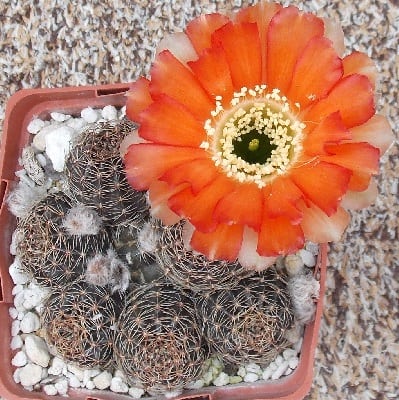 Echinopsis densispina is a low-growing cactus species with colorful flowers ranging from yellow to orange and red. It is an exceedingly variable species with a bit of variation throughout its range and some taxonomists recognize several varieties. The segregation of the many forms, varieties, and subspecies on the basis of spines morphology and flowers color, however, is difficult to support, given the continuous range of variation in spination and flower color over its geographic range.
Echinopsis eyriesii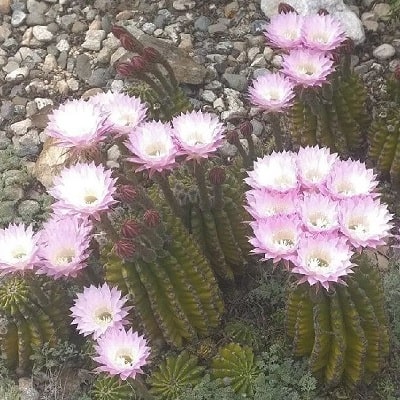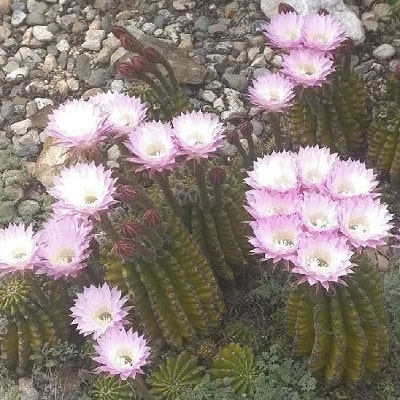 The Echinopsis eyriesii is native to Argentina, Uruguay and Brazil. It tends to grow in low-lying areas and generally tropical climates. This cactus has a bulbous and thick caudex with ribs and spines, with each stem or mound growing pretty tall and wide.
Echinopsis ferox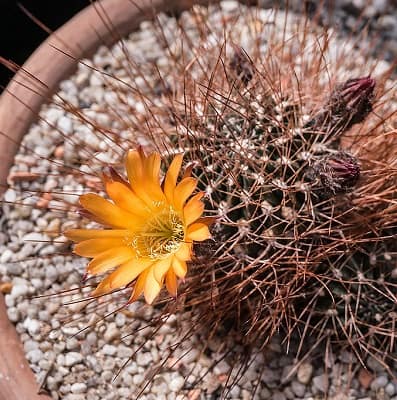 Echinopsis ferox is a very large and spiny cactus, solitary or branched. The body is almost concealed by the spines. This is a very variable species especially in the shape and length of spines and in flowers color. Its stem is bluish-green, spherical at first and later sort of cylindrical, and it may grow 25 cm tall and 10-40 cm in diameter.
Echinopsis Flying Saucer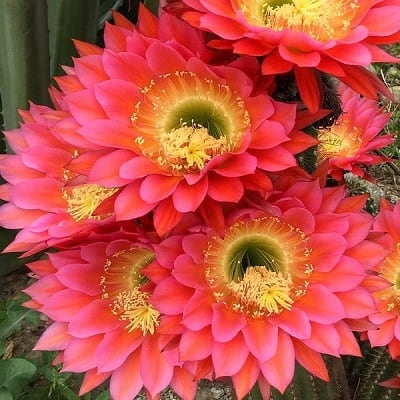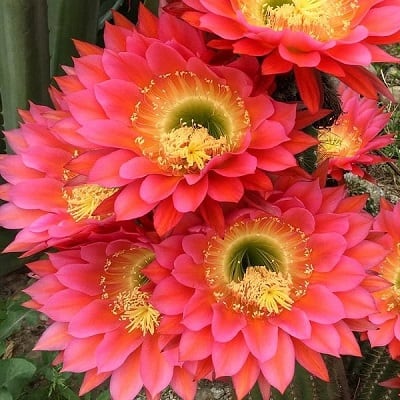 The Echinopsis Flying Saucer is a hybrid cactus variety that has short and stout stems and as many as 14 ribs throughout the structure. The plant can actually end up growing quite tall, reaching around 30 inches once it becomes fully mature. Native to parts of South America, this plant also has several spines on the ridges.
Echinopsis haematantha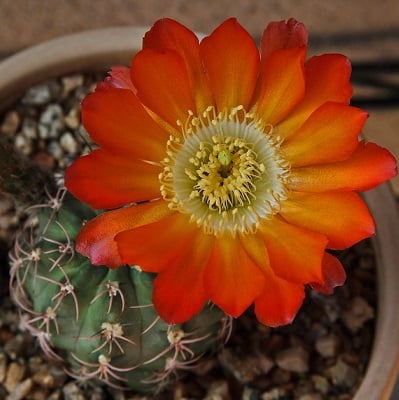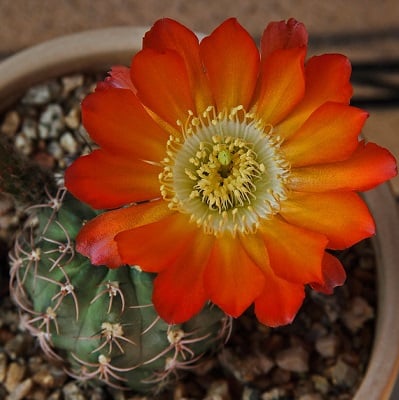 Echinopsis haematantha is a very interesting but extremely variable species, with many forms and varieties. It is a geophyte cactus, usually solitary, or slowly branching to form small clumps. Its flowers range from yellow to purple with usually a white or yellowish-cream throat circle.
Echinopsis haematantha var. kuehnrichii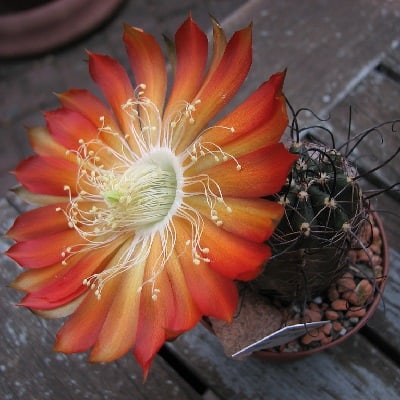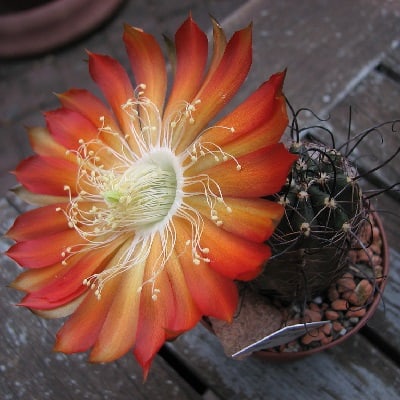 Echinopsis haematantha var. kuehnrichii is a very variable cactus species showing a large range of natural variability, especially the color of the flower. The var. kuehnrichii (sometimes misspelled "kuehnrichiana") distinguishes for its slightly smaller solitary, rarely clustering body with long black hooked spines. The flowers range in color from red to orange and yellow with usually a white throat circle.
Echinopsis hertrichiana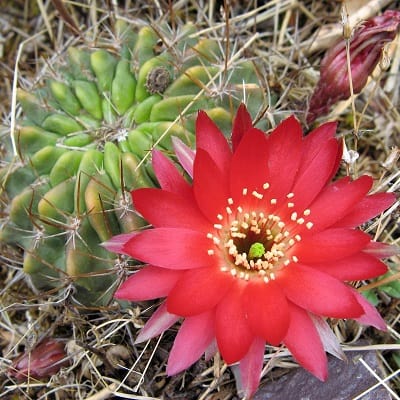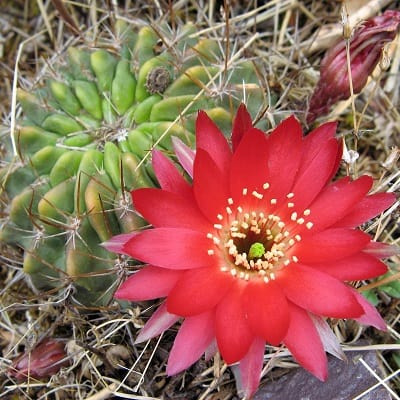 Echinopsis hertrichiana (Lobivia hertrichiana) is a small cactus, solitary or clump-forming, with spherical bodies about 6 cm long and up to 10 cm thick with about 11-20 notched ribs. The yellowish spines are so interlocking that they almost cover the stem. This cactus is popular because of its large, brilliant red flowers occurring in clusters at the top of the stems.
Echinopsis huascha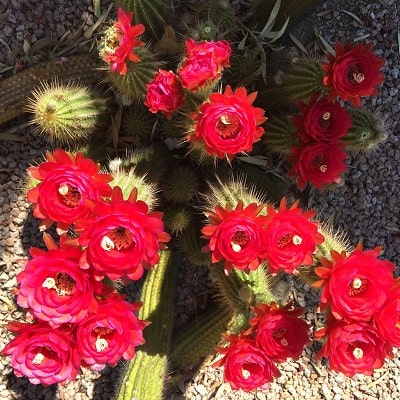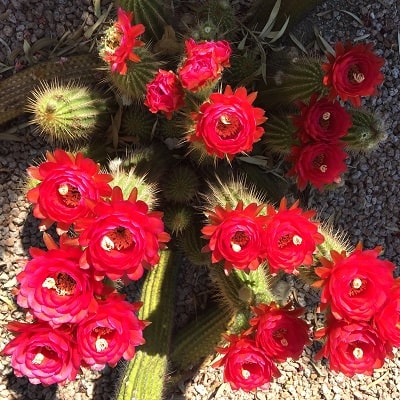 Echinopsis huascha (still known in cultivation as Lobivia huascha or Trichocereus huascha) is a decorative cactus easily found in cultivation and grows virtually anywhere. The beautiful large blooms are very variable in color and size ( brilliant golden yellow to dark-red ), are about 10 cm long and cluster on top. Flowers have the shorter tube of Lobivia and are strictly diurnal while Trichocereus flowers are nocturnal.
Echinopsis lageniformis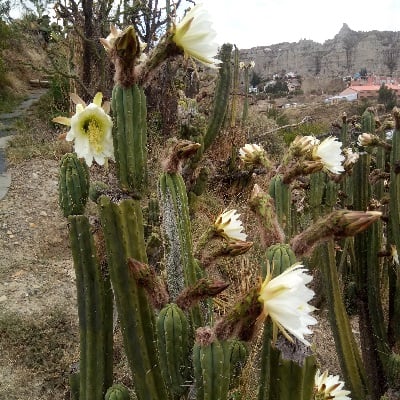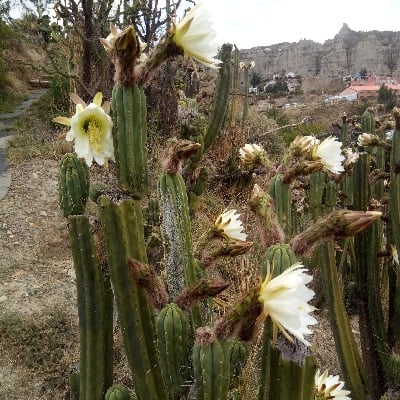 Echinopsis lageniformis, best known in cultivation as Trichocereus bridgesii, is a shrubby or small treelike fast-growing columnar cactus species, called in Bolivia Achuma or Wachuma. It is 2 to 5 meters high, more or less branching, pale green, a little glaucous. Among the indigenous populations of Bolivia, it is sometimes called achuma or wachuma, although these names are also applied to related species such as Echinopsis pachanoi which are also used for their psychedelic effects.
Echinopsis lateritia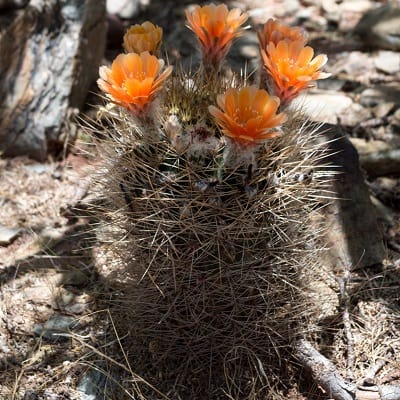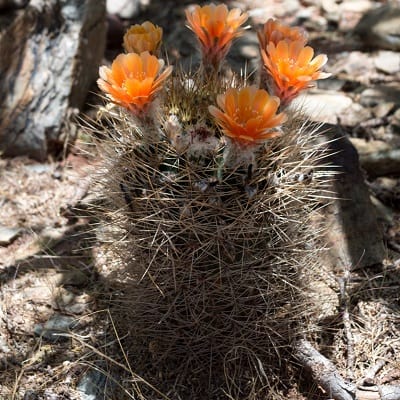 Echinopsis lateritia is a pretty little species, with a low thick flat to cylindrical stem. Plant almost always grows solitary but sometimes ramifies from the base to form clusters, size depending on the clone. Flowers are short, funnel-formed 3 to 5 cm long, 5-6 cm in diameter, yellow, orange, pinkish, brick-red to carmine in color with a usual clearer center.
Echinopsis leucantha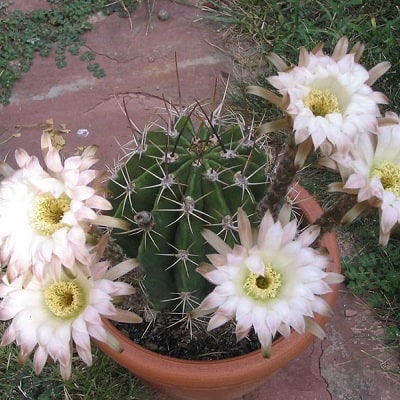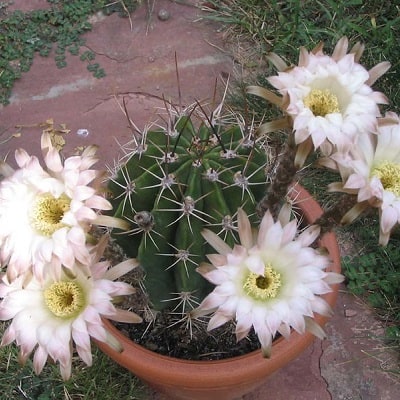 Echinopsis leucantha is frequent in shrublands and forests, where it grows on sandy, silty and gravel soils. It has a globose to elongating stem, grayish-green to brownish, about 15-35 cm high and 10-15 cm in diameter. Flowers are white or pale pink, trumpet-shaped about 16 cm long.
Echinopsis macrogona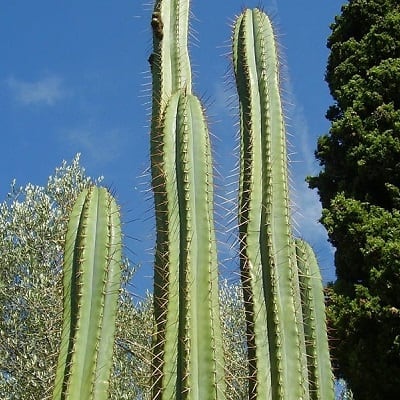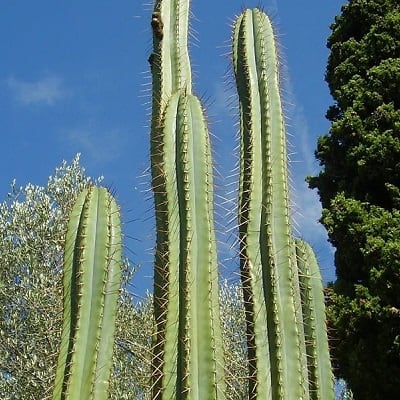 The Echinopsis macrogona cactus species is native to Bolivia. It grows as a tubular thick stem that can end up growing up to 10 feet tall. This stem is also full of around 6 ribs, although more are probable too, depending on the thickness.
This stem is usually gray-green with a tinge of blue and is full of central and radial spines that are brownish in color. At the tips of the stem, white flowers usually bloom.
Echinopsis mamillosa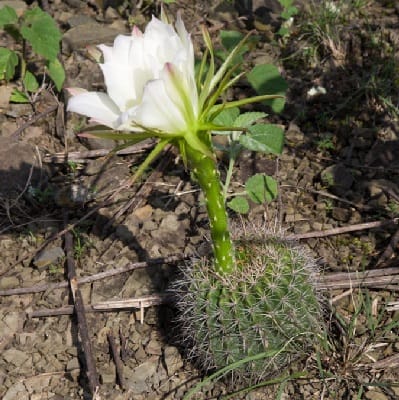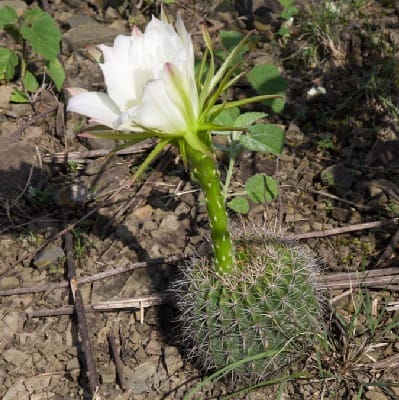 Echinopsis mamillosa is a solitary spherical to columnar cactus, 10-25cm in diameter and 7-30 cm tall or more, depending on the variety. It produces a large-growing fresh green body with relatively short slightly curved spines. The flowers are truly beautiful white and nocturnal.
Echinopsis marsoneri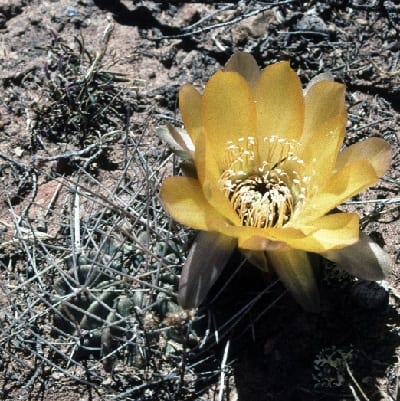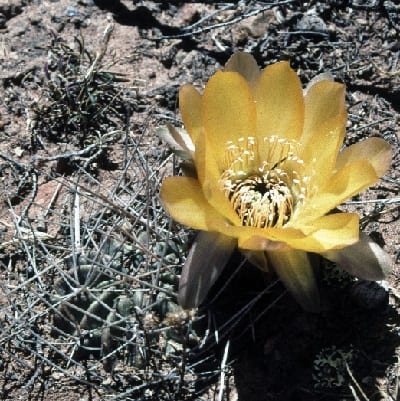 Echinopsis marsoneri (commonly known as Lobivia marsoneri) is a small and very variable cactus that grows solitary or in groups. Flowers's colors are very variable, comprising yellow, orange vine-red and violet. All of them have in common that the hymen (or throat ring of the flower) is always of a very dark purple-violet to black, thickened at the edge and glossy.
Echinopsis maximiliana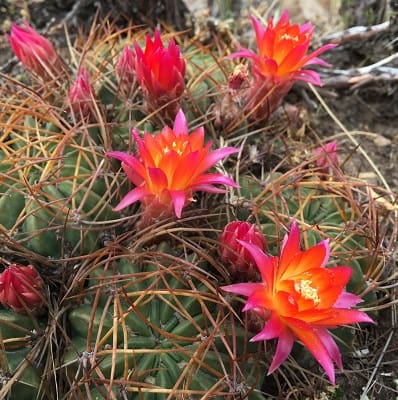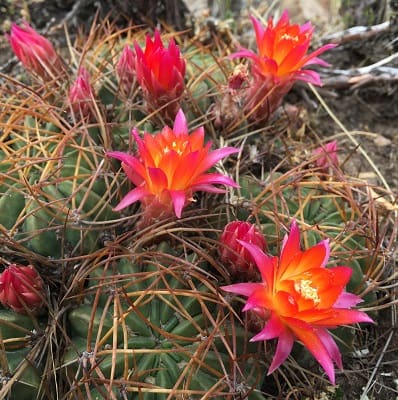 Echinopsis maximiliana is a widespread and very variable cactus species commonly forming clusters. It has dark green globular to short cylindrical heads about 5 cm in diameter; each head has up to 20 ribs. The spine color varies from off-white and yellow to brown. The flowers are very beautiful, orange-red with orange-yellow throats and long-lasting.
Echinopsis mirabilis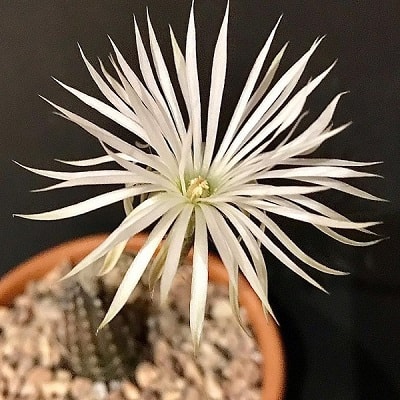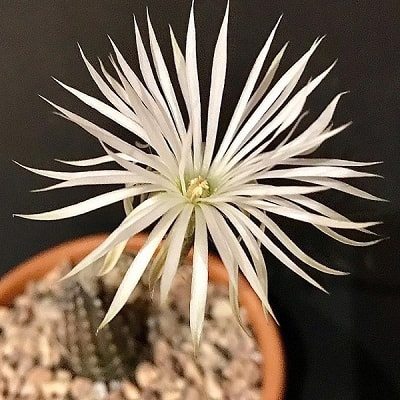 The flowers of Echinopsis mirabilis branch out and are big and white, although each flower tends to die out in a single night. Usually, it has a single stem that is dark brown in color, but many varieties can also feature multiple stems at once. Each stem has a few ribs in addition to white or cream spines.
Echinopsis oligotricha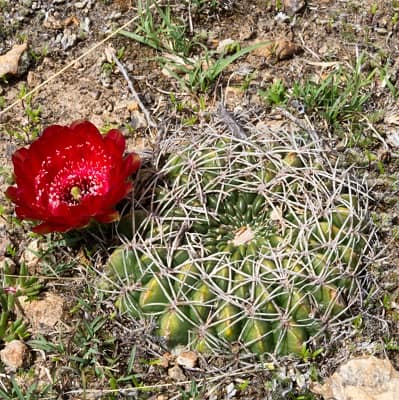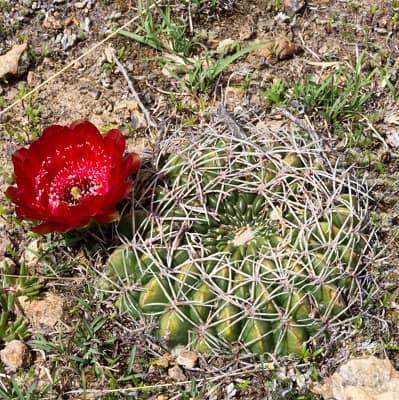 Echinopsis oligotricha has flowers tube that are typically nearly naked (or with few hairs). It is a small plant with a flattened stem, but worth growing for the fantastic pink-violet to red flowers with a contrasting white throat.
Echinopsis oxygona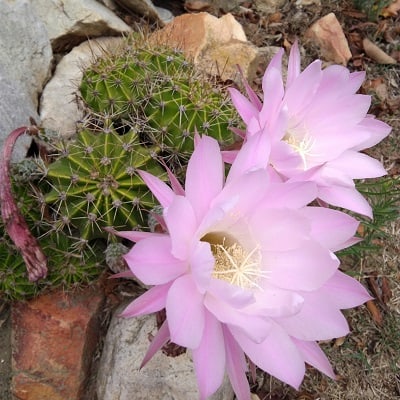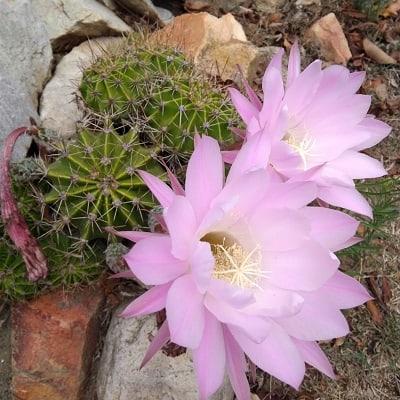 Echinopsis oxygona, the "Easter Lily Cactus", is known for having gorgeous, night-blooming, pink flowers at the ends of long tubes often as large or larger than the whole plant, it is very popular. The flower has a sweet smell. It is very variable.
Echinopsis pachanoi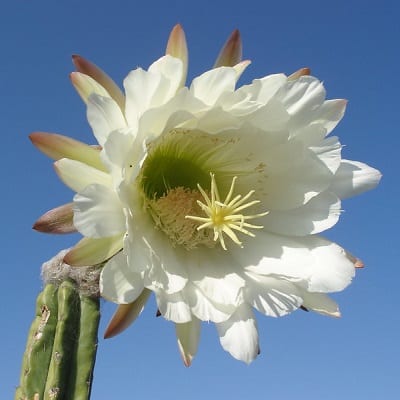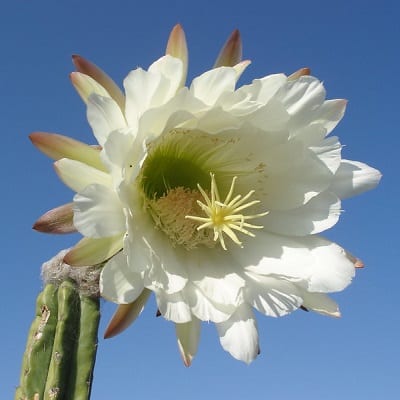 Echinopsis pachanoi is a large, multi-stemmed fast-growing columnar cactus. It forms a small tree 3 to 6 meters tall by 1,8 m spread, with several branches, usually extending from the base. The flowers are very large, white, night-blooming and remaining open for the following day, fragrant, up to 22 cm in diameter. They are very showy.
Inner perianth segments are white, outer segments brick red, stamen filaments greenish. In this species, the flower buds are produced from the spine clusters along the margins near the top of branches. The buds are pointed. The flower tubes and fruits are covered with scales and black curled hairs.
Echinopsis pentlandii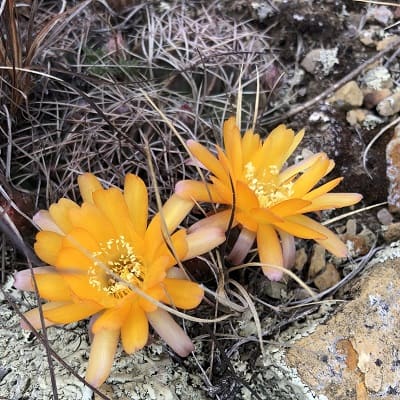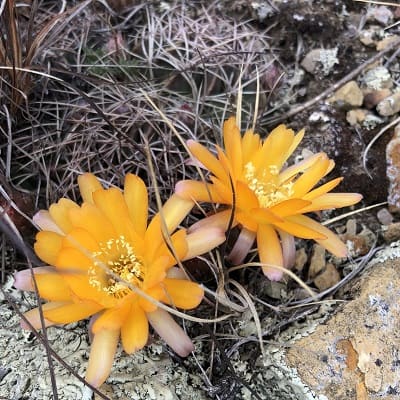 Echinopsis pentlandii, better known as Lobivia pentlandii, is a common attractive dwarf clumping cactus and particularly is fun as it matures and flowers at an early age. Probably the best-known species, it includes many varieties of desirable plants with pretty flowers of almost any color: purplish-pink, pale-pink, reddish-brown, orange, red, or yellow that have a very nice contrasting throat circle.
Echinopsis pugionacantha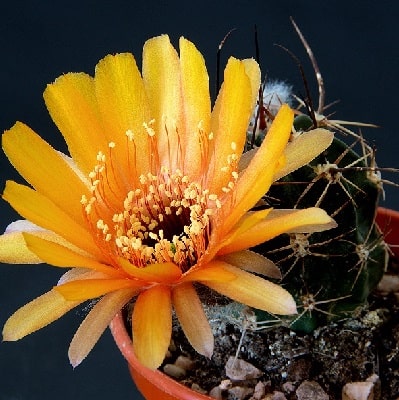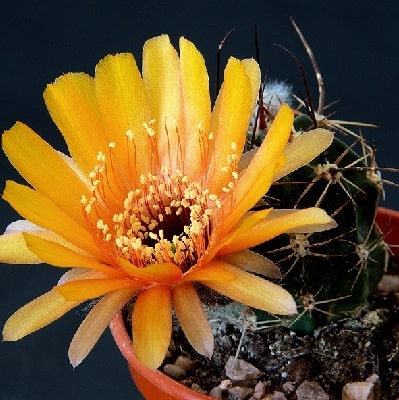 Echinopsis pugionacantha is usually simple or rarely basally branched. This species reputedly grows almost completely hidden below the soil (in habitat) and is extremely hard to find unless it is in bloom. Flowers are diurnal, scented, funnelform, yellow, pink, orange or red, up to 4,5 cm long and in diameter.
Echinopsis pugionacantha subsp. rossii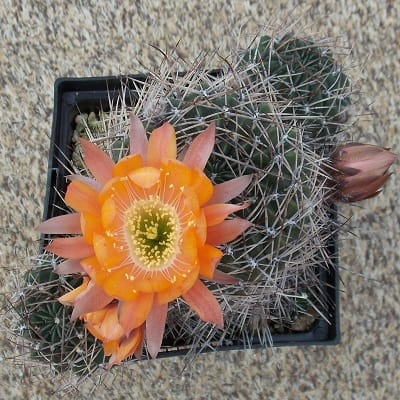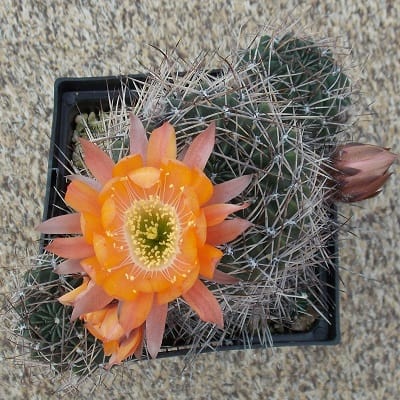 Echinopsis pugionacantha subs. rossii is a pretty little species, with a low thick flat to cylindrical stem up to 7 cm in diameter. Felted areoles line the edges of 25 to 30 ribs. Its flowers are orange or reddish with a usual clearer center, approx. 60 cm long, 5 cm in diameter.
Echinopsis rhodotricha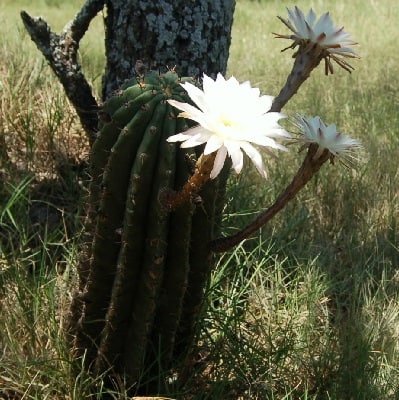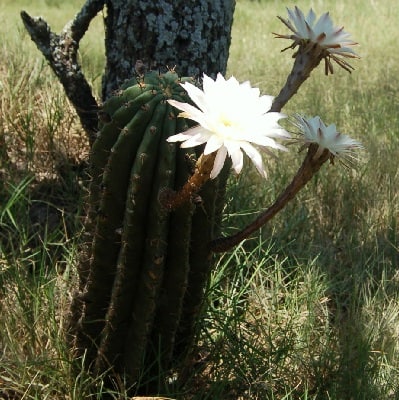 Echinopsis rhodotricha is a globular or columnar, cespitose cactus with 8 to 10 erect or ascending stems to 80 cm high with 8-13 ribs and 4-7 radial spines up to 2.5 cm long. Echinopsis rhodotricha blooms with slender white flowers, at the base of which there are dark scales with white, black and red, woolly hairs.
Echinopsis Rose Quartz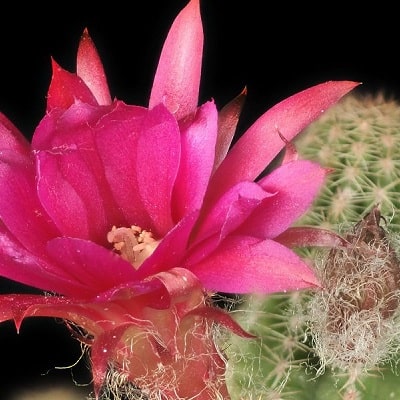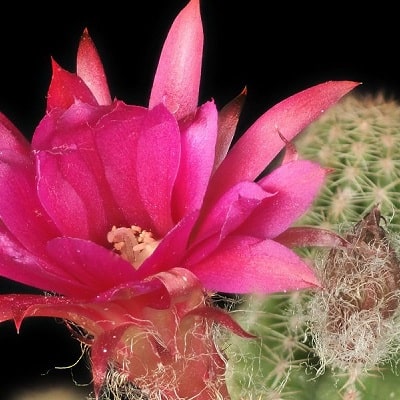 Echinopsis Rose Quartz (also known as the Rose Quartz Cactus or the Peanut Cactus) includes a few rounded cylindrical stems with notches and white or brown spines across the surface. Each stem tends to be of a different size and growth rate. The flowers are pink and red in color, which is where the name of the variety comes from. These flowers are usually around 3 inches in size.
Echinopsis saltensis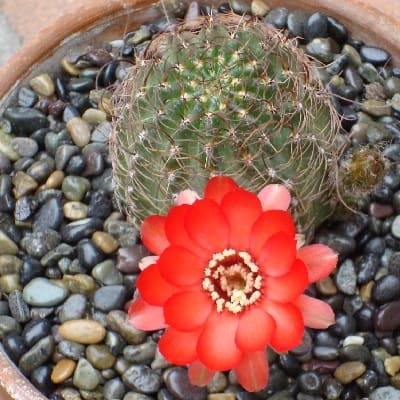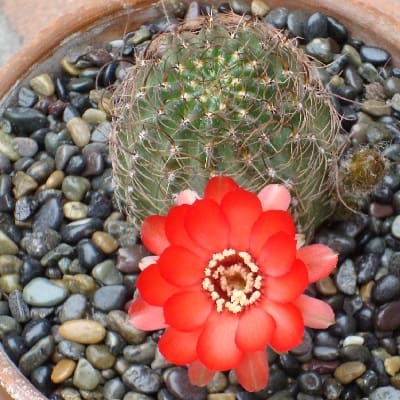 Echinopsis saltensis (best known as: Lobivia saltensis) is a very interesting but variable species with several forms and varieties. The flowers are pretty, shining, small up to 5 cm long, unscented, somewhat bell-shaped-bulgy, dark orange-red or crimson that appears almost black when starting to open. The stamen's filaments are dark red, and bear cream-white contrasting anthers. The stigma lobes are greenish.
Echinopsis schickendantzii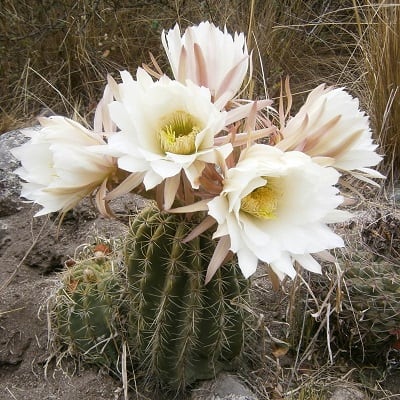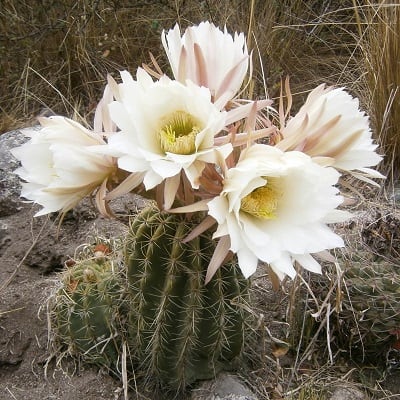 Echinopsis schickendantzii is not fragrant but is probably one the most beautiful of the genus. The beautiful large cup-shaped white flowers are about 20 long and cluster on top and remain open at times for three days.
Echinopsis schieliana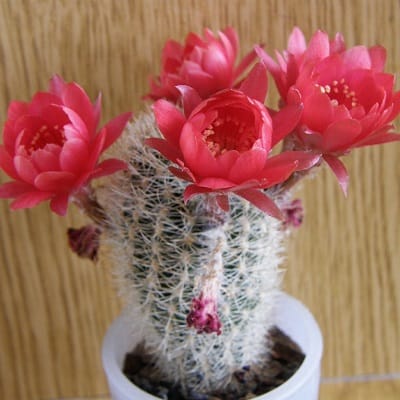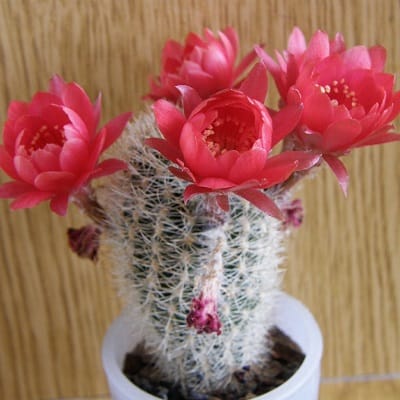 Echinopsis schieliana (best known as Lobivia schieliana) is a cute prolific clumper cactus with dark reddish-green stems underneath white or brownish spidery spines, flowers are mostly brilliant light-red and slender.
Echinopsis scopulicola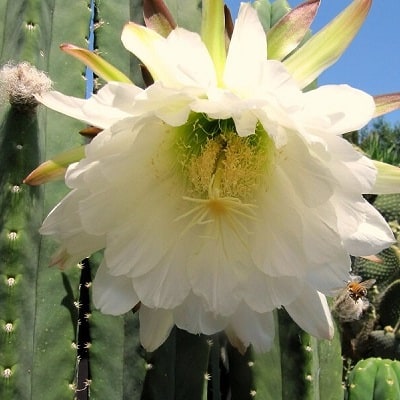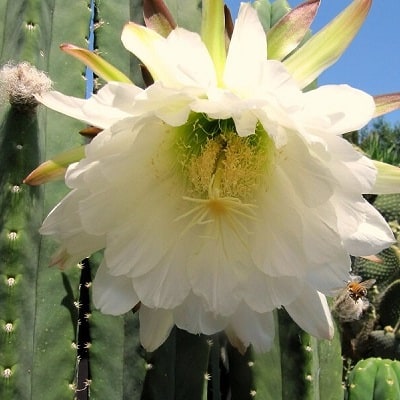 Echinopsis scopulicola grows to a height of around 4 meters and is mainly a smooth cylindrical stem with up to 6 or so ribs. There are hardly any areoles, spines or hair on this stem and even if there are, they often go unnoticed. The flowers are white in color and usually only open throughout the night.
Echinopsis spachiana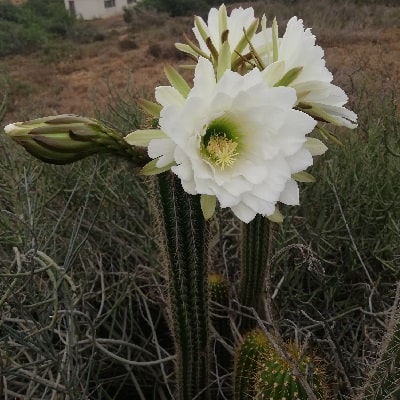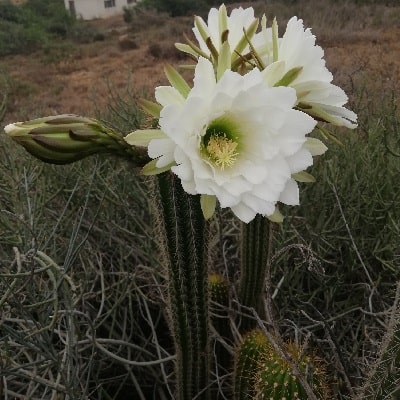 Echinopsis spachiana is a multi-stemmed columnar cactus at first simple, later profusely branching at the base; branches ascending parallel with the main stem. Its flowers are nocturnal, white, about 20 cm long and 15 cm in diameter lasting about 24 hours from one sunset to the following one.
Echinopsis spiniflora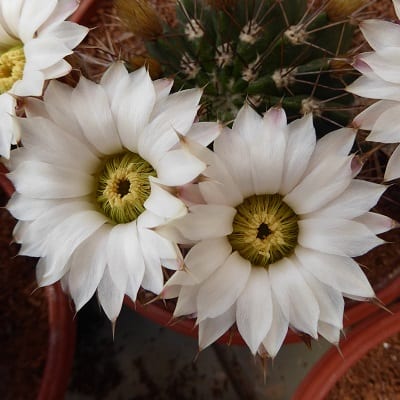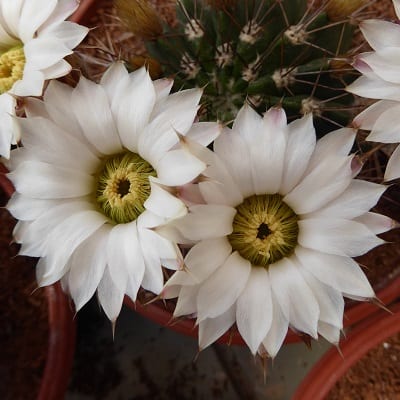 Echinopsis spiniflora is usually solitary or slowly branching through basal shoots. It can become an upright cactus with stems that can reach a height of about 15 cm. The spines are arranged neatly in rows down the stem. The showy flowers range from white to pinkish lilac and are about 4 cm across. It is a pretty variable species.
Echinopsis strigosa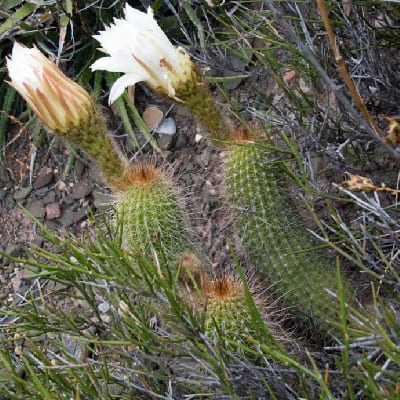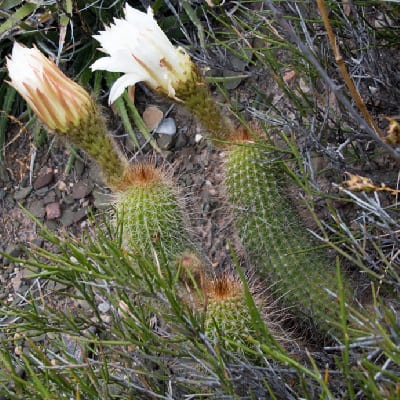 Echinopsis strigosa, formerly Trichocereus strigosus, is a shrubby cactus species that forms clumps to 1 meter in diameter with masses of white trumpet-shaped flowers in the summer.
Echinopsis subdenudata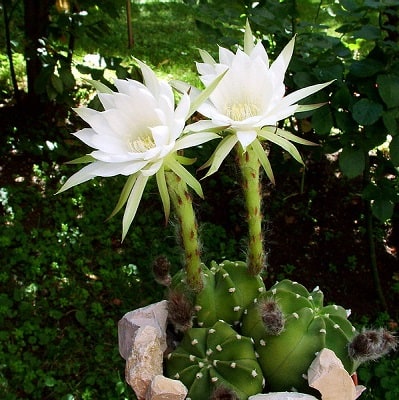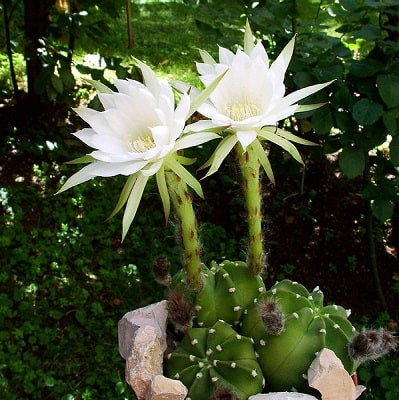 Echinopsis subdenudata is a globular, almost spineless or with very short cream spines that produces splendid night-blooming, white fragrant flowers up to 22 cm long. It is generally included within (as a synonym of) Echinopsis ancistrophora, suggesting that there is not really a fundamental difference between the two.
The key difference by which this species was separated, namely: its much shorter spines (less than 2 mm long) almost concealed among the felt of the areoles appears to fall within the natural variation of Echinopsis ancistrophora and it should be synonymized with the latter. It is at most a race of Echinopsis ancistrophora, but it still has value for a collector because they identify plants with particular characteristics.
Echinopsis tacaquirensis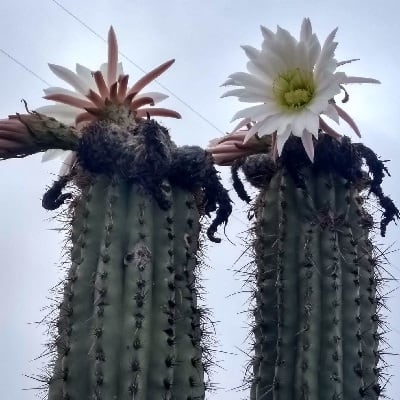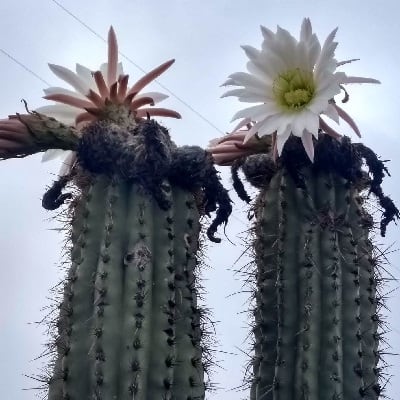 Echinopsis tacaquirensis is a shrubby columnar cactus, branching basally with crowded ascending branches up to 2.5 m high (occasionally up to 5 meters tall). Its flowers are white to delicate pink, funnel-shaped and up to 23 cm long.
Echinopsis tarijensis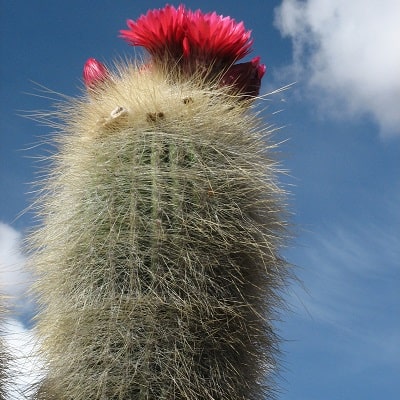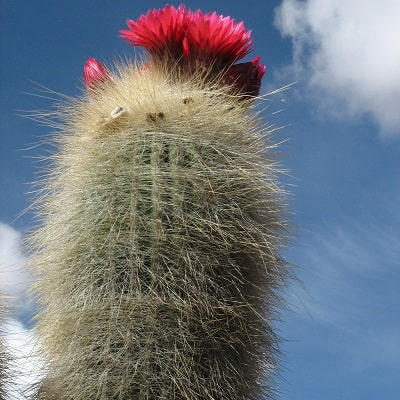 Echinopsis tarijensis (Trichocereus tarijensis) is a tall columnar cactus, solitary at first, later branching from the sides, and grows up to 5 meters high. The spines in young stems are long, uneven and robust, while the old stems are unarmed. The flowers borne near the stem tips are funnelform, light or dark red, pink or (rarely) creamy white, to 12 cm long.
Echinopsis tegeleriana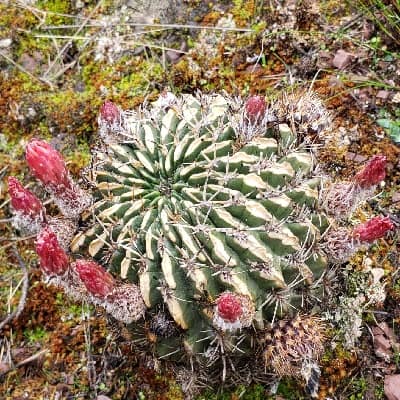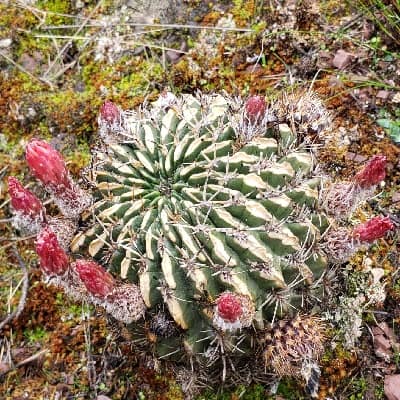 Echinopsis tegeleriana usually grows solitarily but sometimes forms small clumps. It has large taproots. The blooms range from red to orange to yellow and have pink-orange throats.
Echinopsis terscheckii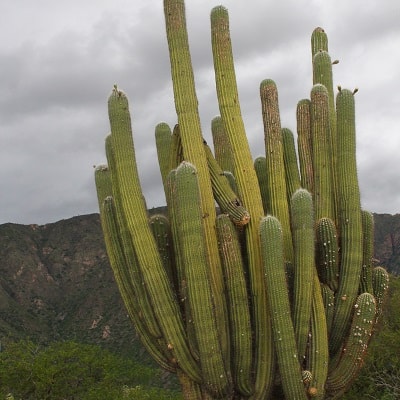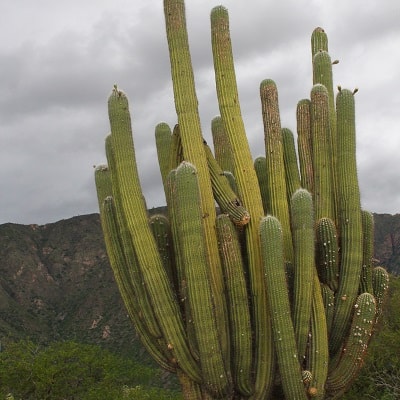 Echinopsis terscheckii best known in cultivation as Trichocereus terscheckii is a huge treelike cactus species, called Argentina cardon grande. At first columnar, and usually in age with numerous large arms, 10 to 12 meters high. Its flowers are very large, nocturnal, borne laterally, bell-shaped to funnelform, white, 15 to 20 cm long, and 12.5 cm broad.
Echinopsis thionantha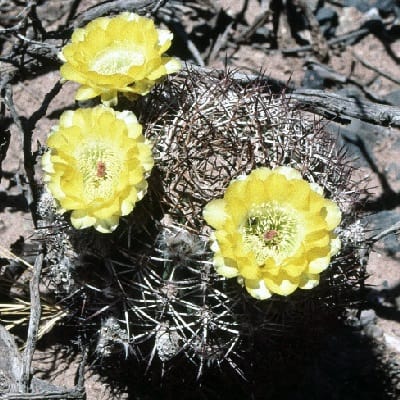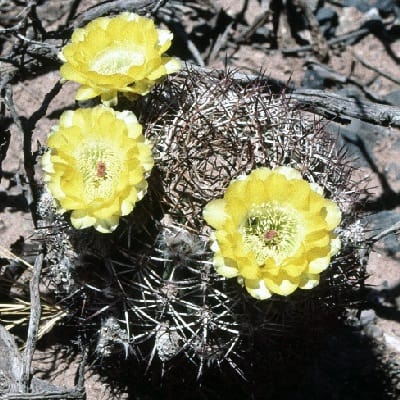 Echinopsis thionantha (best known in cultivation as Acanthocalycium thionanthum) is a highly variable taxon with several forms. The specific name "thionantha" was originally applied to the yellow flowering form, but now comprises plants of variable colors of flowers and spines sizes. There are a number of varieties, but not all are universally recognized.
Echinopsis tiegeliana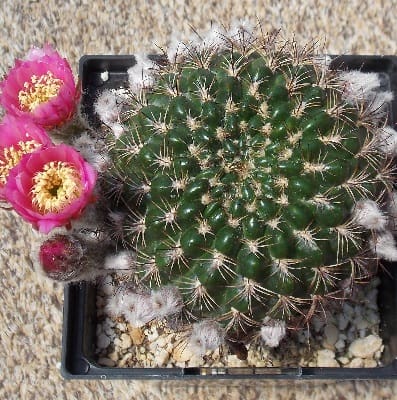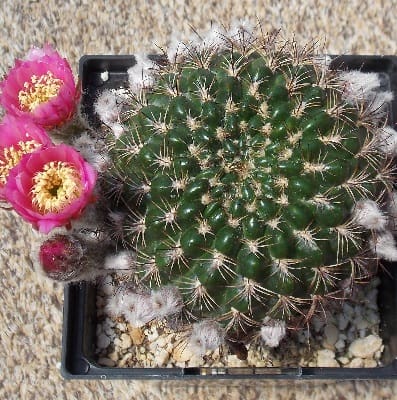 Echinopsis tiegeliana (Lobivia tiegeliana) is a small cactus, usually solitary, whose spines look pectinate ( i.e., its spines are arranged like a comb). This species is very variable in color and number of spines, size and color of flowers. The flowers are deep red to violet-pink, although there are varieties with yellow flowers as well.
It comprises several questionable varieties and its taxonomic history has undergone several changes. The great variability of Echinopsis tiegeliana is due to the fact that cross-pollination among different forms and different species (in habitat and especially in collections) is very frequent and it can be quite difficult to determine what is the "pure type" and the cross.
Echinopsis volliana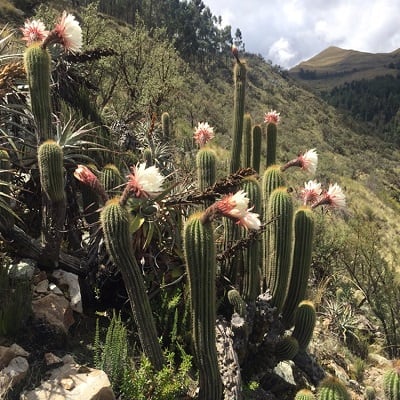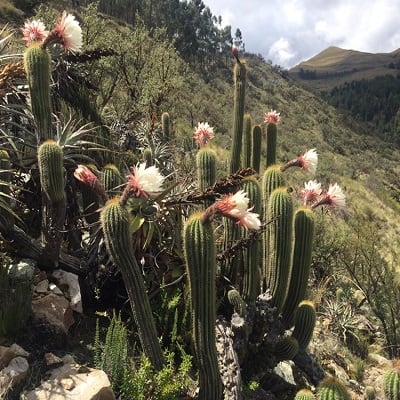 Echinopsis volliana is a columnar cactus whose shoots have a maximum diameter of up to 10 centimeters, approximately 13 ribs and a very bright green-yellow color. The ribs are 7 mm broad and are up to 5 mm high. The plant has 7-12 radial spines and very fine and thin spines that can get up to 7 mm long. There usually is only one middle spine which can reach a length of 2,5 cm. All spines are yellow-colored. The flowers are white and up to 12 cm long.
Echinopsis werdermanniana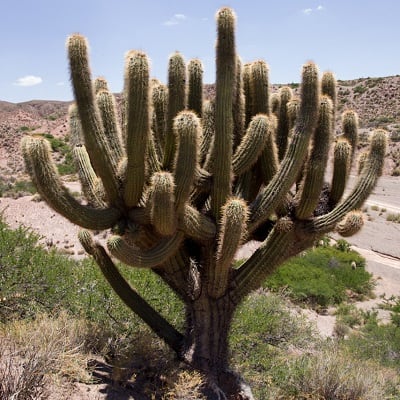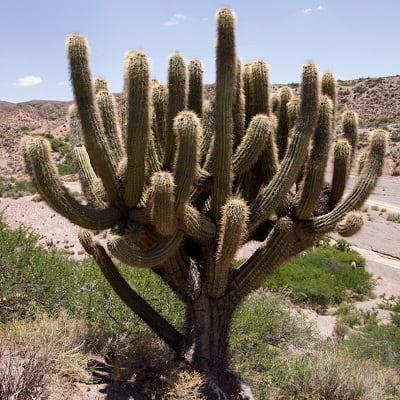 Echinopsis werdermanniana is a large, handsome cactus that reaches 5(-8) m in height with a thick trunk to 60 cm in diameter and resembles Echinopsis atacamensis in habit, but is more massive and has comparatively few spines. Its fruits should be tasty. The flowers are white, about 20-22 cm long, and usually emerging from the top of the plant rather than at lower regions of stems. When numerous, they form a ring around the apex.
Echinopsis werdermannii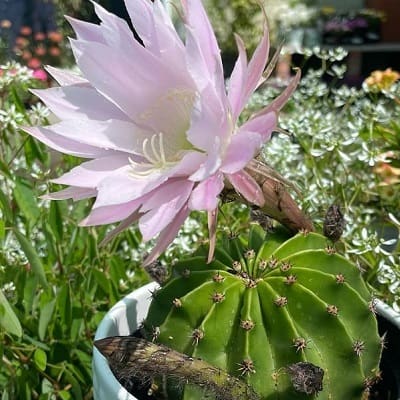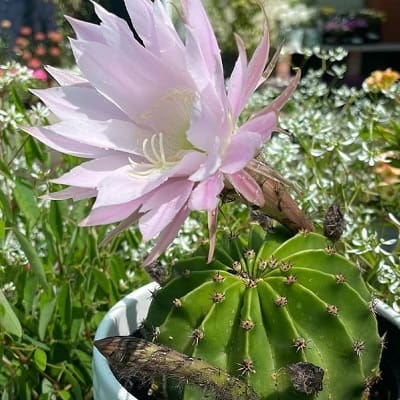 Echinopsis werdermannii includes both columnar stems as well as small rounded stems. These round stems can either be a part of the columns or grow separately as part of the same plant. Each of the stems also has many ridges with areoles and spines, not to mention that the stems bloom pink and white flowers from a stalk.
Echinopsis yuquina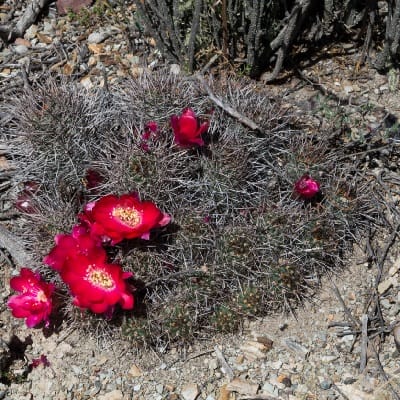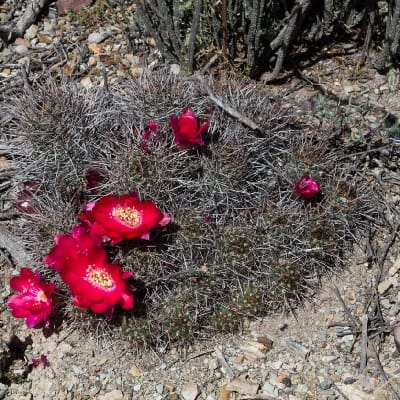 Echinopsis yuquina is native to Bolivia. It produces trumpet-shaped flowers that are arranged solitarily. The perennials produce berries.
FAQs
What Is the Difference between Trichocereus and Echinopsis?
Tricocereus was established as a genus in 1909. Trichocereus plants usually grow higher and have defined branches. Echinopsis plants on the other hand are shorter and circular.
It was later argued that there were no differences between the two on a scientific level. The flowers and seeds appeared identical and there was no way to differentiate between them.
Thus, after a period of debate, they were classified as belonging to the same genus. Since the Echinopsis genus was established in 1837, the name Trichocereus was discarded. Both plants now belong to the same genus, i.e., Echinopsis.
However, many botanists do not agree with this classification and still maintain that Trichocerous should remain a separate genus.
How Long Do Echinopsis Flowers Last?
Echinopsis cacti are characterized by the beautiful fragrant flowers that bloom on them. These flowers often look comically large, as they can grow up to 4-6 inches in size.
Most cacti only bloom once a year. However, Echinopsis cacti can bloom many times a year. All they require is that the temperature doesn't drop below 21 degrees Celcius. If you live in a warm area, your Echinopsis plant may produce flowers all year long.