17 Creative Succulent Bowl Ideas to Try Today
Succulents are available in a wide variety of colors, shapes and sizes and they are some of the easiest plants to take care of. If you are looking for ways to create a beautiful and out-of-the-box succulent bowl, keep reading this guide to creative succulent bowl ideas.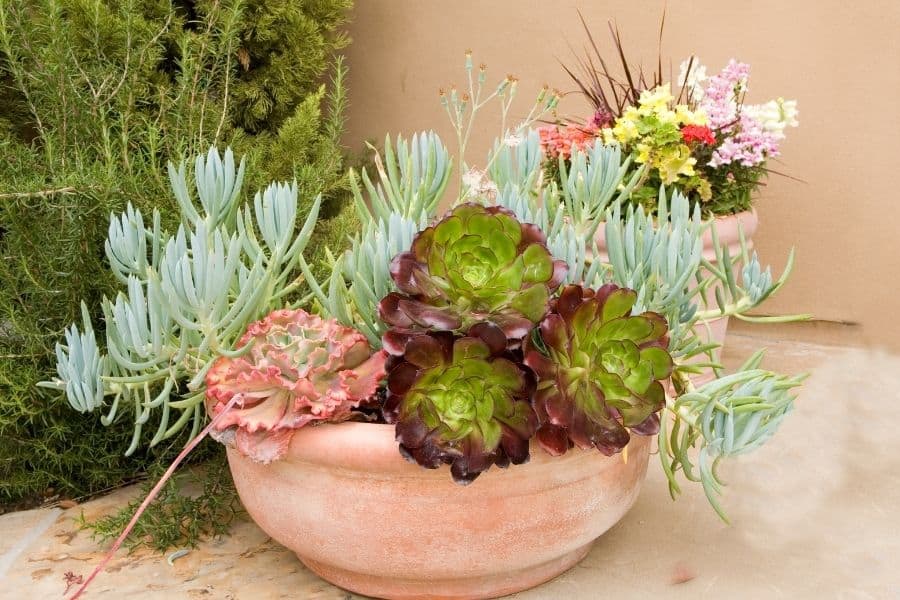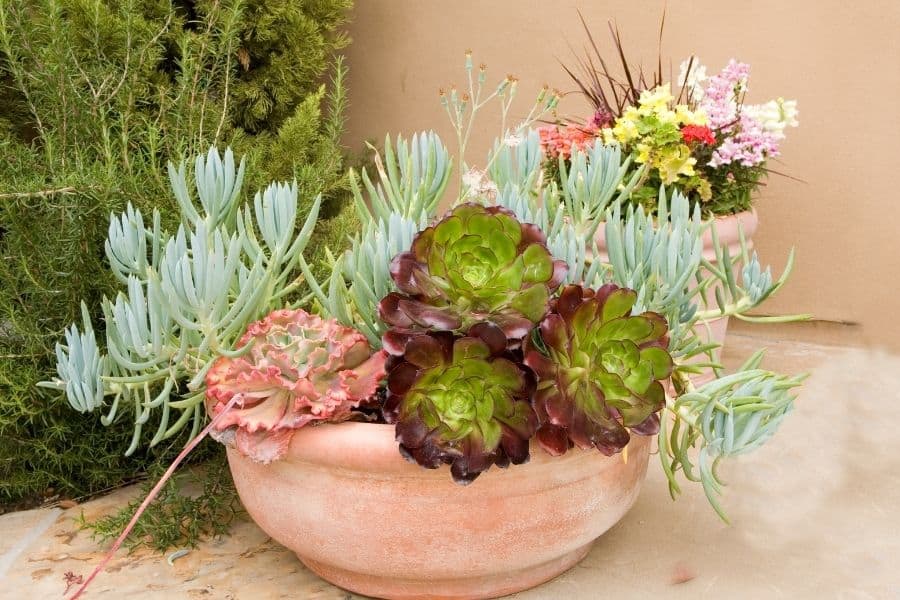 How Do You Make a Succulent Bowl?
Once you know the specific needs of succulent plants, it is extremely simple to take care of them. A succulent bowl is essentially a container in which multiple succulent plants have been potted.
Making a succulent bowl is a therapeutic and straightforward process that can be a wonderful hobby for you to do alone or with your loved ones.
To make a succulent bowl, the first thing you need to do is to choose your container. The most important thing to consider here is the drainage of excess water. Succulents are very sensitive to over-watering and can survive on low levels of moisture.
In a regular planting pot, the excess water would drain out through the drainage holes at the bottom. Hence, while choosing a container, you can either drill holes in the bottom or make sure that you do not overwater your succulents.
Certain materials such as concrete and clay do provide some amount of drainage naturally. Additionally, laying down charcoal below the soil can also help with the drainage of excess water.
The next step is to choose the soil. Succulents are tolerant towards most types of soil as long as it drains well. You can purchase a succulent potting mix from a nearby nursery if you cannot find well-drained soil near your house.
Read also:
6 Best Soils for Succulents in Pots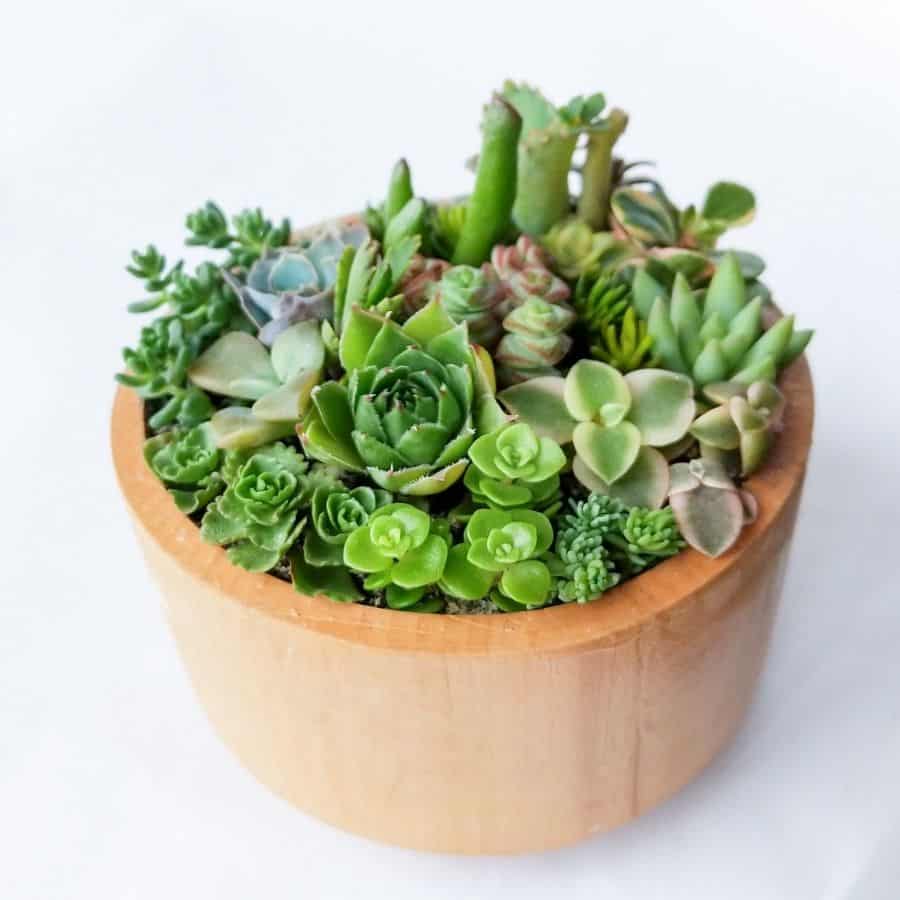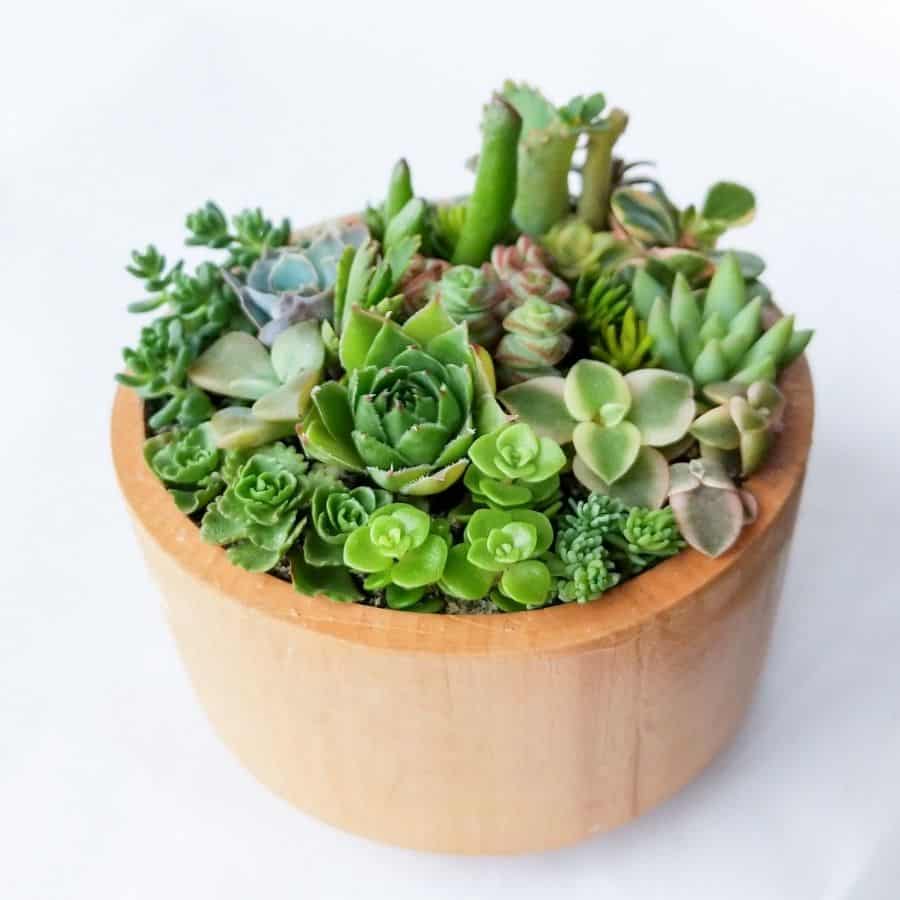 Start at the center of your bowl and plant your succulents one by one, taking care to loosen up the roots if they are clumped up together.
The arrangement is a creative process in itself but if you are not sure, then a simple way to organize the succulents is to plant a tall or distinct one in the center. Then, plant the average-sized succulents around it, alternating different shapes and sizes.
Around the outer periphery of the bowl, one can plant succulents that trail so that the plant can spill out of the bowl, creating an aesthetically pleasing arrangement. Plants such as Senecio Rrowleyanus, commonly known as string of pearls is a great choice for this.
Creative Succulent Bowl Ideas
One can experiment a lot with different shapes and sizes of containers for succulent bowls. Reusing and recycling containers from different parts of your home can help you create a unique and beautiful succulent bowl. Here are some creative succulent bowl ideas.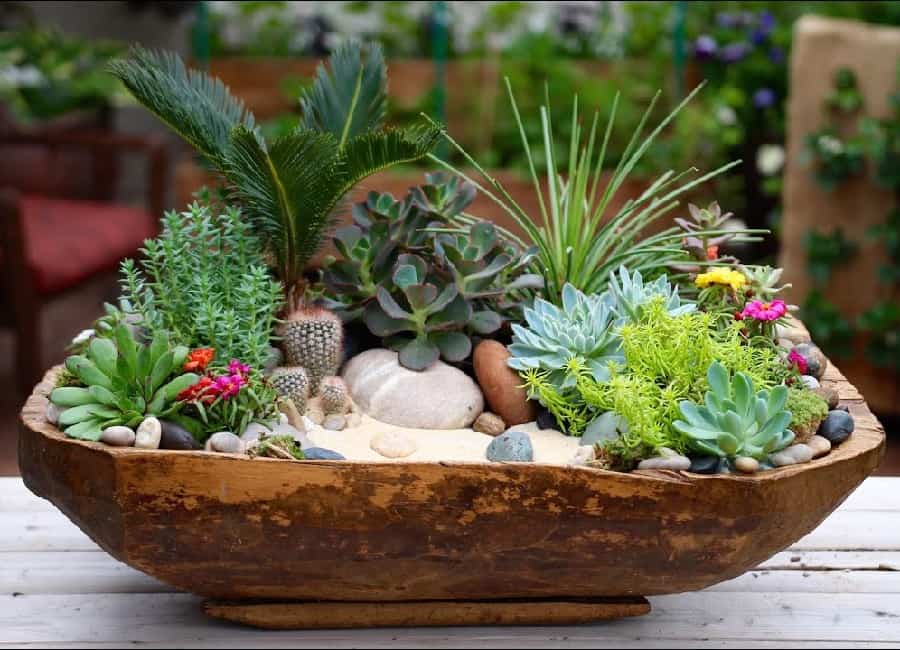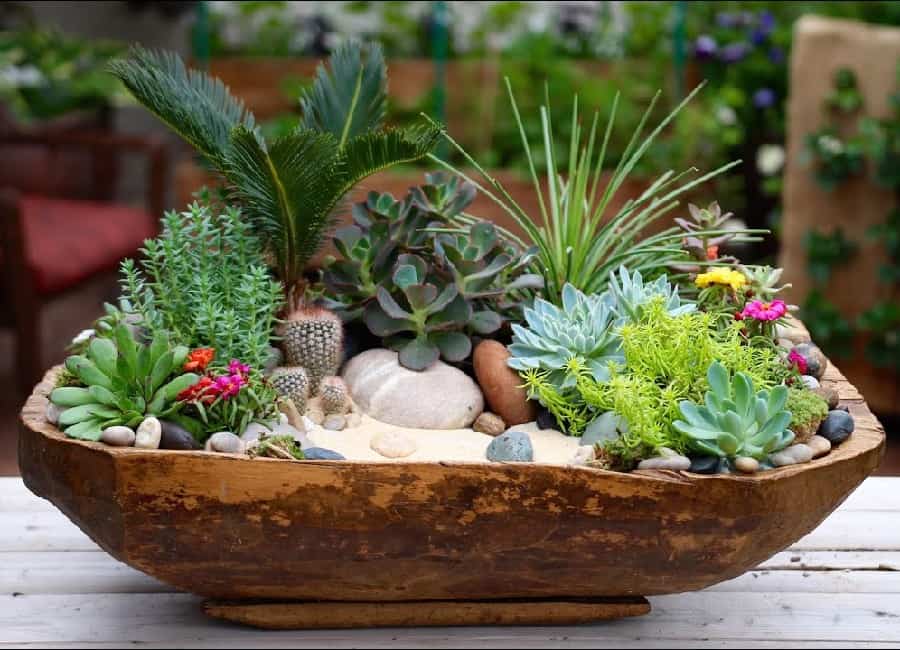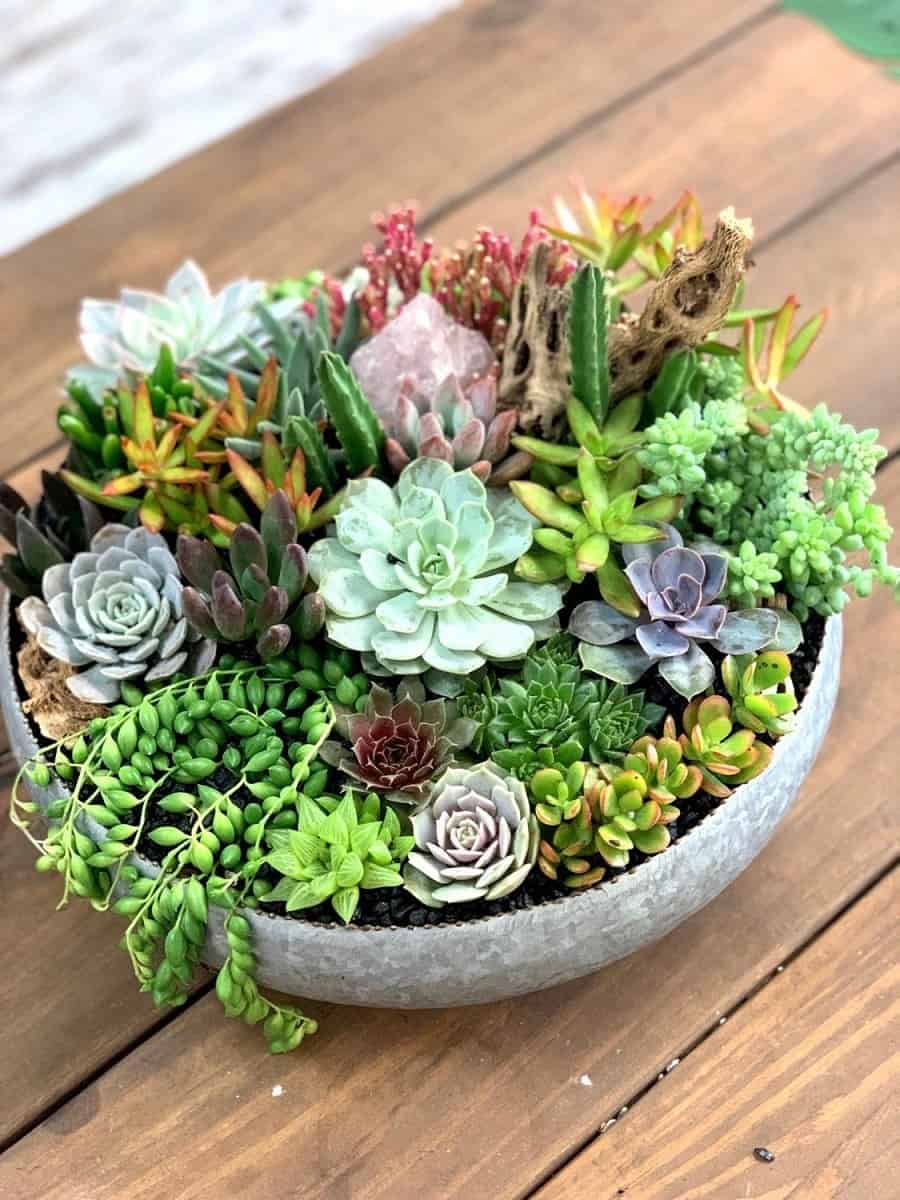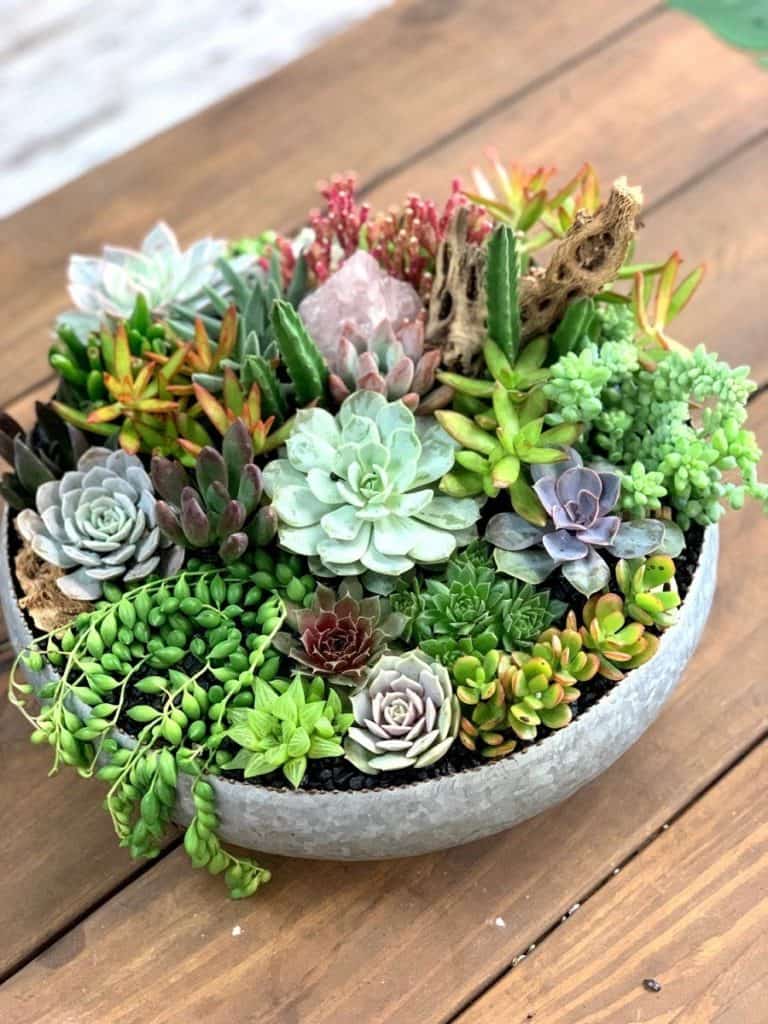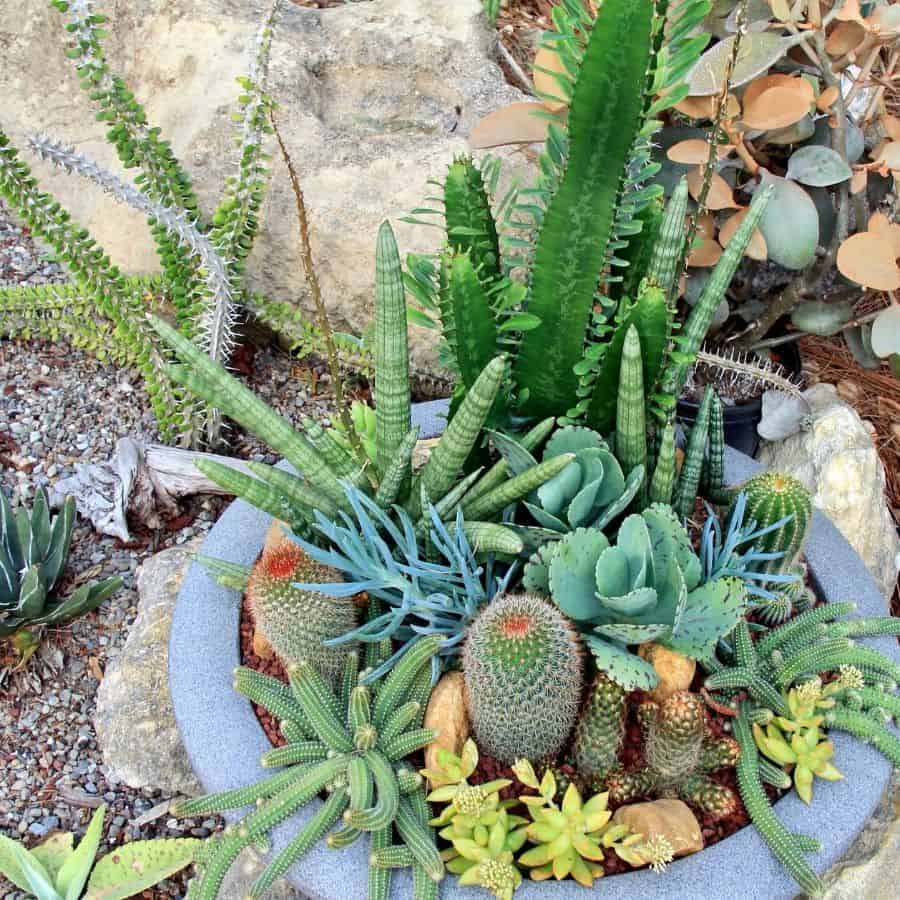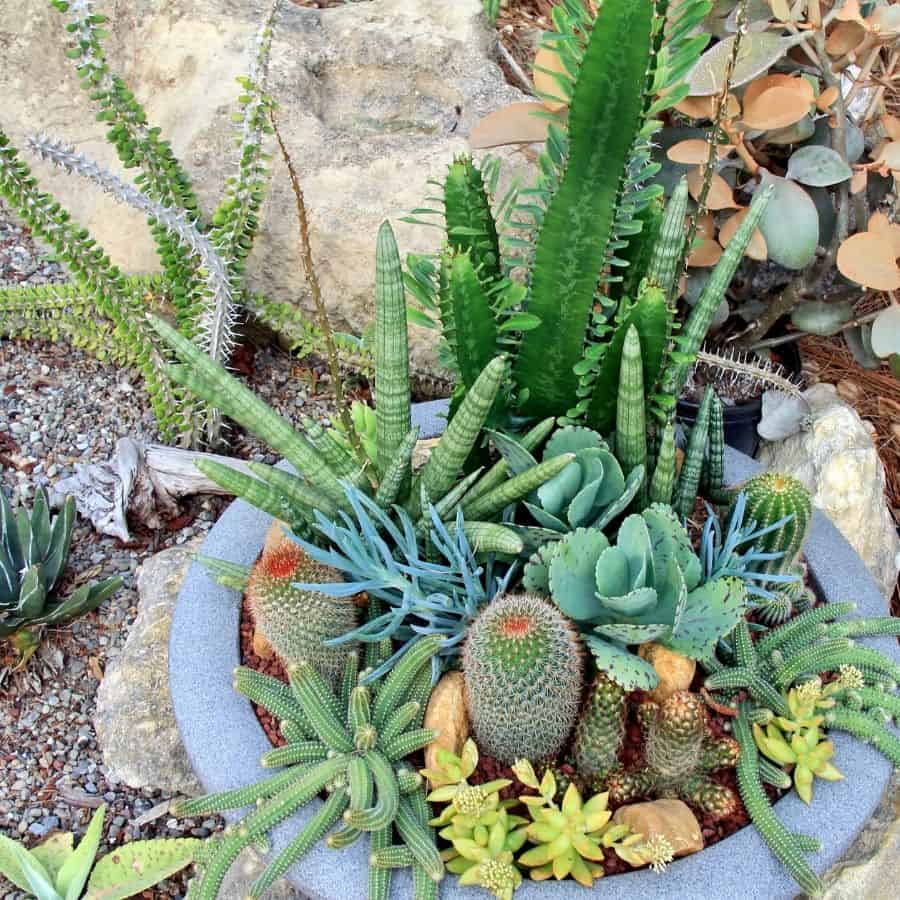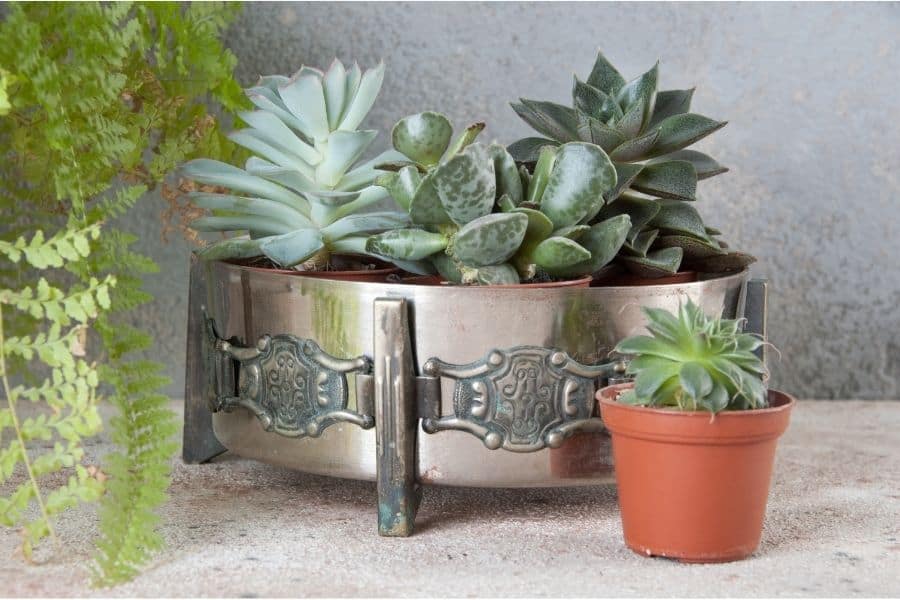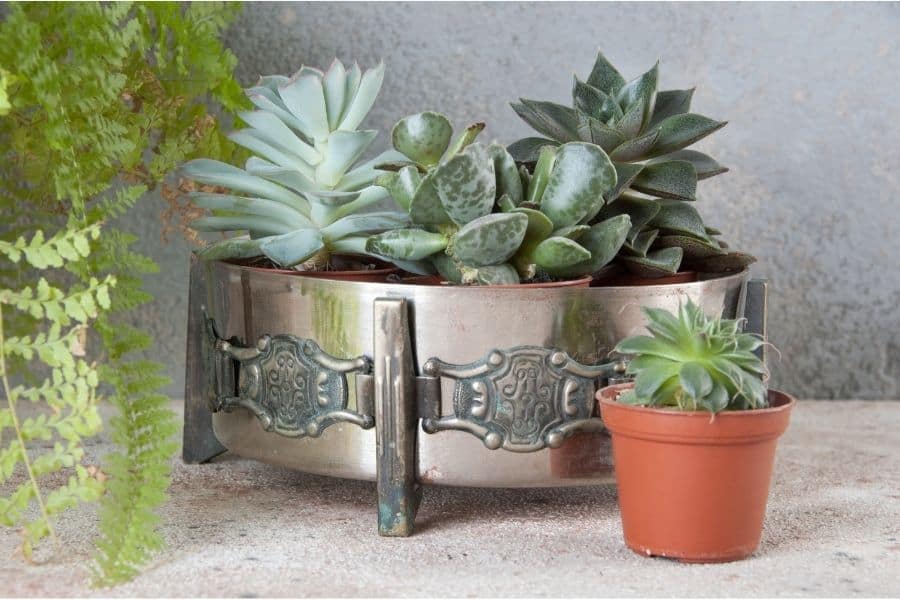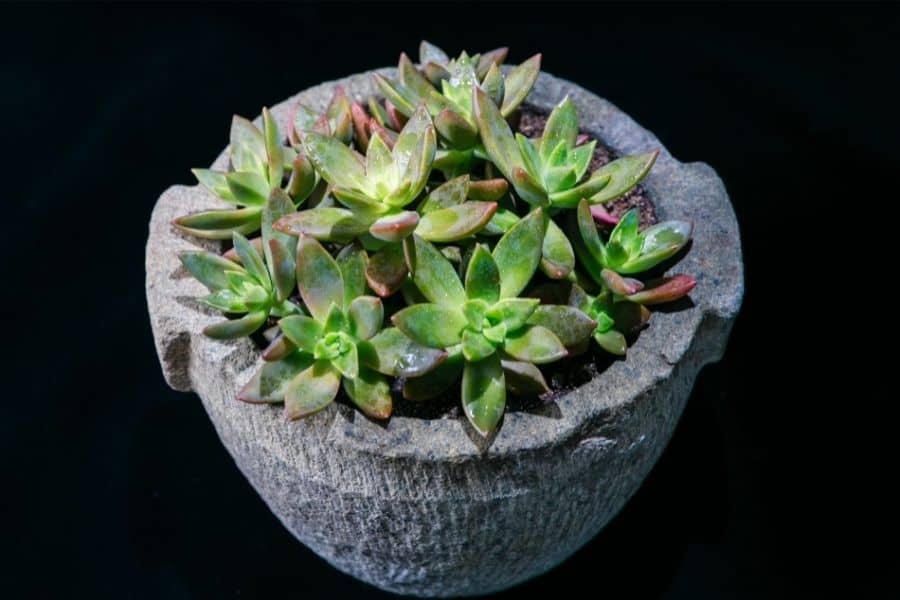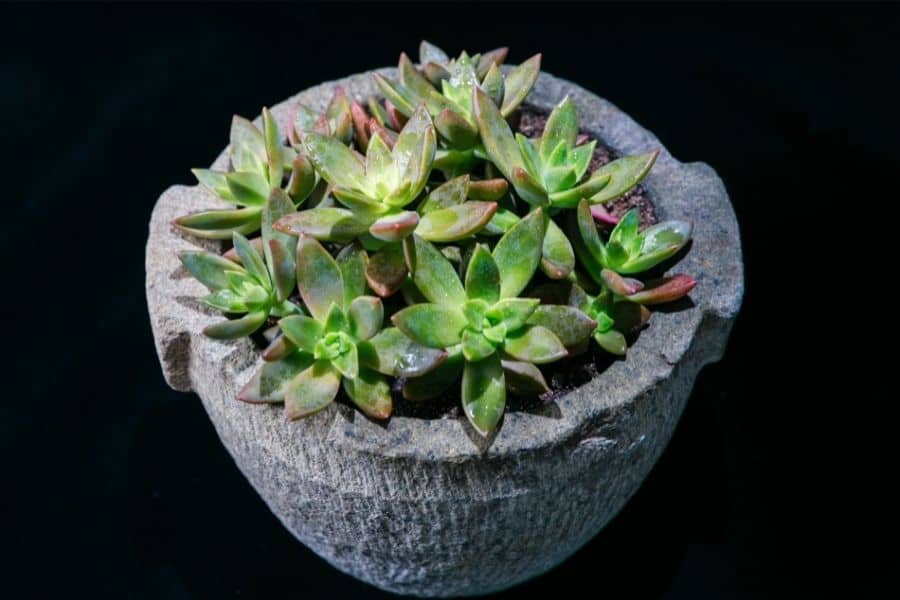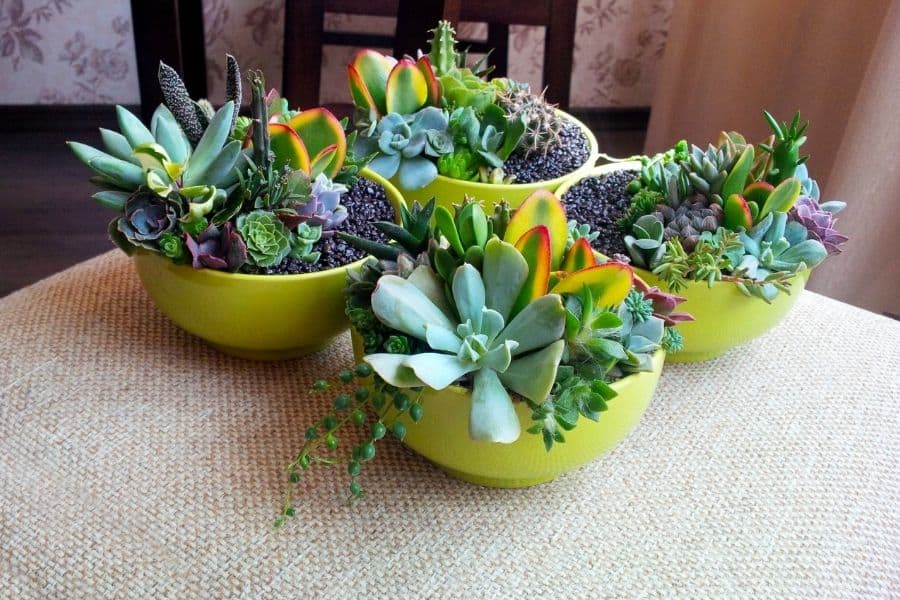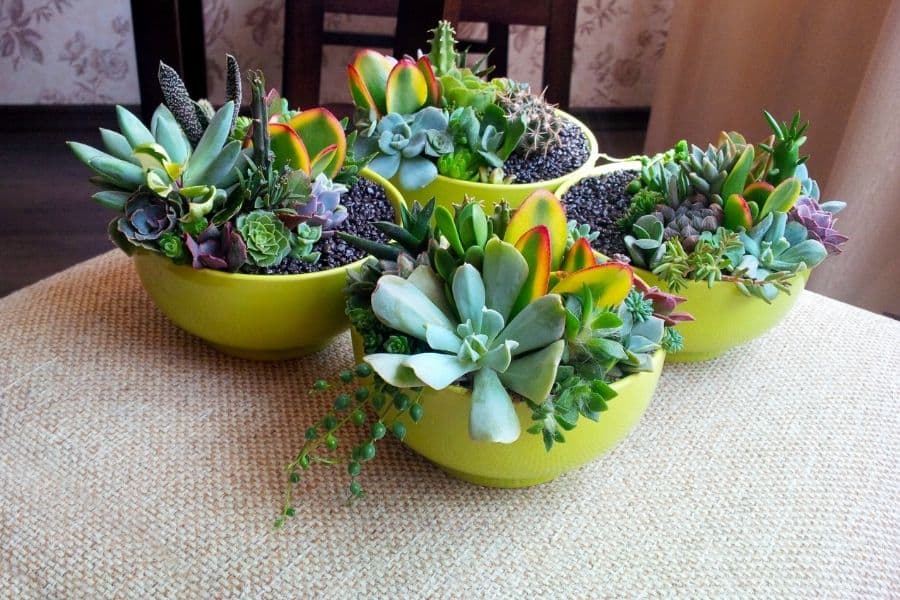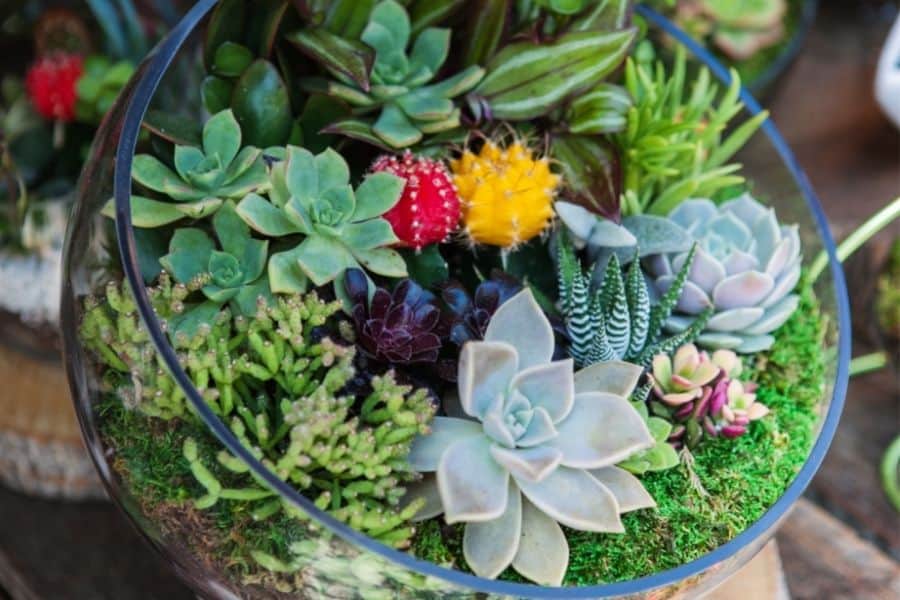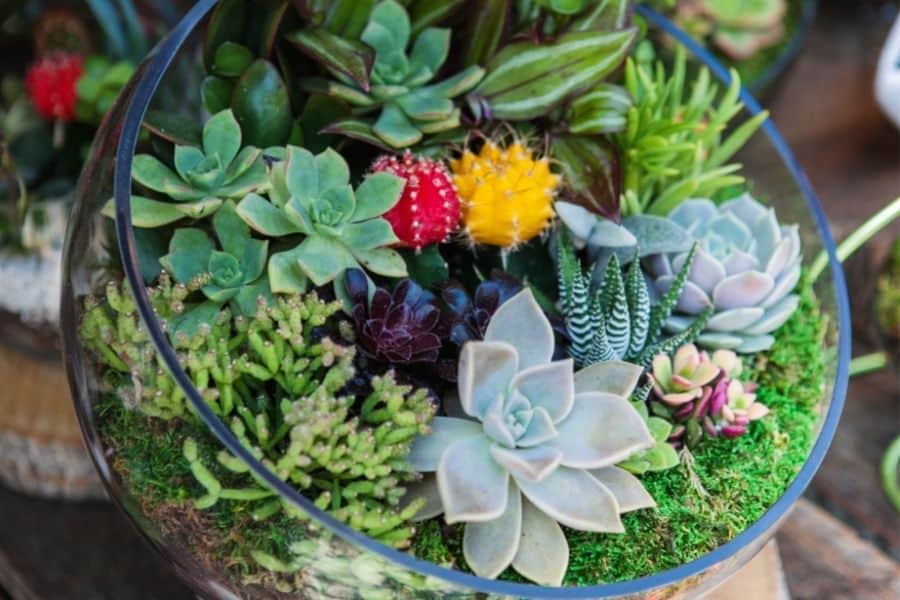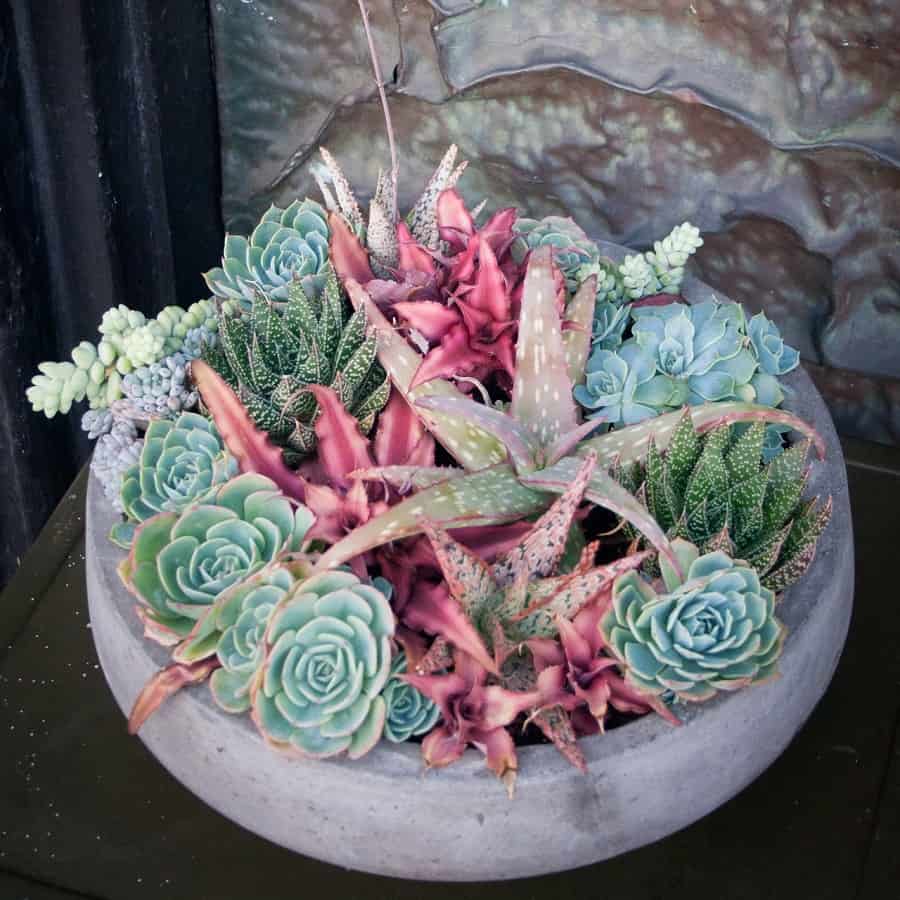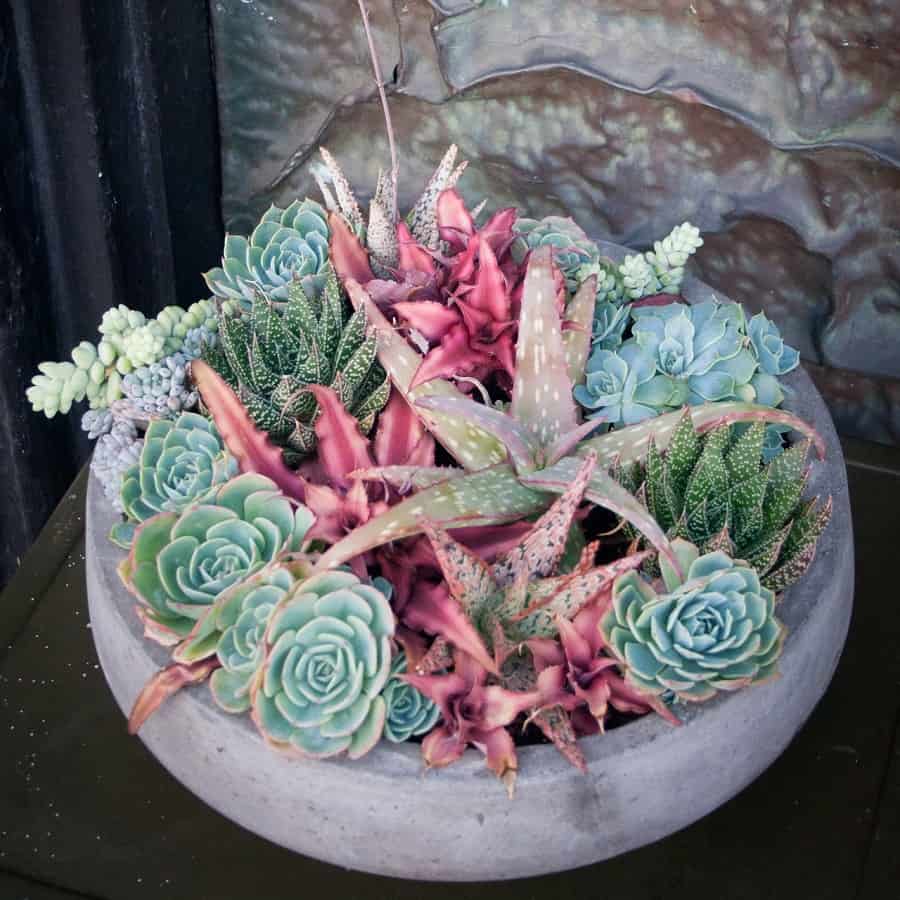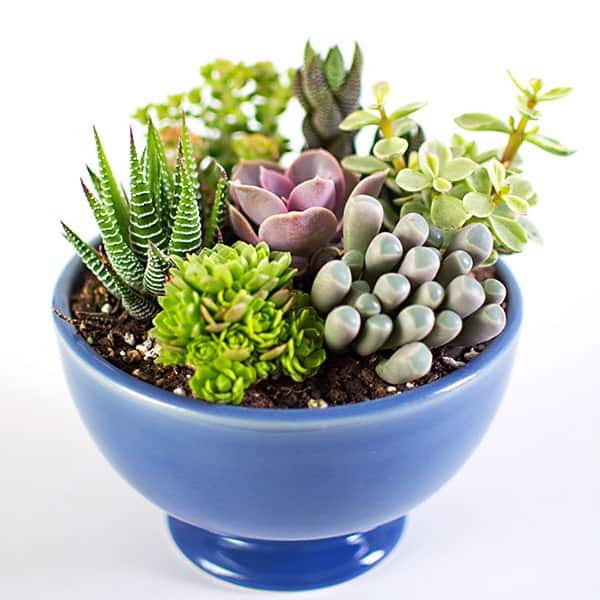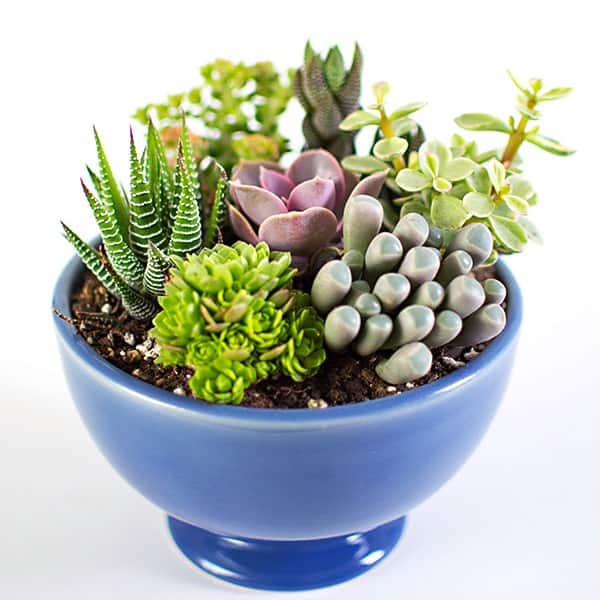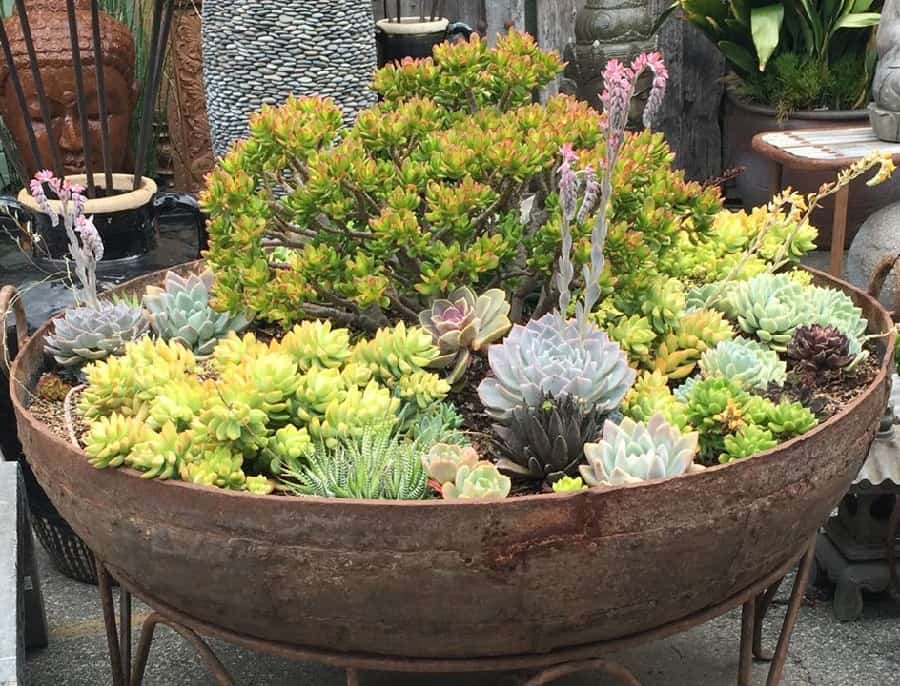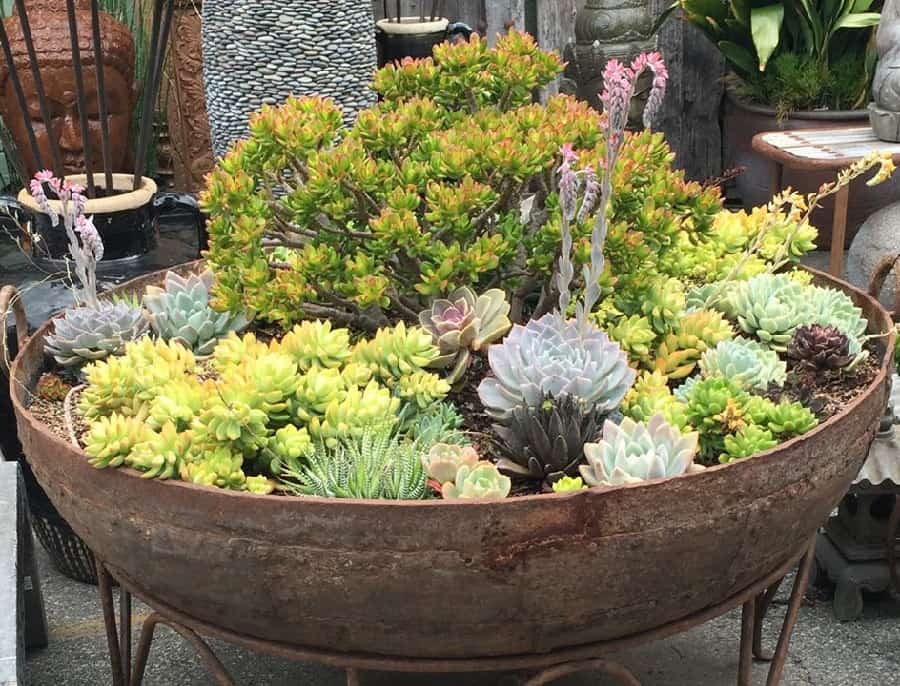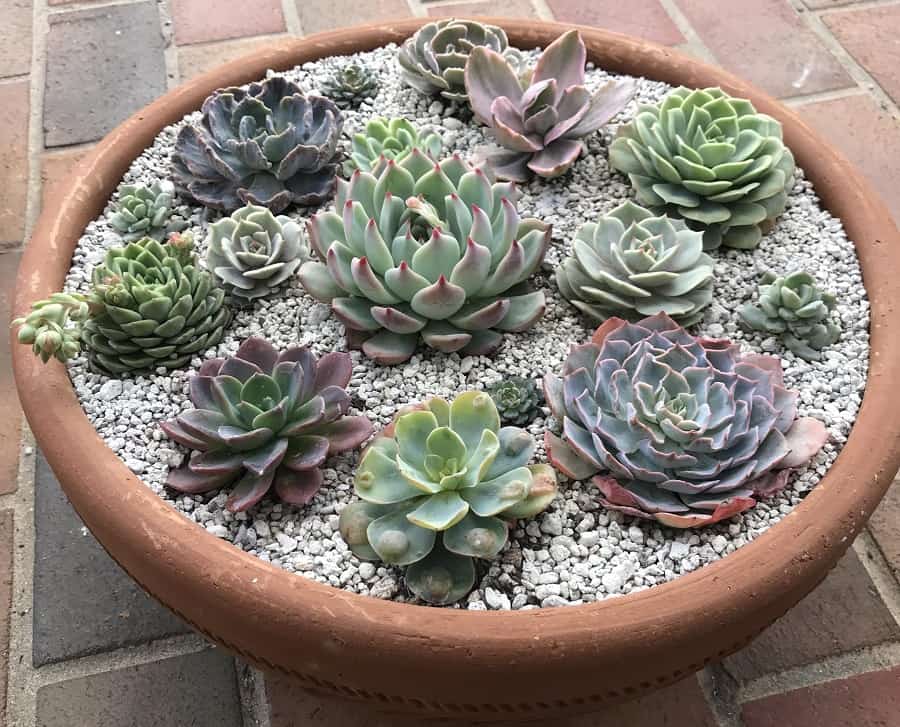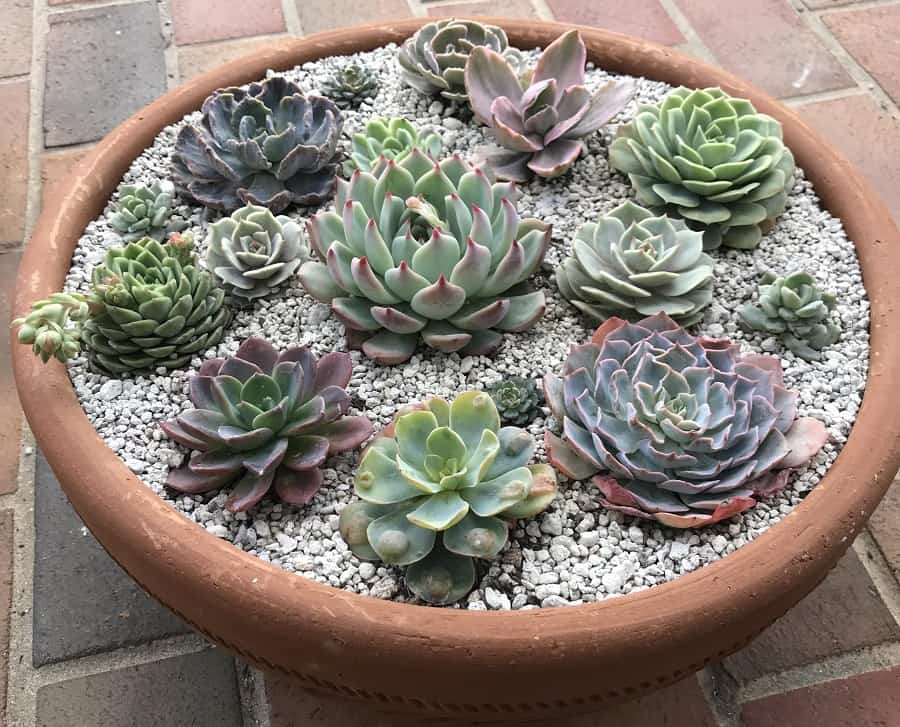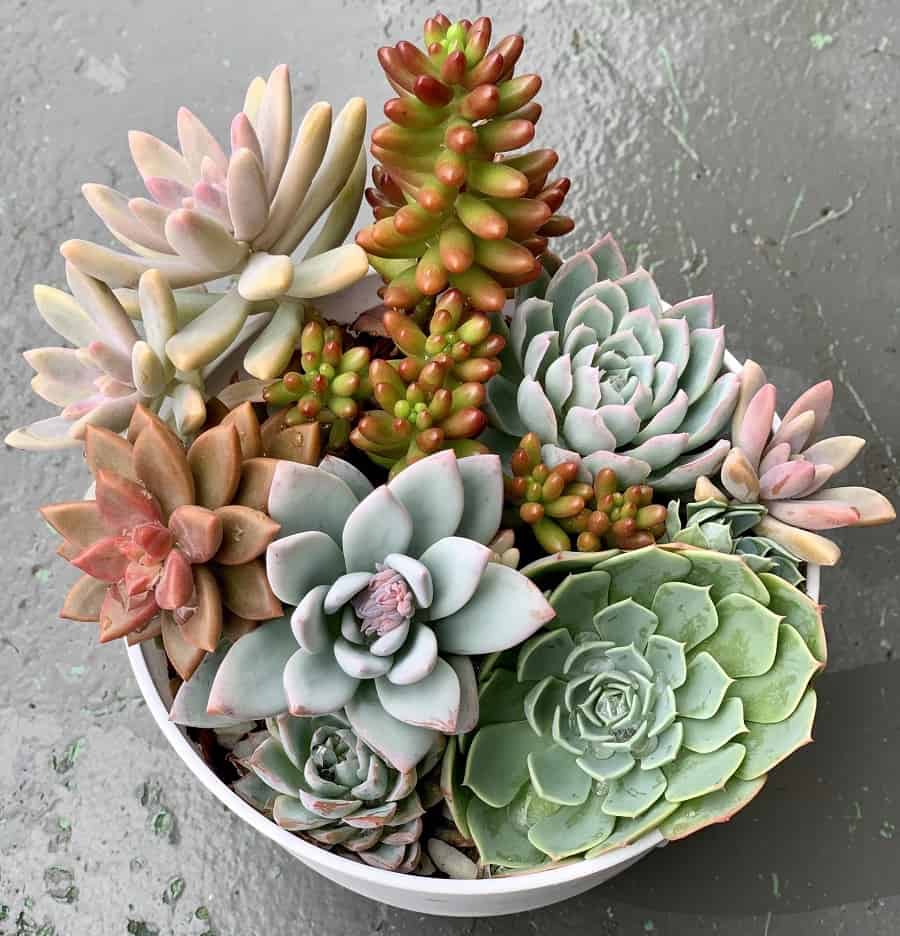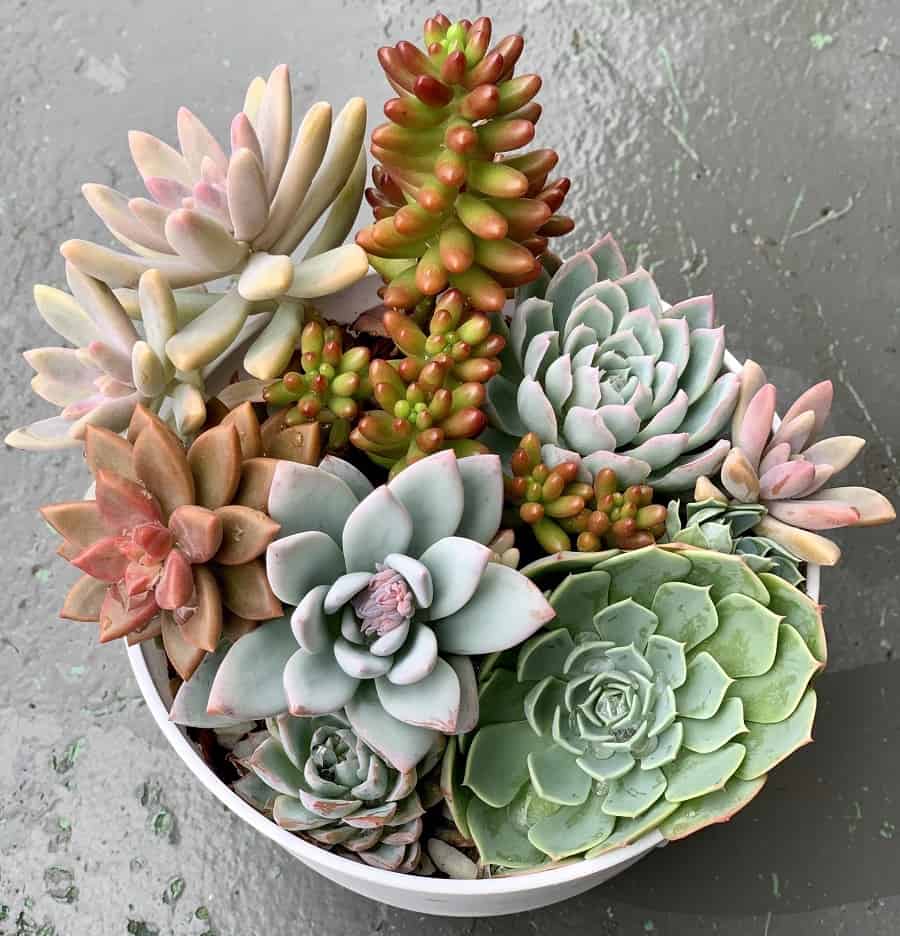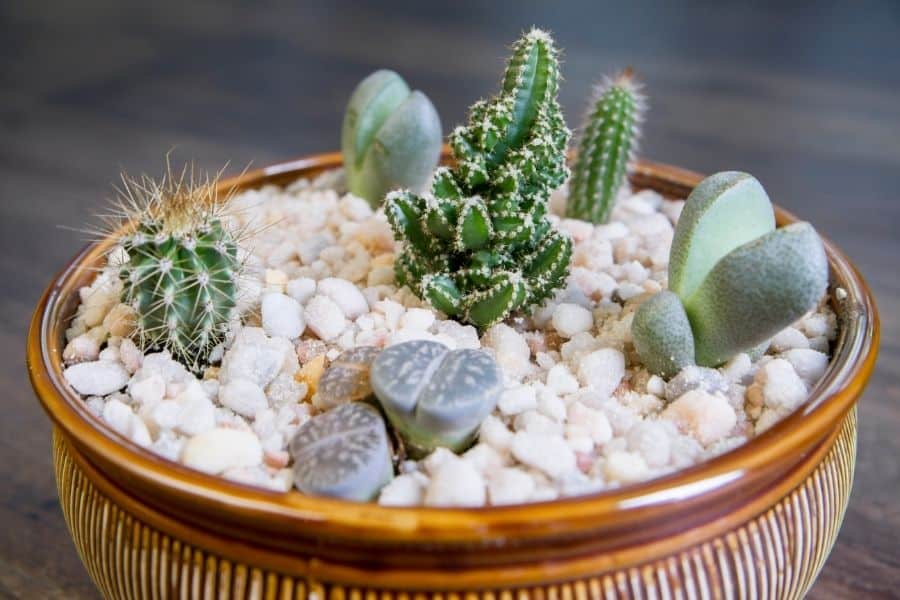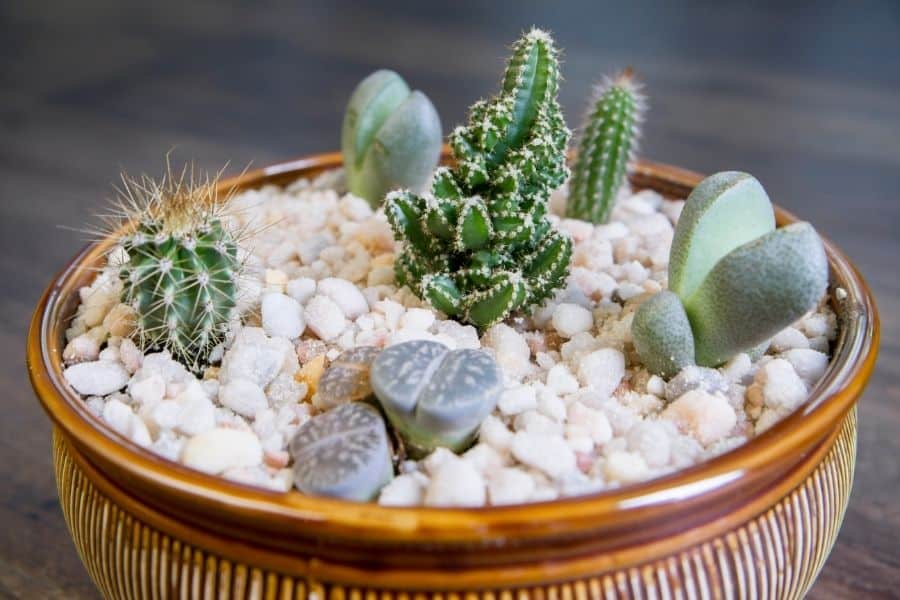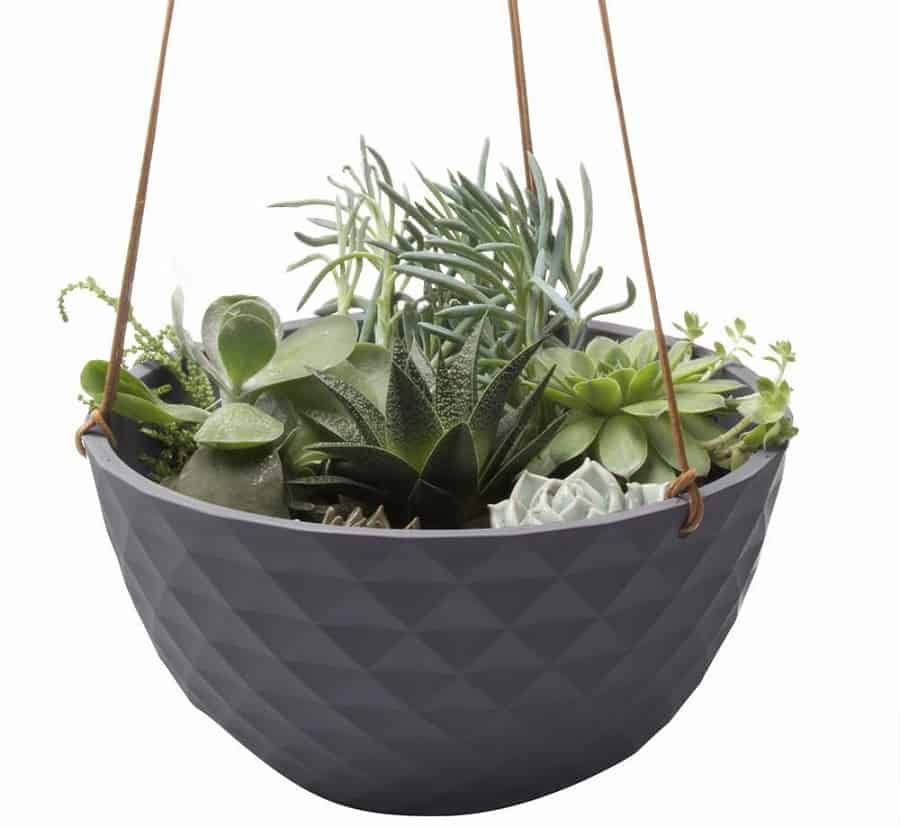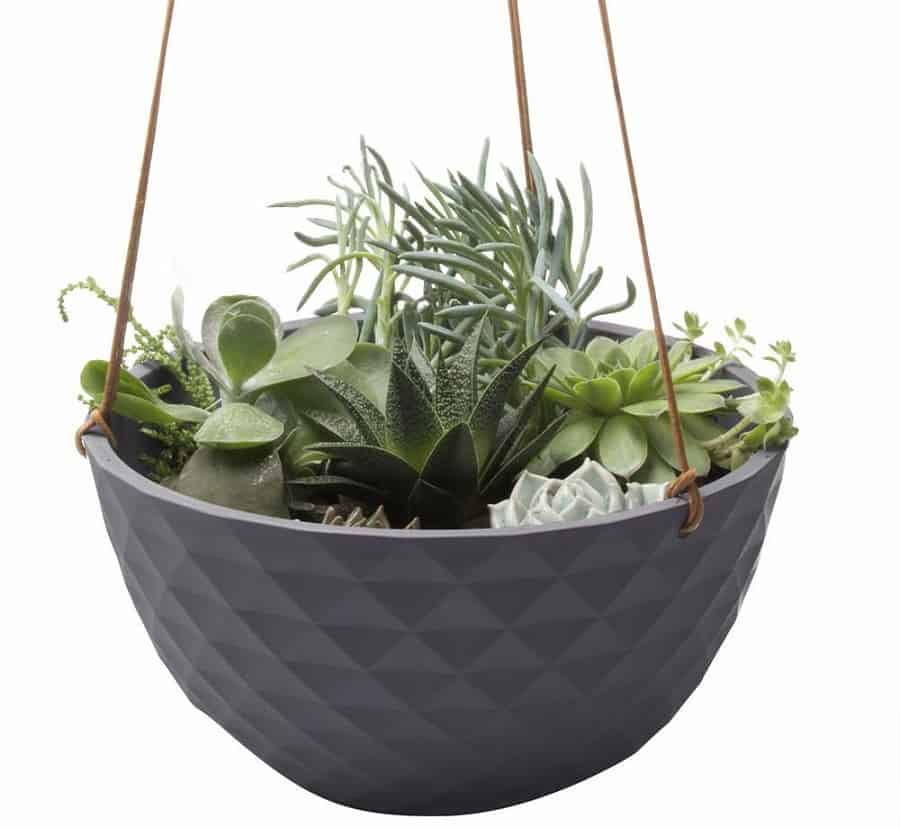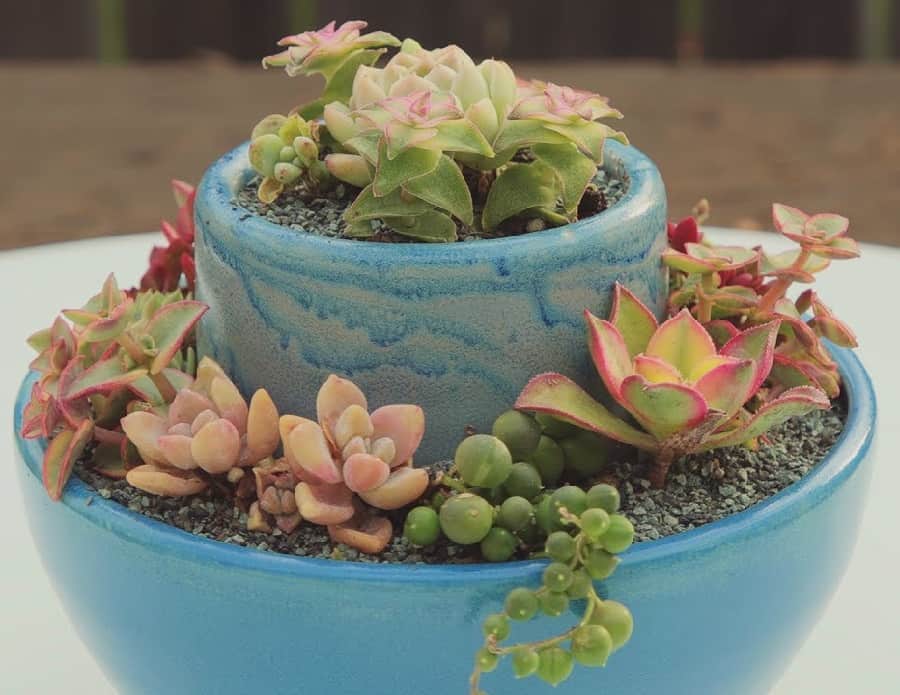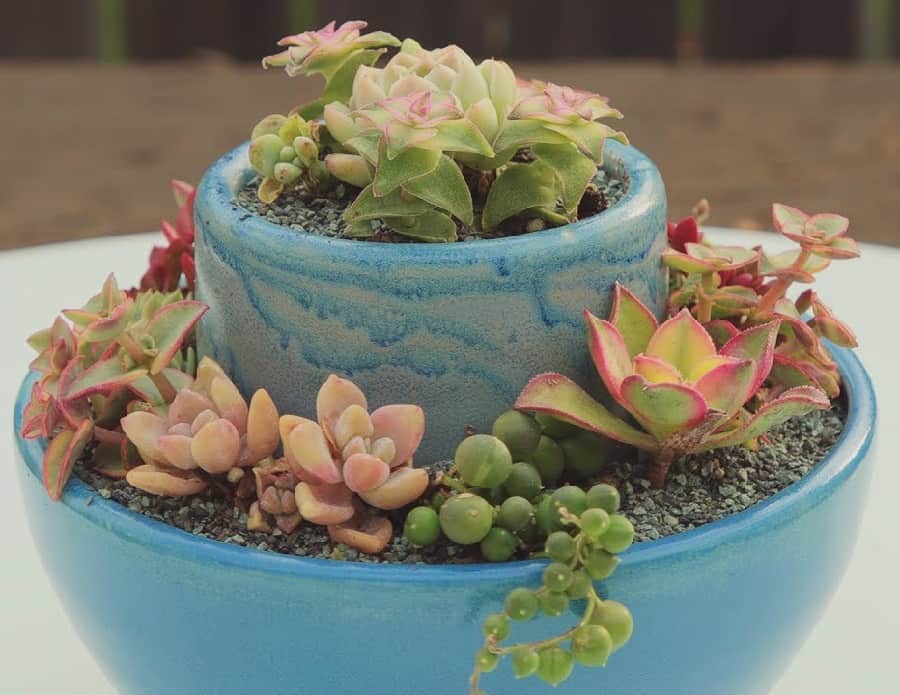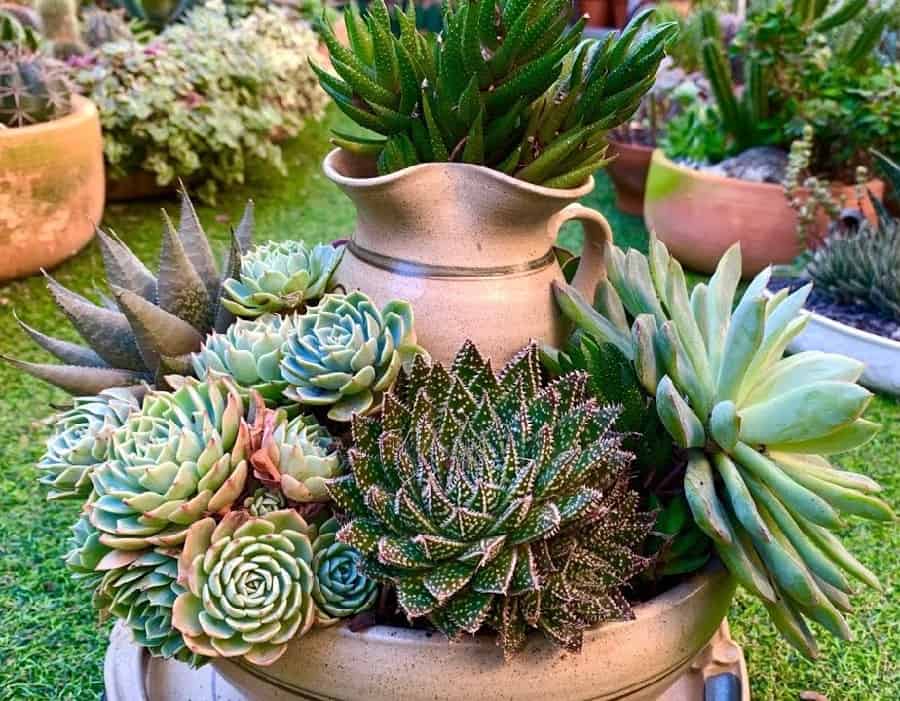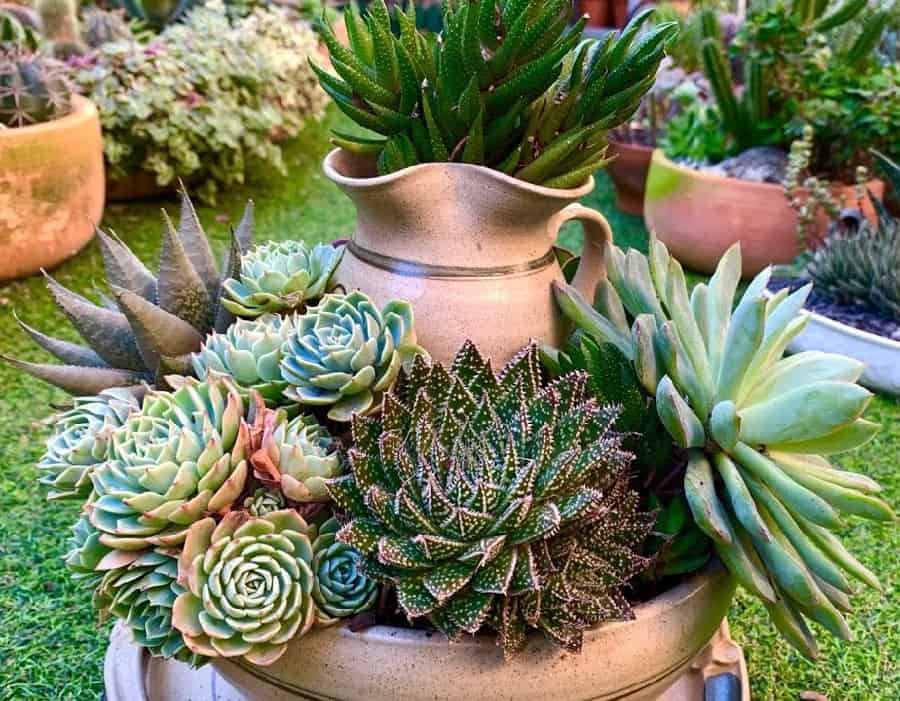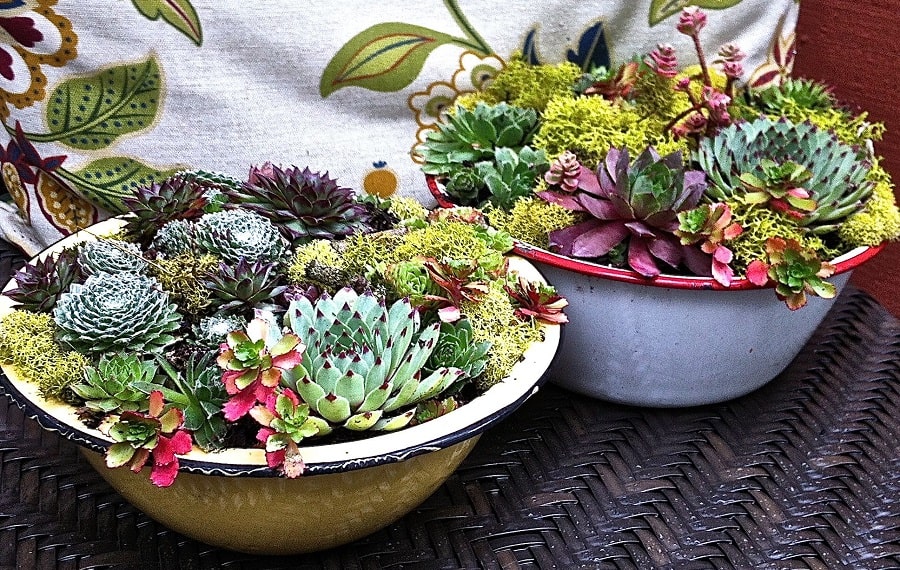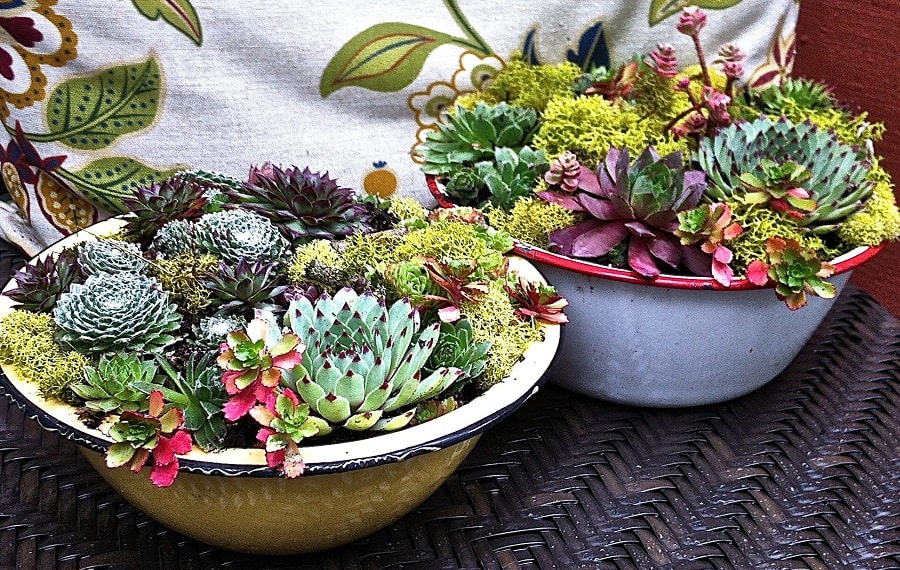 Frequently Asked Questions
Do I Need to Put Rocks in the Bottom of a Planter?
No, you don't need to put rocks in the bottom of a planter. It is a common myth that a layer of rocks at the bottom of a planter helps with drainage.
Since succulents require good drainage and are not tolerant towards excessive moisture, many people tend to use rocks at the bottom of the planter.
However, the layer of rocks at the bottom of a planter will lead to the creation of a heightened perched water table. This is a layer of the soil that is saturated in water and from which the moisture does not drain out.
Hence, putting rocks in the bottom of the planter will reduce the amount of soil and will raise the water level in the pot, making the roots more likely to become waterlogged.
Instead, an excellent way to improve drainage is to mix rocks and other materials throughout the soil to create pockets of air in the planter. Also, drill a hole at the bottom of the bowl for the excess water to drain out during irrigation.
Do Succulents Like to Be Crowded?
Succulents can grow faster if there is more space around the roots but they can survive just as well in a crowded space too.
If the succulent bowl is crowded, the succulents will be just as fine but they will not grow a lot. Hence, if the aim of the arrangement of your succulent bowl is to retain the look you created, then a crowded bowl is a better option.
If you want the succulents to grow, you can arrange them with spaces in between so that the gaps are filled up when the succulents increase in size.
How Should I Arrange My Succulent Plants?
You can experiment with the arrangement how you want! However, a commonly used formula is that of the thriller, filler and spiller.
In this kind of arrangement, you can start at the center with the tallest or most visually unique succulent plant you have. After that, work outwards with succulents that provide a contrast to the central plant in terms of colors and textures.
Finally, in the outer layers of the arrangement, use plants that can hang or trail out of the succulent bowl to create a look of fullness.
Succulent bowls can be a great decor piece for any part of your home. Creating succulent bowls is a simple and therapeutic activity that you can do on your own or with your loved ones. So go ahead and let your creative juices flow with these unique succulent bowl ideas!