Empire of flowering cacti. The most famous parks worth visiting
Every time they go on a trip, travelers read and study information about local attractions, famous architectural structures, picturesque natural locations, and national parks. They try to find interesting and unique places that take their breath away. Who would have thought that there are truly amazing parks in the world dedicated to, can you guess what? That is right, cacti!
We will tell you about incredible places that you may not even have guessed about!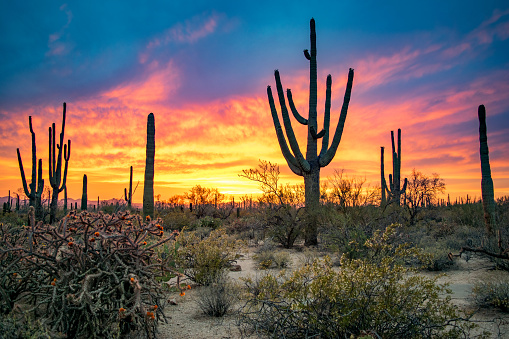 Cactus Garden in Al Noor Island Park, Sharjah, UAE
Local trees and other diverse plants collected from all over the world grow in the park. There are endangered species. For example, tourists really like trees in the shape of an umbrella and a bottle, a 250-year-old olive tree is surprising. A separate territory is occupied by cacti, allocated to a separate garden, there is even evening illumination. In total, about 2,200 different plants are planted in the island park.
If you are planning your next trip to Dubai, put this place on your list. You can rent a car and visit one more city. Choose one of the rental companies which will assist you in hiring any vehicle you like, even if you want to rent a Ferrari in Dubai. Al Noor Island Park for sure will leave an unforgettable impression!
Saguaro National Park, Arizona, USA
Cacti here are both the natural landscape, the flora, and the tourist site. There are about 50 species of them growing here, but the most famous is the giant Saguaro cactus, which gave the name to the park. He is much taller than a human and reaches a height of several meters. The park is also interesting because on its territory there is a Museum of the Sonoran Desert, which includes a zoo. In the zoo, you can see representatives of the fauna – the inhabitants of the desert. Consider reliable luxury car rental to get here with maximum comfort.
Jardins Mossèn Costa i Llobera, Barcelona, Spain
The park occupies an area of 6 hectares in the very center of Barcelona on the beloved Montjuic by tourists and remains the least visited among the "green" attractions of the city.
The nearest metro station is a 20-minute walk away, it is almost impossible to accidentally wander here. Meanwhile, the Cactus Garden is a unique place: there are more than 800 species of plants fearless of drought, whose habitual habitat is the deserts of Africa, Australia and America.
Pinya de Rosa, Blanes, Spain
Today "Pinya de Rosa" is the largest cactus park not only in Europe but all over the world. Geographically, it is divided into 27 rocky zones. The zones are divided into sections dedicated to certain genera of cacti, succulents and some other groups of plants. Each species has a sign with its name and brief information.
The richest collection of the cactus park has more than 7000 species of plants. Some of them are characteristic of the natural landscape of the area, some were brought from other botanical gardens and private collections. Unique representatives of flora gathered from all over the world. Agaves and prickly pear, aloe and yucca, and many other representatives of the cactus family.
Exotic Park, Monaco
It began to be created just about a hundred years ago: cacti, brought here from all over the world, began to be bred on a steep cliff. Some cacti here have really turned a hundred years old, and birthday cactus celebrations on this occasion shake the park sometimes and every week. This is a bit non-touristic location, however, you have to go here on your first visit: this park is much more interesting than the square with the casino and other Monacian joys.
Park ha-Jarkon, Tel Aviv, Israel
From the first minutes of visiting this location, you forget that you are in the park. Everything around seems magical and mystical. It is like you left your home planet and found yourself like Alice in Wonderland.
The smallest cacti – the Blossfeldia family – are tiny round balls with a diameter of 1 cm. The record height of the cactus is saguaro 25m. Unfortunately, Saguaro could not withstand a strong gust of wind and fell in the 70s of the last century.
Ayia Napa Cactus Park, Ayia Napa, Cyprus
The idea of the park was proposed by local authorities. In truth, they can be understood: there are almost no attractions in the most popular resort, so in recent years the municipality has been trying to create as many interesting places as possible that can attract tourists. Local residents supported the idea and even brought their "pets" to the garden.
The park turned out to be beautiful: it has more than 8000 plants (more than 300 species), and this arboretum is already considered one of the largest in Europe!