3 Best Pots for Jade Plants [2023 Edition]
The Jade plant, or Crassula Ovata, is a succulent plant that blooms small white or pink flowers. Another popular jade plant is also the crassula arborescens, which is also known as the "Silver Dollar Plant."
These plants are indigenous to South Africa, but it has become very popular as a houseplant worldwide. These plants are an excellent choice for adding character inside your living space, but what pot will best suit your succulent plant and display its beauty? Let's take a look at a couple of essential elements.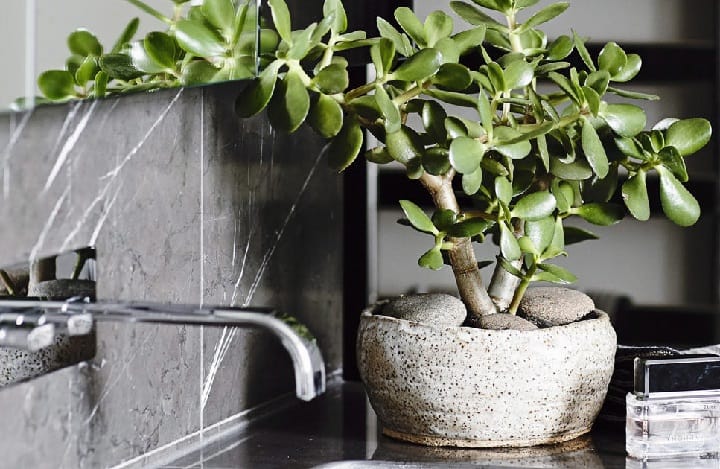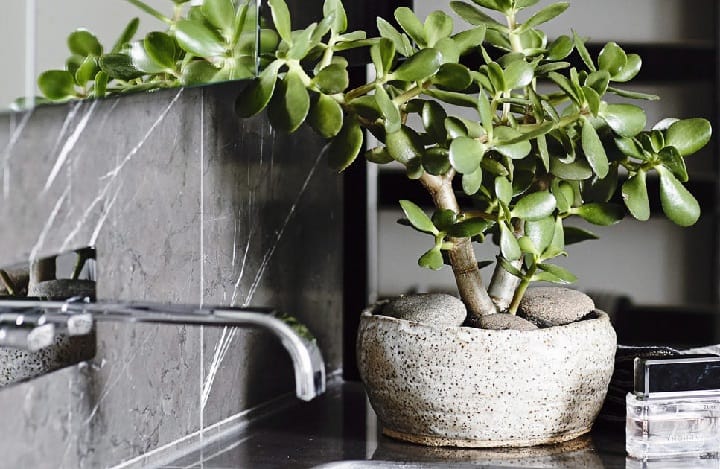 This page contains affiliate links, and as an Amazon Associate we earn from qualifying purchases which means we receive a small commission when you make a purchase, at zero cost to you.
A Stable Base
One highly important characteristic to consider is the base of the pot. The Jade plant can become top-heavy over time as new leaves, and thicker stems grow. These succulents can grow into shrubs or small trees reaching 5 feet, making a sturdy container that won't tip is a significant factor when selecting the best pot for jade plants.
Pruning is essential in the growing process according to the University of Wisconsin-Madison, as it promotes the growth of both the stem and roots.
It's All About Drainage
Most plants require some soil in a basic pot with occasional watering to grow successfully. The Jade plant needs a little more attention in its potted environment to maximize its success for growth.
Root rot is what can occur when the roots remain submerged in an over-watered environment. This issue can happen if watering occurs too frequently or if the soil cannot drain the excess water from the base. Using a pot that can effectively drain regularly is the best option when choosing the environment your Jade plant will reside in.
We have considered these elements and created a list of 3 pots that would best suit your Jade plant by giving it a happy home.
Best Pots for Jade Plants
HBServices USA Self-Watering Round Planter Pot
Our Score
This pot provides all the essential functions required for a Jade plant to live a long and healthy life. This inexpensive and stylish pot will provide the perfect environment for your succulent and make caring for your Jade plant a simple process.
You won't have to worry about overwatering your Jade plant when using this pot. It has hollow channels that run through the reservoir system allowing the water to be drawn naturally in the soil, lifting the plant above the water, and in turn reducing root rot. There are slats inside the pot's material that allows for oxygen circulation throughout the soil and around the root system, reducing unpleasant smells from fungal growth, mold, and rotting.
There is a user-friendly clip-on attachment that makes filling the reservoir a simple process. This simple yet effective design allows you to directly load the deep reservoir and bypass you from pouring through the planter, risking an overflow.
The style of this planter considers the cleanliness of your home. There are built-in studs underneath the deep reservoir that keep the pot off the floor, which helps prevent large water stains typical of the average circular pot design.
Pros
Self-watering
Self-aerating
Easy Water Filling
Keeps Surface Clean
Low Maintenance
Cons
Plastic material does not hold up well over time
Higher in price compared to similar items
Santino Self-Watering Planter
Our Score
This pot comes in many sizes, ranging from seven to over twelve inches. There are nine colors to choose from, which will complement any house theme. The self-watering system makes the pot very easy to use and is especially great for those who are always busy. This planter is made from a durable lacquer plastic which makes it perfect for indoor or outdoor use. The exterior surface of this pot is UV resistant and will not fade due to sunlight or the outdoor elements.
Pros
Self-watering with easy-to-see water level indicator
Lots of size and color options
Glossy shine makes an attractive outward appearance
Cons
Made of plastic which isn't always ideal for all plants
Can be difficult to assemble
Refilling the water reservoir is problematic
HBS Self-Watering, Deep Reservoir Round Planter Pot
Our Score
This round planter pot has both style and functionality when supporting your Jade plant. The self-watering feature can keep your succulent plant hydrated for up to 2 weeks. The pot provides plenty of aeration that helps prevent mold or fungus growth. The raised soil bed also keeps the roots out of the water preventing the roots from becoming waterlogged. This planter can be used for both indoor and outdoor use making it a versatile option for your Jade plant.
Pros
Long-lasting, deep reservoir system
A high drainage system
Simple set-up process
Cons
Plastic may crack or break easily if not handled carefully
Hard to see the water level in the reservoir
Only two sizes
Overview of Best Pots
The pots listed above all demonstrate different characteristics that may benefit your specific needs when growing your Jade plant. Evaluating what pot is best will depend on the size of your plant and where you will be displaying it. These pots are all intended to make the plant growing process more manageable with less hassle on your part, but the best pot for your Jade plant will be determined by what suits your lifestyle best.
FAQ's
Some critical questions to consider before purchasing a pot for your succulent.
Does the pot provide adequate aeration and drainage for your Jade plant?
Proper aeration and drainage are vital for a Jade plant's success as described above. Purchasing a pot that promotes these crucial factors will determine the success of your jade plant.
How do I prevent root rot from occurring to my Jade plant?
This is a prevalent issue with this plant species. Keeping the plant elevated out of constant water will drastically reduce this issue. Consider purchasing pots that have this feature built-in for an increased chance of success for your succulent plant.
Will one pot provide all the needs for my Jade plant?
Jade plants can grow up to five feet, and therefore may require a large pot for stability. This growing process takes years to accomplish, but eventually, you should consider getting a large enough pot that can handle the weight of a full-grown jade plant.
The Jade Plant's Success Starts With Its Pot
Finding the perfect pot for your Jade plant may seem overwhelming and tricky because there are so many different options to choose from, and that's why we've done the work for you. We hope this list offers you a head start when you search for the best pot for your Jade plant.