5 Best Gloves for Handling Cactus
Cactus plants are beautiful, diverse succulents, but if you have to touch them, they can be a real pain—literally.
Maybe you've got cactus growing wild in your yard, and you want to remove it. Or perhaps you're creating a succulents bed as part of a landscaping project. You might even be transplanting small cacti to keep as houseplants. Whatever your reason for handling these prickly plants, it's important to have a sturdy pair of work gloves to protect your hands.
While few gloves, if any, are truly puncture-proof, some gloves are much more heavy-duty than others. If you're looking for the best gloves for handling cactus, you've come to the right place. We've compiled a list of some of the toughest gloves on the market.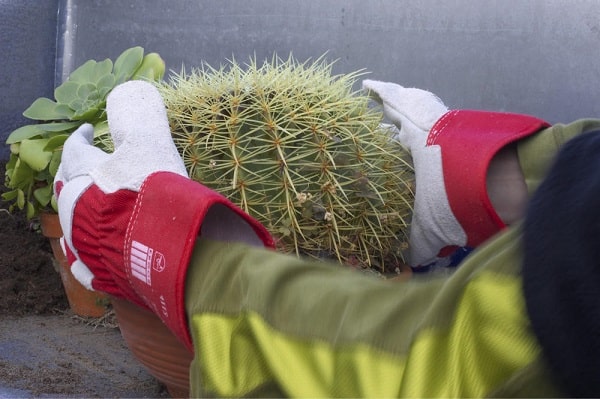 This page contains affiliate links, and as an Amazon Associate we earn from qualifying purchases which means we receive a small commission when you make a purchase, at zero cost to you.
Best Gloves for Handling Cactus
Exemplary Gardens Thorn-Proof Gardening Gloves
Exemplary Gardens Thorn-Proof Gardening Gloves
100% natural premium goat grain ensures puncture resistance keeping your hands safe and blood-free from scratches.
Extended split suede cuff prevents cuts on the arms allowing you to deadhead your roses painlessly.
Pliable and flexible enough to maintain dexterity for fine motor tasks such as planting seeds.
Buttery soft texture due to lanolin acts to moisturize hands keeping them supple. Great for people with sensitive skin.
Ergonomically designed thumbs make it easier to grip garden tools. Great for people with arthritis.
Last update on 2020-12-29 / Affiliate links / Images from Amazon Product Advertising API
These elbow-length, gauntlet-style gloves are made of 100 percent goatskin leather and cowhide suede. These Exemplary Gardens gloves are specifically marketed to rose gardeners, but they will work just as well at protecting your hands and arms from cactus spines.
The natural, quality materials are not entirely puncture-proof, but they are more durable than many "heavy-duty" gloves on the market. If you use proper caution, these gloves will handle most types of cacti without allowing a scratch.
The gloves are flexible enough to perform fine-motor tasks with ease. They have a soft, smooth texture that makes them perfect for sensitive skin. The unique thumb design makes them a comfortable choice if you have arthritis.
These gloves come in five sizes and four different colors so you can customize them.
Pros
Heavy-duty, natural materials
Gauntlets extend to elbow for complete hand and forearm protection
Ergonomic design makes them ideal for arthritic hands
Cons
Expensive
Gauntlet fits a bit tight if you have large forearms
---
NoCry Long Leather Gardening Gloves
NoCry Long Leather Gardening Gloves
PROTECT YOUR HANDS AND ARMS FROM SCRATCHES AND PUNCTURES. 2x more puncture resistant than regular leather gardening gloves, NoCry gloves have reinforced, double layered natural goatskin leather fingertips and palms + long flared gauntlet cuffs made from thick cow split leather.
DESIGNED FOR COMFORT, FLEXIBILITY, AND FIT. The extremely soft and supple goatskin leather provides ease of movement while giving you the feeling of wearing a fine driving glove.
USE IN AND OUT OF THE GARDEN. High tensile strength goatskin leather makes these versatile thorn proof gloves perfect for trimming and cutting hedges and cactus, pruning roses and blackberry bushes, pulling weeds and thistles, as well as handling birds, animals, and barbed wire. Also offers protection against sparks and is suitable for light-duty welding.
TAILORED TO FIT BOTH WOMEN AND MEN. Available in 3 size options to fit the hands of men and women easily.
BACKED BY THE NOCRY GUARANTEE. NoCry stands behind every item we make. If there's an issue with your gardening gloves, we'll make it right by replacing them or giving your money back.
Last update on 2020-12-29 / Affiliate links / Images from Amazon Product Advertising API
The Nocry Long Leather Gardening Gloves are also made of goatskin and cowhide leather. They have a shorter gauntlet than the Exemplary Gardens gloves reviewed above, which is ideal if you don't need the full-arm protection or want something less bulky. The gloves are reinforced with an extra layer of leather over the palm and fingers, making them twice as prickle-proof.
These gloves are extremely versatile, so you can use them while handling several different types of spiky plants, including cacti. They are, however, not impenetrable. Smaller spines, especially, may become embedded in the thin, single-layer parts of the glove, possibly working their way through to the inside. Some users recommend wearing skin-tight rubber gloves underneath. If you take the necessary precautions and handle the cactus with care, these gloves should do quite well.
Pros
Comfortable
Affordable
Double layer on palms and fingers
Cons
Red dye of the gauntlet may bleed, causing stains
Provides extra protection but not fully puncture-proof
---
Fir Tree Leather Gardening Gloves
Fir Tree Leather Gardening Gloves
If you love your roses but hate being scratched by thorns, these garden gloves are for you. Genuine goatskin leather provides the ultimate protection possible from sharp thorns and pickers without sacrificing dexterity.
A durable cowhide sleeve will keep our arm covered to your elbow. And because they are 100% leather, your gloves will be more breathable than synthetic gloves.
These gloves are sturdy yet soft to the touch, both inside and out. And goatskin gloves are washable- we include instructions for keeping them clean.
These puncture resistant gloves are the perfect rose gardening gloves and can also be put to use for handling cactus, pruning berry and all prickly bushes, citrus picking and to protect you from poison ivy.
Our top quality gloves come beautifully packaged in a reusable cloth storage bag which makes hem perfect for holiday gift giving. And Fir Tree always stands behind our 100% Satisfaction Guarantee so be sure to add a pair to your shopping cart today.
Last update on 2020-12-29 / Affiliate links / Images from Amazon Product Advertising API
Similar to the previous two products reviewed above, Fir Tree Leather Gardening Gloves are gauntlet-style gloves. They come in six sizes and keep your arms protected to the elbows.
The goatskin leather is thicker than expected but still soft and flexible. The thicker material is more successful at keeping thorns out, as this product appears to be one of the more puncture-proof gloves of its kind. It is rated to keep you safe from cactus spines, citrus, rose and blackberry thorns, and lots of other painful plants.
These gloves are washable and come with instructions on caring for them properly. They are comfortable and breathable, making for a more pleasant gardening experience.
Some users have experienced problems with the seams coming unraveled after heavy use.
Pros
Thicker material than other gloves
Washable
Comfortable to wear
Cons
Low-quality stitching
Gauntlet sleeve thinner than similar gloves
---
OZERO Leather Work Gloves
OZERO Leather Work Gloves
►100% Genuine leather, Durable and Protective - These work gloves are made of carefully selected high-quality grain cowhide and split cow leather with thickness depth of 1.0mm-1.2mm, which is not only thick but also soft and flexible with moderate oil resistance, puncture resistance and cut resistance
►Excellent flexibility and grip - The GUNN CUT and KEYSTONE THUMB design make these working gloves very flexible and wear resistant, and the anti-skid cow leather palm can let you grip tool tightly
►Double thread sewing and elastic wrists - These utility gloves feature a double thread sewing that gives you stable protection. The elastic wrist design, making it easy to put on/off the gloves, will keep dirt and debris out of the inside of the glove
►Cowhide lining for utility work - These leather work gloves do not need additional lining because the material is naturally breathable, sweat-absorbent and comfortable. They are perfect for heavy duty, construction, truck driving, warehouse, farm, carpentry, carrying, gardening
►Perfectly fit for men and women - Choose from Medium/Size 7, Large/Size 8, Extra Large/Size 8 for a perfect fit. Measure your hand circumference to find the right size according on the image diagram. If the gloves are defective or damaged within 90 days, will replace it for you or provide a full refund so can feel confident purchasing with OZERO. Prime Note:Please contact with us,if you choose a wrong size and style,we will give you a better satisfied solution than Amazon customer service.
Last update on 2020-12-29 / Affiliate links / Images from Amazon Product Advertising API
If you prefer normal gloves that end at the wrist, these sturdy work gloves may be just what you're looking for. OZERO Leather Work Gloves are made of cowhide leather and are between 1.0 and 1.2mm thick, making them a dependable puncture- and cut-resistant choice. They are a durable, efficient glove for everything from construction to carpentry to gardening.
An elastic band at the back of the wrist tightens the glove, keeping dirt, debris, and stray cactus spines from finding their way inside. The cowhide leather is breathable and sweat-absorbent, so your hands stay dry and comfortable.
While these gloves are not completely puncture-proof, the leather's thickness keeps most cactus spines from poking through to your hands. As long as you use them carefully, these gloves are useful for trimming and transplanting cactus plants.
The gloves come in three different sizes and tend to run large.
Pros
Inexpensive
Thick and durable
Perfect for those who don't like gauntlet gloves
Cons
May have a strong chemical smell when new
Tend to run large
---
Magid Thorn-Proof Gardening Gloves
Last update on 2020-12-29 / Affiliate links / Images from Amazon Product Advertising API
The Magid Thorn-Proof Gardening Gloves come in different sizes and colors for both men and women. They are made of synthetic leather and spandex, which is great for those who don't want to use leather gloves for humane reasons.
These are similar in appearance to regular leather gauntlet gloves. They have reinforced fingertips and padded palms, as well as knuckle guards on the back for extra protection.
As with any other glove, they are not completely puncture-proof, but the additional padding on the palm and fingertips really helps to keep most of the spines from poking through. This is a good choice if you work with cactus a lot, whether transplanting or removing—just remember to always handle with care.
Pros
Reinforced and padded at the fingertips, palms, and knuckles
Several size options and styles
Good value for the price
Cons
Not very breathable
May run large
---
Conclusion: The 5 best gloves for handling cactus
And there you have it—our guide to the best gloves for handling cactus on the market. These are some of the most durable, dependable gardening gloves you'll find. If you use one of these pairs of gloves and handle your cactus as carefully as possible, your cactus-handling project is sure to become a more pain-free experience!
Frequently Asked Questions
How do you get cactus spines out of gloves?
Take off your gloves as soon as you notice spines in it.
Put it in bright light to examine carefully. If possible, stretch the gloves to see where the spines entered in.
Use the magnifying glass to better examine the gloves.
Take the tips of the spines with tweezers. Pull gently but firmly to completely detach them from the gloves. Be careful not to damage them while pulling.
Place them on a piece of white paper so that you can see them easily when you remove them. Be careful not to lose sight of the spines to prevent them from re-entering the gloves or skin before they are thrown away.
Continue to examine the gloves. This process can take some time as there can be many spines. Remove whatever you find.
Wrap the tape with the sticky side facing out. Press it against your gloves to remove the tiny spines. Continue this process to remove as many spines as possible.
Examine the gloves again with a magnifying glass to see if there are any spines left. Run your hand over the gloves as well. Continue until there are no more spines on the gloves.
Gently fold the paper to wrap the spines. Carefully dispose of it and the tape if you remove it.