8 Budget Bedroom Makeover Ideas
When you renovate your home, you'll get excited every time you walk through the front door. Small changes can make a huge difference in a place where you spend most of your time. In case you want to enhance your lifestyle or simply change the layout of your home's interior, it's time to start remodeling.
Most people think that they'll need to set aside serious money if they want to remodel. However, this is the case only if your home needs a lot of work. If you simply want to alter the look of a room, you can do it even on a tight budget.
In case you're wondering which room to renovate, it's recommended that you start with your bedroom. Although this is usually not the first room people remodel, keep in mind that it's a place where you come to relax and rest. Doing a bedroom makeover can improve your sleep, boost happiness, and reduce stress. Here are some of the best ideas for a budget bedroom makeover.
1. Add a Seating Area
Before you start planning exactly where to place the seating area, it's important that you first declutter your bedroom. Everybody has things that they don't need in their homes. Identify items that you haven't used for a long time and either donate or sell them.
Once you've decluttered your bedroom, you should determine where your seating area is going to be. This doesn't have to be a big part of your bedroom, especially if you don't have a lot of space. You don't have to add a lot of furniture – an armchair and an Ottoman chair will do. Once you've made this change, your room will look more spacious.
With a few simple changes, you'll have space where you can come to relax and read a book. If you also get a portable foot spa, you could take relaxation to a whole new level in the seating area of your bedroom.
2. Get Luxurious Bedding
You shouldn't attempt to find the best deal when it comes to getting a new mattress or bedding. You use these products for several hours each day, which is why they should be of high quality. Aside from making your bedroom look better, new bedding will reduce your stress levels and improve your quality of sleep.
It's best to get organic bedding made from natural materials instead of opting for the cheapest option. Know that some manufacturers use questionable materials when making their products, so it's best to do your research before you make a purchase. If you find the bedding that is completely made from natural materials, you can rest assured that it will stay in good shape for a long time.
3. Grow Succulents in Your Bedroom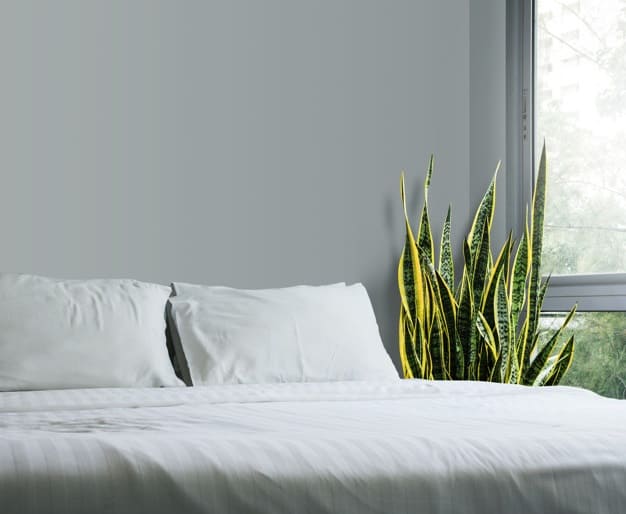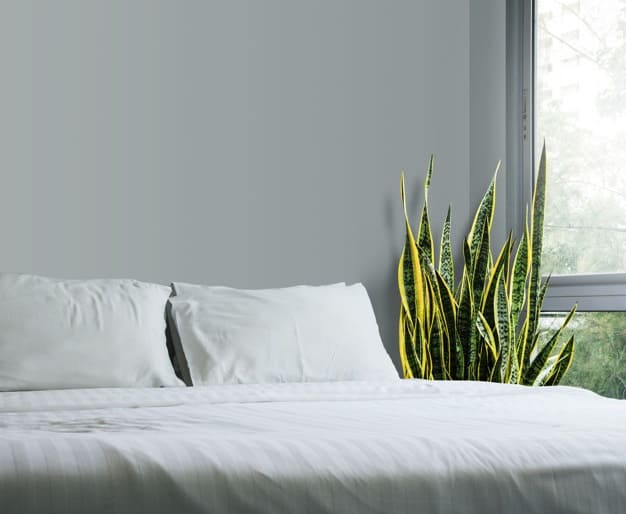 Give your bedroom a new look by getting a few succulents. Aside from adding to the aesthetic of your room, it can also provide you with several health benefits. Succulents are proven to cleanse the air in your home and remove toxins. They release oxygen throughout the whole day, helping you breathe and improving your quality of sleep.
What's notable about succulents is that they evolved as drought resistant plants. In other words, you don't have to water them often. Succulents have water-holding properties that help them stay alive for long periods of time. However, you should know that one of the most common reasons why they don't survive in some homes is that they're being overwatered.
Before you get succulents for your bedroom, it's important to read a guide on how to properly care for them. Once you do that, you'll be able to reap the benefits of having succulents in your home for years to come, like a reduced risk of developing dry skin or a sore throat.
4. Choose a New Paint Color
Paint the walls in your bedroom with a new color to completely transform it. It's a good idea to choose a color that relates to your personality. After all, this is your personal room. In case you decide on one of your favorite colors, you'll enjoy spending more time in your bedroom. The color that reflects your personality will create a calm and soothing environment.
Aside from your personality, other essential factors can help you choose a new paint color for your bedroom. For example, you may want to pick a paint color that represents the mood you want to create.
If you intend to stay in your bedroom longer in the evening to relax, paint it using colors with relaxing cool tones. Green, blue, or purple can be an excellent choice. If you plan to spend more time in your bedroom every morning, you should paint your bedroom with warm, energizing colors like orange, red, and yellow.
To ensure you select the best paint color, online paint color can help. It lets you upload a photo of your bedroom, and you can paint it with different colors until you find the perfect one.
5. Invest in New Nightstands
This is one simple change that can give your bedroom a completely different look. If you don't know where you would start with redecorating, try to find new nightstands that would fit perfectly in your room. Depending on where you shop, you could find nightstands that fit any budget. Make sure that the style and finish match other pieces of furniture in your bedroom.
When you're buying new nightstands, you should carefully measure whether they'll fit in your room. Pay attention to their height as well, as you don't want them to be higher than your bed.
6. Change Your Bedroom's Layout
Don't have the budget to buy new pieces of furniture or other bedroom accessories? Here's an idea that doesn't require any money at all – switching up the layout of your room. Try to come up with a plan for a new layout before moving anything around. You can try changing the way your furniture faces to give your bedroom a new orientation. You can also add some security with vivint doorbell camera.
7. Invest in New Flooring
If you want to get new flooring for your bedroom, you should set aside a considerable amount of money. Bedrooms should give off a sense of comfort and warmth, which is why wall-to-wall carpeting is the best solution when it comes to flooring.
There are two main carpet types to choose from – cut pile and loop pile. The former represents a sheared style that exposes the ends of the carpet fiber. On the other hand, loop pile carpets aren't sheared.
Apart from carpets, wooden flooring can also be an excellent option for your bedroom. It's durable and can last for a long time. It's also easy to maintain.
The natural aesthetic appeal of wooden floors can provide a cozy feel to your bedroom, enhancing the overall appearance of the space. It's also available in various colors, so you can easily pick the one that matches your bedroom's design.
8. Display Art
Sometimes, all that's missing to make your bedroom perfect is to hang art that you love. The artwork should be hung 4-6 inches above your bed. Art is meant to add depth and warmth to the design of your room. It's an important element that should blend in with the rest of your furniture and other accessories.
Having beautiful art in your bedroom can help create the right ambience. For example, artworks relating to sublime landscapes can promote peace and relaxation. Also, if you want to express your artistic interests, adding art to your personal space is the perfect way to do so.